News
Olympic Hopeful Mandy Marquardt Works with Her SLUHN Team to Be Her Best
September 28, 2023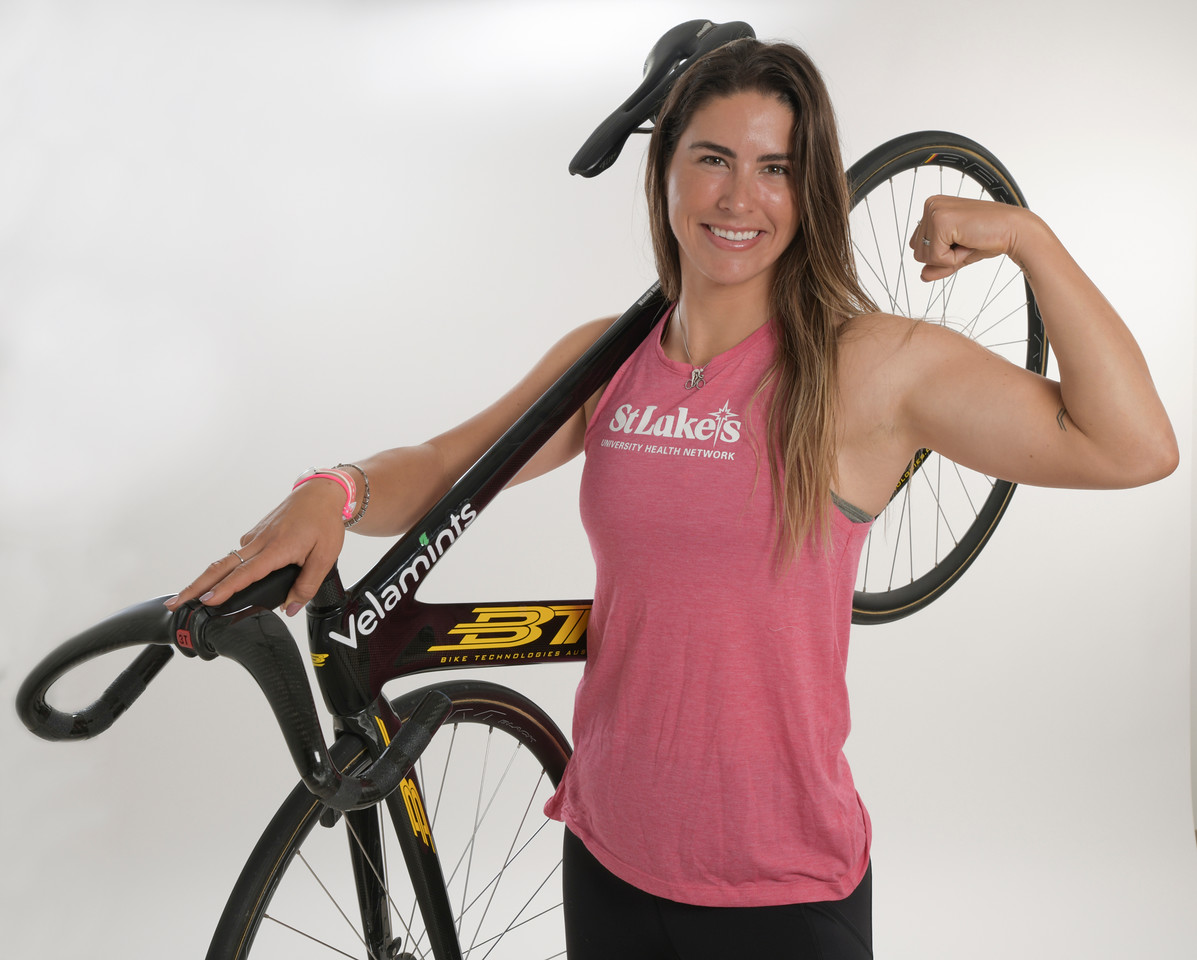 Track cycling may be the cruelest sport, eliminating athletes from advancing through championship brackets by mere thousandths of a second. Track cyclists compete on fixed-gear, direct drive bikes with no brakes.
St. Luke's Community Ambassador Mandy Marquardt welcomes the challenge, not just as a passion in her career as a professional cyclist, but as a determined pronouncement that the human body and human mind can conquer just about anything with the right team behind you. And the team at St. Luke's University Health Network works with Mandy to be at her absolute best.

Mandy relishes the thrill. She competes in the match sprint, team sprint and keirin, reaching the fastest speeds achieved on a bicycle. She is a 27-time U.S. National champion, 6-time American record-holder and an Olympic hopeful, and doing it all while managing Type 1 diabetes and other health issues.

She is passionate about being a role model for children, as well as anyone with Type 1 diabetes.

"Inspiring our future generation brings me a lot of joy, and the work that St. Luke's and I are doing in the community to help educate and inspire others going through a diagnosis brings home and awareness to others," she said.

Mandy rides for the USA National Cycling team and Team Novo Nordisk, the world's first all-diabetes professional cycling team, proving that Type 1 diabetes doesn't need to hold you back if you learn how to manage it properly. She was diagnosed with Type 1 diabetes at age 16, and today at the age of 32, is an Olympic hopeful for Paris 2024 and Los Angeles 2028.

Mandy has been working with St. Luke's endocrinologist Bankim A. Bhatt, MD for more than a year now as she hones her sights on Olympic qualification.

"He's been so helpful and instrumental in my diabetes management," she said. "I also have hypothyroidism and some other autoimmune issues that come with diabetes, so keeping an active eye on everything is essential to being the best I can be on and off the bike. I have blood work every few months, and the St. Luke's staff is always so friendly and welcoming."

She and Dr. Bhatt have had conversations about her future beyond 2024, things like competing through 2028 and eventually having children with her husband, Jamie Alvord, another Olympic hopeful for 2024.

"It's essential to have the right care team behind you," she said.

Most recently, she developed a "trigger finger" – she thinks possibly from a combination of lifting in the gym and pulling up on the handlebars of her bike too tightly – and was treated by St. Luke's orthopedic surgeon and hand specialist Glen C. Jacob, MD.

Mandy travels a lot, competing all over the country and the world. The trigger finger, typically involving a tendon malfunction, also was causing discomfort and issues with carrying her luggage and bikes.

She was home for a small window of time, and Dr. Jacobs and his staff made time to get her in for an examination and proper treatment. Utilizing St. Luke's surgery-as-a-last resort philosophy, Dr. Jacobs was able to treat Mandy with corticosteroid injections, which seemed to do the trick.

Because she travels so frequently, her time home in the Lehigh Valley is precious. And so is training. You can sometimes find her at St. Luke's West End Fitness & Sports Performance Center, working under the tutelage of John Graham, Senior Network Administrator of Fitness and Sports Performance.

And, in what little spare time she does have, she is pursuing her master's in business administration online through Penn State's Sema College of Business. Mandy earned her undergraduate degree in business at Penn State Lehigh Valley in 2014.

It is the giving back, however, that makes this Olympic hopeful so joyful.

"With St. Luke's, it was great to be part of a one-day camp with Type 1 kids. Even former heavyweight boxing champion Larry Holmes came out," she said. "That was so cool. And recently I got to be a part of the new St. Luke's pediatric facility grand opening in Center Valley. I can't wait to do more events with St. Luke's, maybe even with some other sports and continue inspiring the next generation to enjoy exercise and have fun out there.

"My message is, as a Type 1, to take care of your health with wellness. Exercising and listening to your body, as well as working alongside your health team, are important. Having the right team at St. Luke's has been instrumental to staying on top of my health and performance."