St. Luke's Upper Bucks Campus
Would you like to find out more information about career opportunities at
St. Luke's Upper Bucks Hospital? Click here
St. Luke's Upper Bucks Campus offers patients easy access to specialists, outstanding physicians, advanced technology, nationally recognized health care, and top-notch customer service.
Received the U.S. government's highest Safety and Quality rankings in the region Read more
The Emergency Room at St. Luke's Quakertown Campus has relocated to St. Luke's Upper Bucks Campus. NO EMERGENCY SERVICES ARE AVAILABLE AT ST. LUKE'S QUAKERTOWN, 1021 Park Avenue.
3000 St. Luke's Drive
(Route 663 and Portzer Road)
Quakertown, PA 18951
Here's what choosing St. Luke's Upper Bucks Campus means for you:
Conveniently located in Milford Township at the intersection of Route 663 and Portzer Road, the newly constructed St. Luke's Upper Bucks Campus is a patient and family-friendly modern hospital, providing comprehensive care and advanced technology to area residents.
The 80-bed, 131,000 square-foot facility offers ample parking, spacious private rooms, critical care, surgical services, a large emergency room, four operating rooms, state-of-the-art Interventional Radiology lab, diagnostic radiology and additional lab services.
The hospital has the region's only fully accredited Level 4 Trauma Center and designated Center of Excellence in Hernia Surgery.
Designed for further expansion, the hospital is easily accessible from Routes 309, 313 and I-476.
At St. Luke's our vision is to lead the region in clinical quality and safety performance. As a Network, we continue to be nationally recognized for quality, service and patient satisfaction. Learn More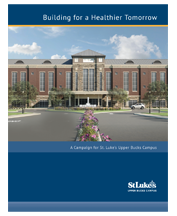 Make a Gift to Support St. Luke's Upper Bucks Campus
Thanks to our generous philanthropic community, we have made tremendous progress toward our $5 million capital campaign goal. With just less than $1 million to go, the fundraising campaign will support this monumental project—one of the largest in Quakertown's history. Serving as the foundation for a healthier future, the hospital will be one of the finest in the region. Learn more about opportunities for support HERE or make your gift online HERE.