St. Luke's Upper Bucks Campus
Would you like to find out more information about career opportunities at
St. Luke's Upper Bucks Hospital? Click here
St. Luke's Upper Bucks Campus will offer patients easy access to specialists, outstanding physicians, advanced technology, nationally recognized health care, and top-notch customer service.
Route 663 and Portzer Road
Quakertown, PA 18951
---
Here's what choosing St. Luke's Upper Bucks Campus means for you:
Upon the opening of St. Luke's Upper Bucks Campus no emergency services will be available at St. Luke's Quakertown Campus, 1021 Park Avenue, Quakertown. Please stay tuned for further details and exact dates -

Learn More »
St. Luke's is developing a new 80-bed hospital, including a future medical office building, on a 30-acre parcel of land at Route 663 and Portzer Road, Quakertown.
St. Luke's Upper Bucks will have medical, surgical, diagnostic, critical care, emergency room and surgical services.
The hospital opening is projected for the fall of 2019. Over time, the campus will grow as more inpatient and outpatient services, as well as physician offices are added.
The $100 million new campus will be the largest project ever in the history of Quakertown.
The hospital will have the region's only fully accredited Level 4 Trauma Center and designated Center of Excellence in Hernia Surgery.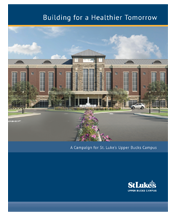 Make a Gift to Support St. Luke's Upper Bucks Campus
Thanks to our generous philanthropic community, we have made tremendous progress toward our $5 million capital campaign goal. With just less than $1 million to go, the fundraising campaign will support this monumental project—one of the largest in Quakertown's history. Serving as the foundation for a healthier future, the hospital will be one of the finest in the region. Learn more about opportunities for support HERE or make your gift online HERE.