*
Top Soccer Player Becomes New Community Ambassador
March 11, 2022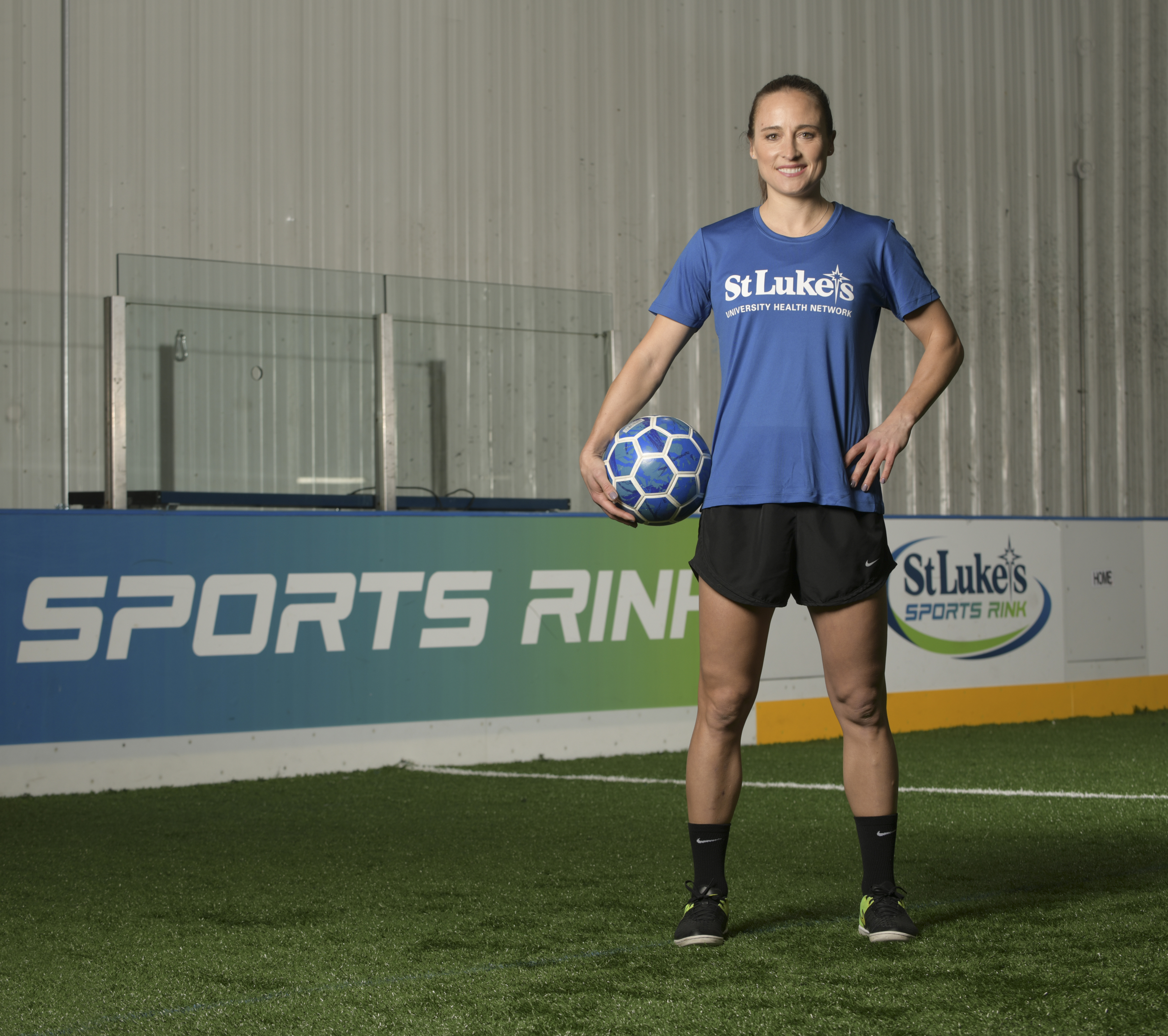 Gina Lewandowski has played professional soccer for Bayern Munich of the women's Bundesliga in Germany, and currently plays for NJ/NY Gotham FC of the National Women's Soccer League.
Now, she's also playing for St. Luke's University Health Network as one of its newest Community Ambassadors.
"I am really excited to see how this partnership evolves," said the 30-something Lewandowski, who grew up in Coopersburg, played high school soccer at Allentown Central Catholic and collegiately at Lehigh before launching into an international professional career that began with 1.FFC Frankfort in 2007.
"We are super excited about adding a professional women's soccer player of Gina's caliber to our team," said Dr. John Hauth, Senior Network Administrator for Sports Medicine Relations at St. Luke's. "One of our priorities over the last year or so has been to increase the number of high-level female athletes as Community Ambassadors to that we can take some of these activities and clinics into the underserved communities of the Lehigh Valley."
The vivacious Lewandowski is looking forward to leading a variety of clinics and camps with St. Luke's that will fit into her professional soccer schedule with NJ/NY Gotham FC, which plays home matches at Red Bull Arena in Harrison, N.J., just outside of Newark, N.J.
"I can share more about my path to and my experience in professional soccer in the camps and clinics we hope to run," Lewandowski said. "I look forward to teaching young players about the values you can learn through sports that will help you as an individual throughout your life."
Fitness, nutrition and healthy lifestyle habits are part of Lewandowski's core values, and Dr. Hauth saw them as a perfect alignment with St. Luke's values.
"The main focus of our soccer clinics will be taking them into the underserved communities within our region, driving our Fit For Life vision," Dr. Hauth explained. "We want to reach into the areas where young ladies who play on teams and local clubs can learn valuable lessons not just in soccer, but in healthy lifestyles, from someone of Gina's caliber, and hopefully lighting the spark that will help them continue to the next level and the next level."
NJ/NY Gotham FC began training camp in February and will be playing matches from March through October, but Lewandowski said she will make time to give back to a soccer-rich area that provided her with a solid foundation.
Manny Oudin, Lewandowski's former coach at Lehigh, where she was a four-time All-Patriot League selection, Patriot League Rookie of the Year and two-time Patriot League Offensive Player of the Year, helped make the St. Luke's connection after Hauth remarked to him that he'd love to get a women's soccer player on board as a St. Luke's Community Ambassador.
Lewandowski said she has a strong following on Facebook and Instagram and can use those platforms to spread the word of St. Luke's, the clinics, and the Fit For Life initiative.
"I am looking forward to working with St. Luke's and get into the Lehigh Valley community," she said. "I want to do what I can to give back to the community using my experience and personality to reach everyone about the importance of lifestyle, healthy choices and good habits. I am so excited to do that. The sky's the limit for the things we can do together!"