A Bit of Sweetness
When Matthew (Matt) Freeh returned home from work one late summer day, he was greeted with a cup of lemonade right on his front lawn. With help from his wife Jessica, his two young daughters – Sammie (11) and Lilly (6, soon to be 7) – had set up shop earlier that day to sell refreshments to neighbors out and about in the summer heat. Of course, they were thinking about how delicious a cold sweet drink would taste for their customers when they decided to create their stand. But they also had an especially important mission and plan for their earnings.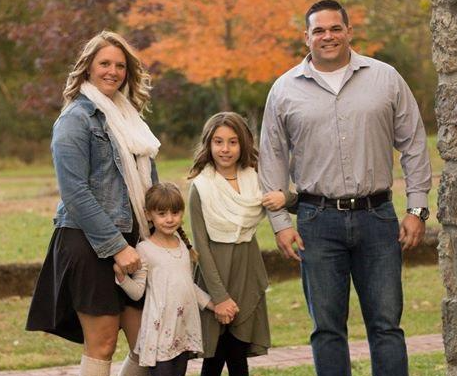 The Freeh Family (from left to right): Jessica, Lilly, Sammie, and Matt
Both Sammie and Lilly were born at St. Luke's Allentown Campus. Sammie was born eight weeks early and spent the first few weeks of her life in the Neonatal Intensive Care Unit (NICU). Her mother, Jessica Freeh, remembers every single moment of the day she was born.
"I read all the baby books, I had a plan in mind for how Sammie's birth would go," Jessica shared. "Sam was backwards before she was born, and so I felt immense back pain, but no contractions. And when we learned she would enter our world at only 32 weeks, I was terrified. But I trusted my incredible OB/GYN, Dr. Mary Greiss-Coult, and knew that she would get us through and deliver our baby safely."
Jessica's caregivers walked her and Matt through the best-case scenario and the worst-case scenario and remained compassionate throughout every interaction. "I can remember the nurses and Jessica even played some practical jokes on me," Matt shared. "They were willing to do anything and everything they could to help us stay positive. They were our angels."
After she was born, Sammie spent 20 days in the NICU until she was finally ready to go home. Jessica and Matt credit Dr. Greiss-Coult and the entire NICU team with keeping them calm and hopeful during those trying first weeks.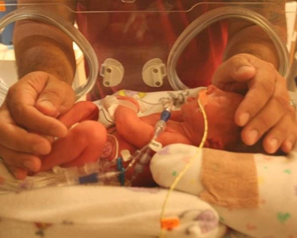 Sammie Freeh, shortly after birth
Years later, Jessica went into labor with her second daughter Lilly, again at 32 weeks. But when her doctor put her on bedrest, she was able to hold off delivering for another three weeks. Though Lilly did not require NICU care when she was delivered, she returned to the hospital shortly after birth due to jaundice. Both girls are healthy and happy today. "To this day, I keep in touch with many of my caregivers. They love watching the girls grow, and they still treat us like family," Jessica said.
In August, Sammie and Lilly asked their parents how they could help support the healthcare heroes that worked so hard to keep people safe during the pandemic. Jessica and Matt immediately thought of the Allentown Campus NICU. "We used their sweet question as an opportunity to explain to them how they needed a little bit of extra care when they were first born. We told them that they spent some time in the NICU at the hospital, and that now, more than ever, families just like ours with babies needing NICU care depend on doctors and nurses to keep them safe," explained Matt.
And with that, the girls knew exactly how they would say "thank you."
They woke up early and got started mixing their lemonade, gathering their cups, and building their stand. "I honestly couldn't make the lemonade fast enough," Jessica laughed. "We had some neighbors come up to the stand and give the girls $20 for one cup of lemonade … ONE cup!"
By day's end, they counted their profit – more than $150! Matt and Jessica wasted no time getting in touch with St. Luke's to ensure that the girls' gift could make a difference for Allentown families and babies in need. And that was only the beginning.
When Anthony (Tony) DaRe, first heard about the Freeh's story, he knew he wanted to be involved. His company, BSI Corporate Benefits, had already planned to sponsor the 2020 St. Luke's Allentown Campus Dinner by Starlight event to support the NICU as its beneficiary. Learning about Sammie and Lilly and their kind hearts inspired him to contribute an additional $10,000 gift.
"Sammie and Lilly have shown me and all of us how simple it can be to take action," Tony shared. "The world is filled with challenges and uncertainty and our problems can seem so big, but by simply taking action, and focusing on something that allowed them to make a difference, they inspired everyone around them. These are two amazing girls supporting a critical community partner—the St. Luke's Allentown Campus NICU."
Matt's employer, Bracy Construction, was also moved by the girls' generosity, and committed an additional $2,500 in support of the Dinner by Starlight event and the Allentown Campus NICU—a cause near and dear to their team.
Upon learning about the outpouring of support, Jessica broke into tears. "Like I said, I read all the books before Sammie was born. But they don't tell you what it feels like to go to the hospital to deliver your baby and come home without her," she explained. "To know that even one family might be comforted by this donation makes us so incredibly happy."
On that late summer day when the girls stood at their lemonade stand, they never imagined that their desire to help would inspire so many others in the community. They just knew they wanted to make our healthcare workers feel appreciated. It just goes to show that all acts of kindness make a difference and that a little bit of sweetness can go a long way.
Philanthropic support allows St. Luke's University Health Network to deliver world-class care that makes a difference every day for every patient. To support the Allentown Campus NICU with a gift, please click here or call the Development Office at 484-526-3067 to learn more.