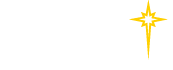 Three Daughters
On a warm afternoon in mid-November, Coleen Harleman, Margaret Wetzel, and Abbie Guardiani gathered to take a turn putting their stamp on the large beam that would soon become a critical part of the new St. Luke's Carbon Campus.
The women were no strangers. They spent many years working together at the Lehighton Area School District. But they were also woven together by another thread. Each of their mothers had, at one time, been cared for at St. Luke's Lehighton Campus. It was a bond they shared that brought them a sense of comfort. They exchanged stories of the time spent at the hospital and how their mothers were treated like family by their compassionate care teams.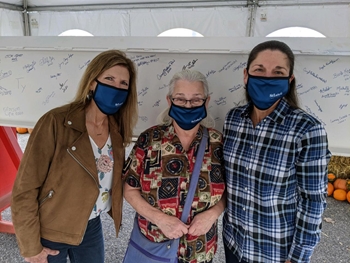 From left to right: Coleen Harleman, Margaret Wetzel, Abbie Guardiani
When they received the invitation to sign a beam that would be part of the heart and history of the new St. Luke's Carbon Campus, they knew it was an opportunity not to be missed. Abbie shared her experience about her own mother, Helen, who was treated in the acute rehabilitation unit after a series of falls. "My mother had her first ambulance ride at the age of 87 as she started to have falls due to Parkinson's Disease. Even though hip replacement surgeries were performed in Allentown, the goal was for her to return to our local hospital for rehab as quickly as possible," she said. "Having her close to home and family allowed us to participate in her care. The amazing care she received kept her spirits high and encouraged her to work hard each time to recover. The new Carbon Campus will mean that patients can stay close to home and receive the highest-quality care. My family will always be grateful for the kindness and great care Mom received, and we are so glad to know that many others will be able to experience the same level of care within the walls of the new hospital."
When Abbie shared her story with Margaret and Coleen, she learned that Coleen's mother was treated in the very same unit, with the same positive experience. And Margaret echoed Abbie's sentiments about the significance of a trusted hospital, close to home. "Having a new hospital with expanded procedures and care affords close family and friends the opportunity to visit more often and for longer periods of time," she explained. "The sight of those loving people aids in the recovery of the patient. Too often, when a patient is being treated in a hospital far from home, it causes feelings of loneliness."
Margaret looked forward to her moment to step up to the beam. It was already filled with the names of others who wanted to be a part of its story. The note she left is a strong reminder to all those who enter the doors of the new hospital—for generations to come—that they are welcome, the same way that Coleen, Margaret, Abbie, and their mothers were welcomed at the Lehighton Campus. She wrote: The best and most caring serve here.
Philanthropic support allows St. Luke's University Health Network to deliver world-class care that makes a difference every day for every patient. To support St. Luke's Carbon Campus through the "Keeping Care Close to Home" campaign, please click here or call the Development Office at 484-526-3067 to learn more.