Athletic Training Residency: Orthopedics

The mission of the St. Luke's University Health Network Athletic Training Residency Program to develop specialists within orthopedics, foster graduates to become leaders within clinical practice and integrate critical thinking concepts into life-long learning.
Residency Specialty Area: Orthopedics
Program Director Jim Reidy MS, LAT, ATC, CSCS "The St. Luke's Athletic Training Residency offers an outstanding opportunity for Athletic Trainers who are looking to advance their clinical skill within the orthopedic physician practice setting. Residents get extensive experience in the orthopedic office and radiology while taking advantage of our graduate medical model to develop toward being leaders in the field. The Network provides an immersive experience that exposes Residents to many experts from a wide range of disciplines producing an Athletic Trainer that can excel in the orthopedic setting."
Why choose this program?
The St. Luke's Athletic Training Residency Program cultivates orthopedic skill through direct mentoring experiences with Orthopedic Physicians and elite Athletic Trainers. These experiences are supported by didactic and scholarly education that is enhanced by medical professionals that truly have a passion for teaching. Residents expand knowledge, skill and abilities within the scope of practice of Athletic Training while focusing on patient-centered care and interdisciplinary collaboration. Residents get advanced training in musculoskeletal imaging, healthcare informatics, advanced patient-reported outcome interpretation, casting/bracing, and leadership, while developing skill in the St. Luke's Simulation Center. St. Luke's University Health Network prides itself on education and development of the highest quality medical professionals. The Network currently has 30+ accredited residencies and fellowships making it the ideal environment for learning. Athletic Training Residents are exposed to advanced training techniques that medical education applies to develop physicians and other specialists within these programs. This approach challenges Residents to develop their clinical practice to be leaders in the field.
The 14 month St. Luke's Athletic Training Residency Program accepts 3 Residents per year. The program is accredited by the Commission on Accreditation of Athletic Training Education (CAATE).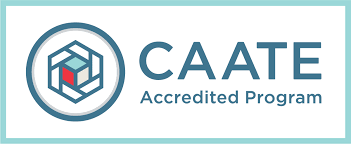 CAATE Program Information and Outcomes