Faculty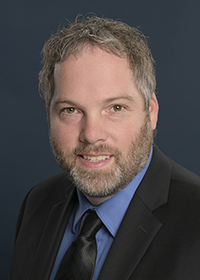 Jim Reidy, MS, LAT, ATC, serves as the Athletic Training Residency Program Director within the Commission on Accreditation of Athletic Education (CAATE) accredited program in orthopedics at St. Luke's University Health Network in Bethlehem, PA. He is also the Program Manager for the East Region for St. Luke's Sports Medicine, overseeing Network collaboration with 13 school districts and athletic trainers working within the physician practice. Jim earned his Bachelor of Science degree in Athletic Training from Canisius College in Buffalo, NY and went on to obtain his master's degree from Ithaca College. He has previously worked as an athletic trainer for Fairleigh Dickinson University in Teaneck, NJ and provided athletic training services for OAA Orthopaedic Specialists and Lehigh Valley Health Network. Jim has worked as an educator throughout his career and continues to serve as the Program Manager for the Sports Medicine and Rehabilitation Sciences Program at Northampton Community College.
He is currently the Vice Chair of the CAATE Residency and Fellowship Council,, a member of the CAATE Education Committee and is a peer reviewer for residency programs. He assisted in authoring the 2022 CAATE Residency and Fellowship Standards. Jim is also a member of the Nominating Committee for the Association for Athletic Training Education (AATE).
He enjoys spending time with his wife and three children while always trying to carve out time for picking up the guitar and getting out into nature, hiking or mountain biking.
Nicki Calhoun, MS, LAT, ATC, is board certified licensed athletic trainer in the Commonwealth of Pennsylvania and State of New Jersey. Nicki is a core faculty member within the residency program that practices as an athletic trainer in the clinic with Dr. Heckman. Nicki graduated from the University of Tampa in 2017 with a Master of Science degree in Exercise and Nutrition Science and completed her undergraduate degree in Athletic Training in 2011 from the Lock Haven University. Prior to joining St. Luke's, Nicole was a part of the Sports Medicine Team at Johns Hopkins All Children's Hospital in St. Petersburg, Florida. During her time there, Nicole worked as a clinical athletic trainer with both sports medicine and orthopedic physicians. She was also the head athletic trainer at Bradenton Christian School, in Bradenton Florida. In her free time, she enjoys spending time with her family and friends, working out and watching football.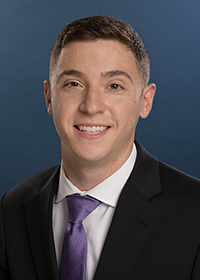 Lenny Paparo, LAT, ATC, OTC, is a board-certified and licensed athletic trainer in the state of New Jersey and the Commonwealth of Pennsylvania. Lenny is a 2022 graduate of the St. Luke's Residency Program and moved onto the residency faculty, joining Dr. Tyler Smith's clinical team. He received his Bachelor of Science in Athletic Training degree from West Chester University of Pennsylvania and his Bachelor of Science in Biology with a minor in Chemistry from Millersville University of Pennsylvania in 2017. He later completed a Post-Baccalaureate in Biomedical Sciences from Lake Erie College of Osteopathic Medicine in 2018. Lenny joined St. Luke's in 2018 and worked at Parkland School District, first at Orefield and Springhouse Middle School and then at Parkland High School in 2019. During his time there, he worked with multiple teams including lacrosse, football and volleyball. He oversaw youth football for the West-Miners Region during this time as well. Lenny enjoys watching sports in his free time, especially the Eagles, building LEGOS and taking long walks on the beach.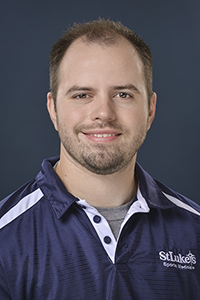 Christopher Servian, LAT, ATC, COF, is a board certified and licensed athletic trainer in both the Commonwealth of Pennsylvania and New Jersey. He is the first accredited graduate of the St. Luke's Athletic Training Residency Program. While in Athletic Training Residency Program he trained as an Athletic Trainer in physician practice with Dr. Nick Avallone and provided athletic training services for Warren Hills Regional School District. He now works full-time as an athletic trainer and is an affiliate faculty member within the Residency Program. Prior to St Luke's, he worked as a patient service representative for MedEast Post Op & Surgical providing bracing options for a wide variety of orthopedic ailments. He earned his orthotic fitter certification will with MedEast in 2016 and earned his Bachelor of Science Athletic Training Professional Practice through East Stroudsburg University in 2015.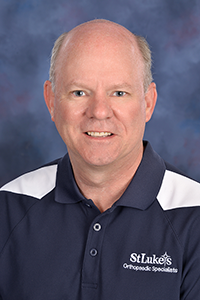 Dr. John Hauth, EdD, LAT, ATC, is Senior Network Administrator for Sports Medicine Relationships at St. Luke's University Health Network. Dr. Hauth has nearly 35 years' experience in athletic training having directed the Athletic Training Program at East Stroudsburg University from 2000-2014. He is a nationally recognized expert on athletic training, having been inducted into the Pennsylvania Athletic Trainers Hall of Fame in 2009 and honored by the National Athletic Trainers' Association as "Most Distinguished Athletic Trainer" in 2010. He was selected as the 2010 recipient of the Distinguished Professor Award at East Stroudsburg University for his significant contributions to university and his profession. Dr. Hauth's excellence was recently recognized in his election as President of the Eastern Athletic Trainers' Association (EATA).
Daniel Heckman, MD, Medical Director, is board certified in orthopaedic surgery with additional certification in orthopaedic sports medicine. He completed a fellowship in sports medicine and shoulder surgery at Duke University, where he was an assistant team physician for the basketball, football and soccer teams. At St. Luke's, he has continued to focus his practice on caring for athletes of all ages and abilities. He is currently the team physician for several area high schools. In addition to athletic injuries, he specializes in the treatment of all shoulder and knee disorders, including rotator cuff tears, labral tears, shoulder instability, ACL tears and other knee ligament injuries, such as meniscus tears, patellar instability, articular cartilage injuries and arthritis. He performs arthroscopy of the shoulder, elbow, hip, knee and ankle and total joint replacement of the shoulder, knee and hip. He dedicates part of my practice to treating fractures. He is a member of the American Orthopaedic Society for Sports Medicine, the Arthroscopy Association of North America and the American Academy of Orthopaedic Surgeons.
Dr. Heckman was born and raised in Hazleton, PA and currently live in Allentown. Outside of work, he enjoys running, coaching soccer, reading, travelling and spending time with his wife and four children.
Dr. Daniel Heckman's Approach to care
"It is my intention to provide each of my patients with the highest quality, evidence-based care available. When formulating your treatment plan, I believe that it is important to involve you, the patient, as much as possible. The first step is to understand who you are as an individual and to identify your specific priorities and goals. Then I focus on helping you to learn about your injury or ailment as well as the most reasonable treatment options. This approach allows us to work together to develop a personalized plan of care and to attain the best possible outcome.
Affiliate Faculty
Scott Doroshow, MD
Tyler Smith, MD
Brett Keller, DO
Steven Chen, MD
Erica Lopes
Dan Dobrowolski, DAT, LAT, ATC, OTC
Brian Gloyeske MS, LAT, ATC
Julia Plourde, MD
Chris Servian, LAT, ATC, OT-SC, BCS-O
Dan Strohecker, MS, LAT, ATC, OTC
Morgann Duncan, MS, LAT, ATC, OTC
Jeremy Witcoski, PA-C
Becky Bedard, ATC
Kevin Call, MS, ATC
Andrea Moore, PA-C
Haley McGuigan, PA-C