St. Luke's University Health Network
St. Luke's University Health Network was founded in 1872 to care for the workers at the steel foundries, St. Luke's University Hospital is a not-for-profit, tertiary care, teaching hospital. St. Luke's has long been involved in medical student education, serving as a clinical teaching site for students from a number of medical schools. For more than 50 years, St. Luke's has been a major educational affiliate of Temple University School of Medicine. The Temple/St. Luke's regional medical school campus takes this relationship to the next level. St. Luke's has more than 200 faculty members appointed through LKSOM. The inaugural class of Temple/St. Luke's graduated in May 2015.
St. Luke's University Hospital offers 82 medical specialties, as well as a Level I trauma center. As an integrated health care network, St. Luke's encompasses six hospitals, more than 80 network-owned physician-practice sites plus additional outpatient testing and service facilities, inpatient and outpatient hospice services, and a range of additional services such as home health, and ambulance services.
Learn more about St. Luke's University Health Network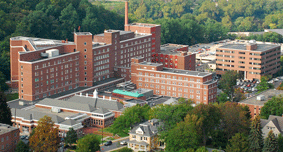 More Educational Programs at St. Luke's
St. Luke's has sponsored medical and surgical residency programs for decades. Each year, more than 150 residents and fellows train at St. Luke's. Currently, St. Luke's sponsors fully accredited residency programs in:
Fully accredited fellowship programs in:
Additionally, the St. Luke's School of Nursing, founded in 1884, is the nation's oldest hospital-based diploma school in continuous operation. St. Luke's helps to train more than 500 allied health students each year, including programs sponsored by St. Luke's and those offered in collaboration with regional colleges and universities. The programs encompass diverse disciplines and a range of levels, including physician's assistant, nurse practitioner, radiology technologist, laboratory technologist and surgery technologist.
St. Luke's is an active provider of continuing medical education for physicians and other health care professionals in the Lehigh Valley, offering more than 500 post-graduate programs annually. These cover all medical specialties and subspecialties and encompass diverse formats such as morbidity and mortality conferences, lectures, workshops, and hands-on sessions.