Breast Health Studies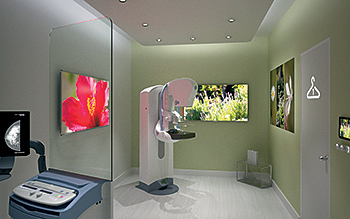 St. Luke's now offers the lowest dose
3D mammography in the region and a sensory
experience that may ease anxiety during a mammogram.
The Sensory Suite allows patients to choose the
ambiance, be it seaside, garden or waterfall.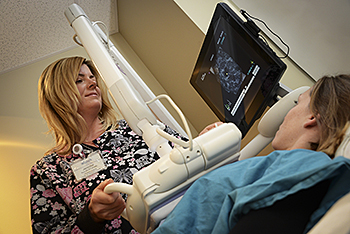 Automated Breast Ultrasound (ABUS) uses
sound waves, not radiation, to create state-of-the-art
breast images. It was designed specifically and approved
by the FDA for women with dense breast tissue.
The following terms may help you better understand these breast health studies that may be recommended for you by your physician.
Automated Breast Ultrasound (ABUS)
Breast Ultrasound (ABUS) is available at
St. Luke's Regional Breast Center in Center Valley as a supplemental breast cancer screening exam. Specifically-designed and FDA-approved for women with dense breast tissue, ABUS can provide a clearer, more accurate evaluation of dense breast tissue and can be used to complement screening mammography. ABUS uses sound waves, not radiation, to create state-of-the-art 3D images of the breast tissue.
Breast MRI
This non-invasive exam is used to gain information about breast abnormalities detected with mammography, physical exam, or other breast imaging. MRI also may be used for breast implant evaluation, staging breast cancer, evaluating treatment options, and follow-up after treatment is complete. MRI also may be an option for patients with dense breasts and with a strong family history of breast cancer. Please discuss with your physician if Breast MRI is appropriate for you.
Breast Ultrasound
This is a test that sends high-frequency sound waves into the breast. The pattern from the sound waves is converted into an image of the interior of the breast to help distinguish between tumors which are solid and cysts which are filled with fluid.
Gene Expression Profile Testing
St. Luke's uses the genetic profile of an individual's breast cancer to help determine if chemotherapy should be given as an adjuvant therapy.
Low-Dose 3D Mammography (Tomosynthesis)
SenoClaire® low-dose 3D mammography from GE delivers the quality of a 3D image while limiting the X-ray dose to an amount equivalent a 2D mammogram. The 3D technology uses a low-dose, short X-ray sweep around the compressed breast. This imaging technique is designed to separate the tissues and to reduce the overlapping of structures.
Needle Localization of the Breast
This is a technique used prior to surgery to locate and mark a mammographic area of concern in the breast that cannot be felt. Such areas include masses and microcalcifications.
SensorySuite®
GE's SensorySuite® simulates a soothing environment to reduce the worry experienced by some women during mammography by stimulating a woman's sense of sight, sound and aroma simultaneously. A woman may choose the environmental ambiance she prefers – seaside, garden or waterfall for her 2D or 3D mammogram.
Ultrasound-Guided Breast Biopsy
Under ultrasound guidance, a breast abnormality is located and, using a specially guided needle, small samples of tissue are removed under local anesthesia and sent to the laboratory for evaluation.
Ultrasound-Guided Cyst Aspiration
This is an examination using an ultrasound-guided needle to remove fluid from a cyst.