News
Local Soccer Player Back to Full Speed Thanks to St. Luke's Chiropractic Care
October 18, 2023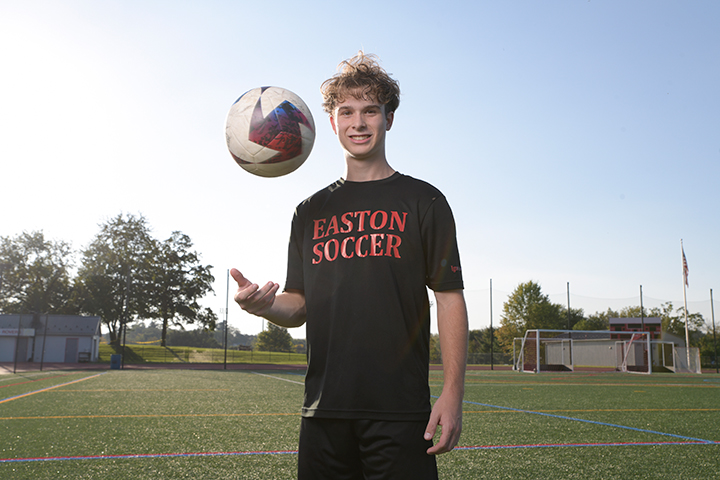 Cole Lohmann
Problematic pelvic issue had slowed him on the soccer field.
Watching Cole Lohmann sprint around on the soccer field defending against the top forwards from other teams, you would never realize his ability to move so deftly was ever in doubt.
But until he started working with Sam Staula, DC of St. Luke's Chiropractic Care, the pain-free agility just wasn't there for about three years after Cole sustained a hip/lower back issue.
"He has always been an extremely competitive person," said Cole's mom, Amy. "He'd rarely come off the field. To see him in pain and have to come off the field was very discouraging."
Cole went to other doctors and tried physical therapy, but everything seemed a short-term solution until St. Luke's pediatric orthopedic surgeon Dustin Greenhill, MD, evaluated Cole, and after a few tests, recommended chiropractic care with Dr. Staula.
St. Luke's Chiropractic Care provides safe, conservative, evidence-based solutions to many musculoskeletal complaints while enhancing the already stellar lines of physical therapy and rehab, pain management and orthopedics. Chiropractic provides safe, effective care that has been shown to reduce chronic symptoms, dependency on opioid medications, as well as overall healthcare expenditures.
"I think we both went into the chiropractor's office thinking it was our last resort," Amy said. "The MRI came back normal, and we were getting frustrated."
Cole, a rising senior at Easton High School who plays club soccer for Keystone Athletic under coach Joe Gaffney, saw almost immediate results.
"Let me tell you, I haven't felt this great in years," Cole said. "Dr. Staula stretches me out in his office, works on my spine, and he gave me some exercises to do like single leg hops and bridges, step-ups, and he recommended that when I'm in school or on stairs, I drive my heel through to activate my glutes."
Staula noted that Cole did very well with physical therapy, but it wasn't resolving all of his issues, which included hip flexor and sacroiliac joint problems that affected his pelvic mobility.
"He had been on the right path," Staula said, "but sometimes there are a few other key issues that need to be addressed. I try to look at things from a very holistic approach by taking a step back and looking at the whole kinetic chain."
Staula isolated multiple issues with Cole's pelvic area and the intertwining muscles that showed signs of repetitive strain as well as scar tissue. He used instrument-assisted soft tissue treatments with Cole, along with chiropractic manipulation of the sacroiliac joint and lumbar spine, treatments that are sometimes painful for the patient.
"Sometimes it really is more pain, more gain," Staula said. "It does take trust on the patient's part to let me do the soft tissue and joint manipulations, but when they work, it is very rewarding."
As a pediatric orthopedic surgeon, Dr. Greenhill had zero reservations about referring Cole to Staula, whom he says delivers a highly trained, patient-specific combination of chiropractic care and focused physical therapy.
"We determined that Cole was a functionally and anatomically excellent candidate for chiropractic treatment, so it was an easy referral," Dr. Greenhill said. "I think it's great for patients that St. Luke's has the ability to coordinate with chiropractic care because there are patients who should be seeing both types of doctors.
"We have an ongoing relationship with our chiropractors, and the best thing for the patient is to incorporate all different types of healthcare providers. When a patient can see a provider who has the resources to appropriately utilize and access other subspecialists quickly, it produces the best overall outcome for the patient."
Upon his follow-up visit to Dr. Greenhill's office, Cole raved to physician assistant Kylie Honnick-Payne PA-C about how thrilled he was with Staula's treatments and results.
"Soccer is literally my life," Cole said. "I haven't felt this great consistently ever since that day three years ago when I got injured. I can't thank Dr. Staula enough for all he has done."