News
Dr. Hercules and Team Form Strong Bonds with Injured Teens
March 12, 2020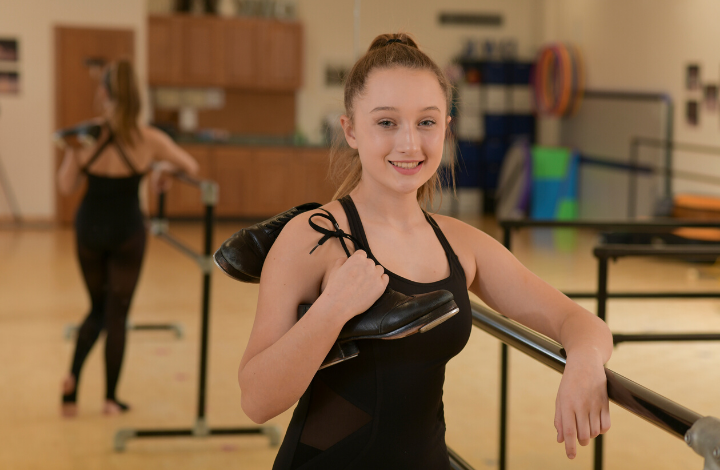 Dani Rimsky, an eighth-grader in the Jim Thorpe School District and a competitive dancer, was understandably nervous when she injured her ankle right before a big dance competition.
"I was definitely scared because I wanted to be able to perform," she said.
Lyla Kershner, a seventh-grade student at Lehighton and a middle school cheerleader, was equally anxious after she injured her arm in gym class.
Enter primary care sports medicine physician Decosy Hercules, DO and his team at St. Luke's Orthopedic Care in Lehighton.
Making patient's feel at ease, especially patients who are in pain as well as younger patients who may be experiencing fear and anxiety, is something Dr. Hercules takes pride in.
"The most important thing is to show openness," he said. "They are scared, protective. The most important thing to show all our patients is that we're human, too. We're not robotic doctors. We're people.
"We all have aches and pains, so I try to build a rapport to get them to open up, especially when it comes to children. Once you develop that comfort level, they are more likely to open up about their pain. It's important to know that this isn't just some person treating them, this is someone who cares about them and wants to help them return to doing what they love."
Both young women were able to get next-day appointments with Dr. Hercules, who helped get them back to their activities as quickly and safely as possible.
The Kershners initially sought treatment at St. Luke's Care Now in Lehighton. She had an X-ray that showed Lyla had suffered a buckle fracture in her right ulna. Her arm was immobilized and wrapped in an ACE bandage, and she was referred to Dr. Hercules.
"On our way out, as we were being discharged, we were told to go to the front desk so we could schedule an orthopedic appointment for Lyla," said Misty Kershner, Lyla's mom. "I was surprised that they were actually able to see her the following day."
Misty said the experience at Dr. Hercules' office was beyond compare.
"The office staff was very friendly and we were called in by his medical assistant, Richard Brown. He told us what to expect when Dr. Hercules came and that he would review Lyla's X-ray and explain the best treatment plan for her."
Lyla admitted she still had some apprehension.
"When we first got there, I was kind of scared because my arm really hurt," she said. "I didn't want him touching it or moving it around. When he came in, he started talking to me a little bit and calmed me down. He was kind of funny and told a joke."
"The thing we liked most about Dr. Hercules and found different from other providers is that he sat down with my daughter at eye level and asked her about her day at school," Misty Kershner said. "He really tried to interact on a personal level with her. She was in some degree of pain and he took the time to sit there and just be personable with her."
Dani Rimsky had a very similar experience. She had seen Dr. Hercules previously for other injuries, including one to the same ankle.
Dani's mom, Krista Miller, called Dr. Hercules office about 7 p.m. the day of the re-injury, expecting to get an answering machine or an answering service, when the office actually answered the call.
"I was expecting to leave a message and get called back the next day, and instead, someone answered; they were able to get Dani in the very next day," she said.
An X-ray proved negative, so Dr. Hercules said he wanted to order an MRI and left the room.
"The scheduling wasn't just extraordinary, it was incredible," she said. "Before he came back in the room, scheduling was already on the phone with me arranging the MRI. It was incredible, especially for me as a parent, and for Dani."
It turns out, nothing was torn or broken. Dani had grown six inches in eight months, and her body needed to get used to her new frame, causing stress on her joints.
Dani had to wear a boot that restricted range of motion in her ankle and was on crutches for a few weeks before returning to dance. She dances just about every style, including jazz, but tap is her favorite.
"It was scary because I was injured," Dani said. "Dr. Hercules made me feel really comfortable. He gave me a plan that was based on what I wanted to get out of treatment, and how soon I needed to be ready for my competition."
Krista Miller was impressed by the diagnosis and treatment timeline.
"I'm used to calling somewhere where it takes four days to get an appointment, if you're lucky, and then get the MRI," she said. "This was all literally wrapped up in 24 hours, from examination and X-rays to the MRI and treatment plan. It's not typical that you get kind of response in healthcare."
Dr. Hercules credits his team at St. Luke's, from the receptionists to the medical assistants, nurses and sports medicine liaison Jennifer Schultz, for the high standard care that goes along with a deep understanding of coordinating emergency-type injuries with St. Luke's Care Now.
"Everyone contributes to the patient experience, from the front desk at check-in to the medical assistants taking vitals, through check out," Dr. Hercules said. "All of those contribute to patient experience, and we are dedicated to making that a positive experience."