News
Meet Adam Sadler, DO, Orthopedic Surgeon, Joint Specialist
November 04, 2019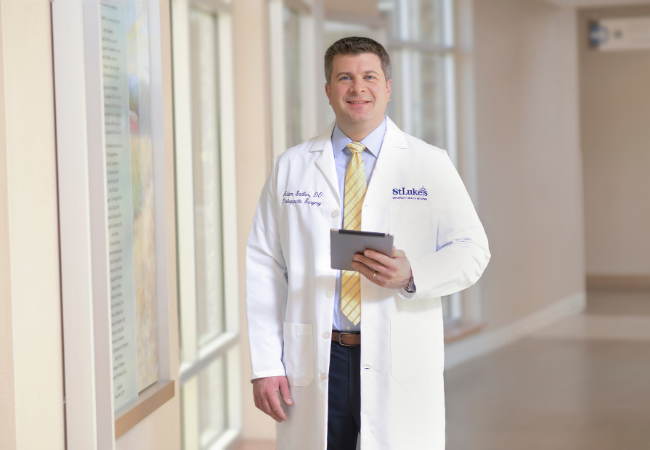 Dr. Sadler is an orthopedic surgeon who treats a variety of conditions of the musculoskeletal system, specializing in patients with arthritis of the hip and knee. He performs total and partial joint replacement procedures, revision total joint replacement, and complex reconstruction procedures.
"A patient's journey through the arthritic process of the hip and knee is a varied one, and I take pride in getting to know my patients on a personal level and developing a treatment plan tailored to the patient's specific needs and goals," he explains. "This allows patients to participate in their own treatment planning and process."
Dr. Sadler explores conservative forms of treatment for arthritis first before considering surgery. "When conservative treatment has failed and the timing is right for the patient, we will explore the option of total joint replacement surgery," he says.
He earned his DO degree at Philadelphia College of Osteopathic Medicine, then completed a five-year residency in orthopedic surgery at Philadelphia College of Osteopathic Medicine.
"During residency I experienced the importance of restoring a patient's motion and function, ultimately allowing them to participate in the activities that bring them enjoyment and happiness," Dr. Sadler says. "This led me to pursue a fellowship in adult reconstructive surgery at the Florida Orthopaedic Institute in Tampa, FL."
He is board certified in orthopedic surgery and active in the American Osteopathic Association, American Osteopathic Academy of Orthopedics, American Academy of Orthopedic Surgeons and the American Association of Hip and Knee Surgeons.
During his personal time, he enjoys spending time with his wife and son as well as playing golf. "I am a car enthusiast who enjoys watching and attending Philadelphia Eagles, Phillies and Sixers games. E-A-G-L-E-S… EAGLES!"