News
Mayor of Schuylkill Haven Named Director of Facilities at Geisinger-St. Luke's Hospital
August 16, 2019
Mike Devlin thought he had early retirement figured out. In a few years, the 57-year-old Schuylkill Haven man would hang up his electrician's belt after nearly four decades of running cables, installing switches and bringing power to buildings. Then he and his son would huddle in his garage and restore his 1931 Model A Ford.
That changed abruptly when the historic Geisinger-St. Luke's joint venture hospital project was announced for nearby Orwigsburg, the first partnership of its kind in Pennsylvania. Devlin was intrigued immediately. "I wasn't looking to leave my employer that soon, but I really enjoy a new challenge," says the affable Devlin in his down-to-earth manner, adding, "I knew and liked St. Luke's from working at their Miners hospital for four years."
Within a few months of applying for the job, he was hired as the first director of facilities at hospital, a job he was ecstatic to accept. He hanged up his tool belt and slipped on a business suit and tie (and sometimes a hard hat). Now, he is busy hiring staff and readying the facility for its first patients coming in September.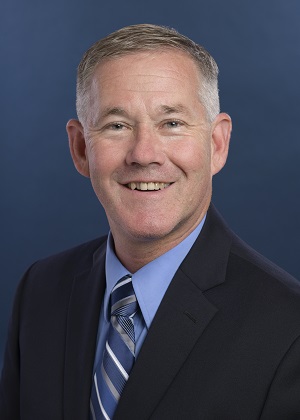 Devlin will be responsible for the day-to-day safety and security at the 80-bed acute-care hospital and medical office buildings on the campus, along with environmental services and physical plant maintenance. "I'll basically keep the place running from a non-medical perspective," he explains. He describes himself as a "hands-on, lead-by-example leader" and is glad he has managers and staff to ensure smooth 24/7/365 operations of the hospital.
Devlin is also the mayor of Schuylkill Haven, his hometown, a part-time job he'll continue for the foreseeable future years, attending borough council meetings, fundraisers and business association gatherings. He thrives on the relationships he's built through his civic activities and 38 years as a commercial-industrial electrician.
As the opening of the Geisinger-St. Luke's campus nears, his days are getting longer, filled with the vital details and duties: safety drills, supplies ordering, inspections by the state and township. Thanks to the technical, organizational and people skills he honed along the way, he's deftly navigating the twists and turns of working in an industry and position he hadn't expected to face this late in his career.
"It's like putting a puzzle together, piece by piece," he says. And if he needs it, he knows just where his tool belt is hanging and won't hesitate to strap it on over his suit and get his hands dirty. Early retirement is in his rear-view mirror and fading fast, and that Model A Ford will just have to wait.
For more information about employment at the new Geisinger-St. Luke's campus, go to: https://www.slhn.org/geisinger-st-lukes-hospital.
About St. Luke's
Founded in 1872, St. Luke's University Health Network (SLUHN) is a fully integrated, regional, non-profit network of more than 15,000 employees providing services at 10 hospitals and 300 outpatient sites. With annual net revenue greater than $2 billion, the Network's service area includes 11 counties: Lehigh, Northampton, Berks, Bucks, Carbon, Montgomery, Monroe, Schuylkill and Luzerne counties in Pennsylvania and Warren and Hunterdon counties in New Jersey. Dedicated to advancing medical education, St. Luke's is the preeminent teaching hospital in central-eastern Pennsylvania. In partnership with Temple University, St. Luke's created the Lehigh Valley's first and only regional medical school campus. It also operates the nation's longest continuously operating School of Nursing, established in 1884, and 34 fully accredited graduate medical educational programs with 263 residents and fellows. St. Luke's is the only Lehigh Valley-based health care system with Medicare's five- and four-star ratings (the highest) for quality, efficiency and patient satisfaction. St. Luke's is both a Leapfrog Group and Healthgrades Top Hospital and a Newsweek World's Best Hospital. In 2019, three of IBM Watson Health's 100 Top Hospitals were St. Luke's hospitals. St. Luke's University Hospital has earned the 100 Top Major Teaching Hospital designation from IBM Watson Health seven times total and five years in a row. St. Luke's has also been cited by IBM Watson Health as a 50 Top Cardiovascular Program. Utilizing the Epic electronic medical record (EMR) system for both inpatient and outpatient services, the Network is a multi-year recipient of the Most Wired award recognizing the breadth of the SLUHN's information technology applications such as telehealth, online scheduling and online pricing information. St. Luke's is also recognized as one of the state's lowest cost providers.