News
St. Luke's to Provide Sports Medicine and Athletic Training Services for Schuylkill League Championships
August 02, 2018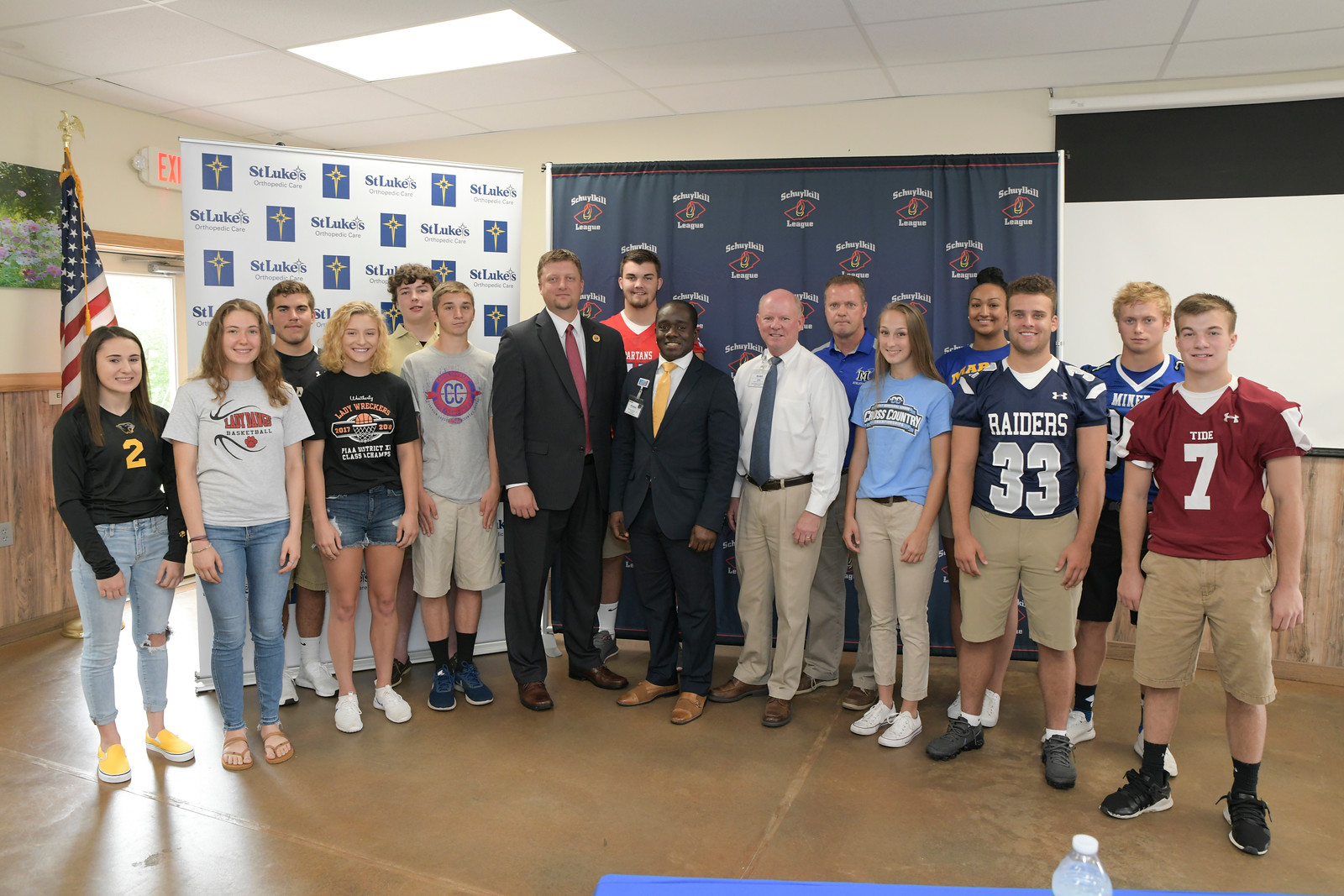 St. Luke's University Health Network has been named the Presenting Sponsor and the Official Sports Medicine Provider of the Schuylkill League Championships.
"We will be providing the sports medicine and athletic training services for Schuylkill League championships in 12 different sports, including both boys and girls divisions where applicable," said John Hauth, Senior Network Administrator, Sports Medicine, St. Luke's University Health Network. "We will serve as the presenting sponsor of those championships, and we will also be providing educational opportunities to member schools throughout the duration of the five-year agreement."
St. Luke's will provide coverage services for the Schuylkill League Championships in field hockey, girls volleyball, cheerleading, wrestling, baseball, softball, plus boys and girls divisions in cross country, golf, soccer, tennis and basketball as well as track and field.
"St. Luke's has been a sponsor of District 11 for the past few years now," said Stephen Toth, Schuylkill League President and Assistant Superintendent at Tamaqua School District. "We've had smaller sponsorship's for league championship in the past, but nothing along this type of commitment. St. Luke's is truly expanding their footprint on the medical landscape, and they wanted us as a partner."
The five-year commitment, which begins with the 2018/19 scholastic season, will invest generously to ensure comprehensive care and other supports are available to the student-athletes of the Schuylkill League. Hauth said that negotiations for the deal began in February, 2017, with a primary objective of safeguarding the participation of Schuylkill League student-athletes participating in the Championship Series.
"The Schuylkill League comprises 18 full member schools and three associate member schools in Schuylkill and Carbon counties," said Aaron Boggs, St. Luke's University Health Network Program Manager, Sports Relations for the West End/Miners region. "The league is spread out pretty far over a wide geographic area, and we will be able to provide comprehensive athletic training services and standby medical coverage where none existed before."
The new three-story, 120,000-square-foot acute care hospital being built by both St. Luke's and Geisinger in West Brunswick Township near Orwigsburg will be completed by next year and be a pivotal point for emergency treatment and other acute care to ensure the safety and support of Schuylkill League student-athletes. The facility will offer a wide range of emergency, specialty and outpatient services.
"We are extending our name in the Schuylkill region by helping the league meet their sports medicine needs," Boggs said. "By providing services at these Schuylkill League championship events, we are showcasing our expertise along with our commitment to the community."
"Unlike bigger leagues and District 11, the Schuylkill League didn't really have the uniformity of coverage to send medical professional to events like the track and field championships, and we were able to come along and ensure the support and safety of their student-athletes," Hauth said.
St. Luke's has a team of more than 100 highly qualified certified athletic trainers who are positioned to support the needs of the Schuylkill League.
"St. Luke's has been beyond professional and it's encouraging to work with people like Hauth and Aaron Boggs, people who are passionate about working with our student-athletes and delivering such high-quality service," Toth said.
The deal includes St. Luke's sponsoring the annual Schuylkill League Academic Breakfast, providing sponsorship banners and signage at championship events, medical supplies, championship medals, onsite physician coverage, coordination of ambulance service for championships if desired, along with educational lectures to support the league's leadership series. St. Luke's will also sponsor the Schuylkill League "Football Game of the Week" on ESPN Radio 1320 AM.
Media Contact:
Brenda Hageter, Media Relations, (484)-526-3051, Brenda.hageter@sluhn.org
About St. Luke's
Founded in 1872, St. Luke's University Health Network (SLUHN) is a fully integrated, regional, non-profit network of 14,000 employees providing services at 10 hospitals and over 300 outpatient sites. With annual net revenue of $1.9 billion, the Network's service area includes 10 counties: Lehigh, Northampton, Berks, Bucks, Carbon, Montgomery, Monroe and Schuylkill counties in Pennsylvania and Warren and Hunterdon counties in New Jersey. Dedicated to advancing medical education, St. Luke's is the preeminent teaching hospital in central-eastern Pennsylvania. In partnership with Temple University, St. Luke's created the region's first and only regional medical school campus. It also operates the nation's longest continuously operating School of Nursing, established in 1884, and 28 fully accredited graduate medical educational programs with 226 residents and fellows. St. Luke's is the only health care system in central-eastern Pennsylvania to earn Medicare's five-star rating (the highest) for quality, efficiency and patient satisfaction. St. Luke's has earned the 100 Top Major Teaching Hospital designation from IBM Watson Health (formerly Truven Health Analytics) repeatedly – six times total and four years in a row including 2018. It has also been cited by IBM Watson Health as a 50 Top Cardiovascular Program. Utilizing the EPIC electronic medical record (EMR) system for both inpatient and outpatient services, the Network is a multi-year recipient of the Most Wired award recognizing the breadth of the SLUHN's information technology applications such as telehealth, online scheduling and online pricing information. St. Luke's is also recognized as one of the state's lowest cost providers.