News
St. Luke's Helps Injured Multi-Event Athlete Get Back On Track
May 25, 2018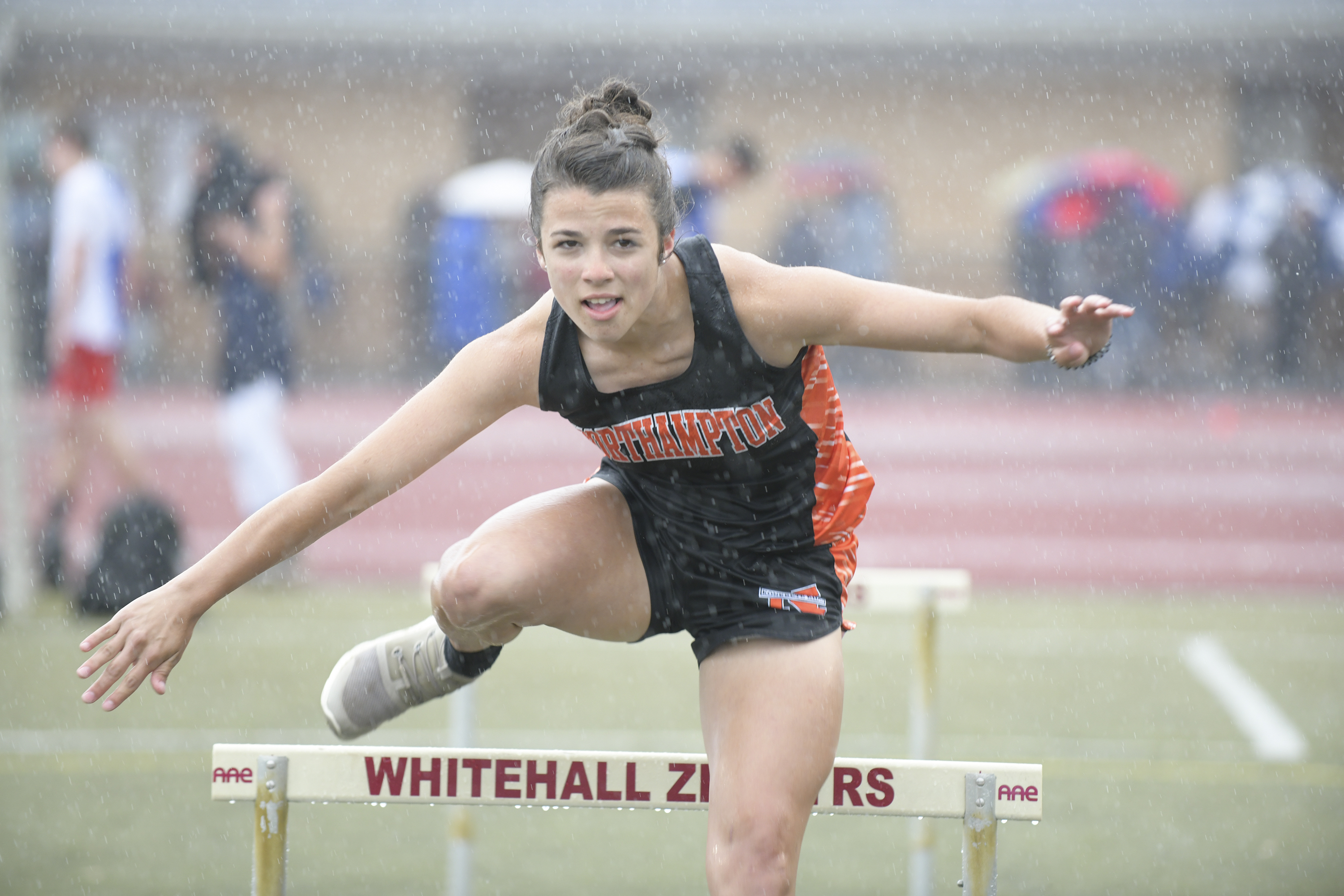 Elizabeth "Libby" Fehnel had the world at her feet last spring, figuratively and literally.
The multi-talented junior at Northampton High School had qualified for league and district championships in a variety of track and field events, including the 300-meter hurdles, the pole vault and the triple jump. But during a meet at Allen High School, all that changed rapidly.
On her first attempt in the triple jump, something went wildly wrong – though you'd never know it today, following her extraordinary recovery under the care of Daniel Heckman, MD, an orthopedic surgeon with St. Luke's Orthopedic Care, and the expertise of St. Luke's Physical Therapy.
"I landed in the sand and something felt off," Fehnel, now-senior, recalled. "I never really felt anything like that before. My left leg felt a little wobbly. There was a competitor ahead of me by a couple of inches and I really wanted to beat her. Before my next jump, I went through my phases, I did my first phase and I fell. Everyone rushed over."
Libby had torn the anterior cruciate ligament in her left knee, suffered a tibial plateau fracture, and a torn meniscus.
Before she was diagnosed, the trainers at Allen called St. Luke's Jorge Perez, who serves as the athletic trainer at Northampton High School, and who knew Libby's dad, a teacher at Northampton who used to coach volleyball, which Libby also played.
Perez saw her more than 30 minutes after the incident; there was so much muscle tension that he referred her to St. Luke's Orthopedic Care, who diagnosed the injury with an MRI.
Dr. Heckman performed the ACL reconstructive procedure. A full year later, Libby has proven to be one extraordinary athlete by not only coming back in track and field, but by once again qualifying for leagues in the hurdles, javelin and long jump. She's also planning to attend Bloomsburg University next year to major in speech pathology and audiology, and plans to walk-on to the track team.
"She is motivated and pushes herself," offered Marcus Weber, PT, DPT, OCS of Physical Therapy at St. Luke's who worked with Libby during her rehab and called her "a natural athlete. She has such good motor control and muscle learning, she picks things up really fast.
"Like anybody, she was a little afraid of what was going on with her knee and what was going to happen, but she got over that very quickly. Initially, her quads weren't firing, she couldn't kick her leg out, but she turned that around in a week."
Dr. Heckman said that despite that initial quad issue, Libby got right back on schedule.
"You could see her become more confident in her knee as the process went on," Dr. Heckman said. "We brought her back at nine months post-surgery for full participation in sports, and she was ready to go."
Libby credited Perez for going above and beyond with individualized care.
"Before the surgery, he worked with me for a few weeks to get the flexibility back and reduce the swelling," Libby said. "And he definitely helped me after the surgery because once physical therapy was over and school started, I did lifting, sprints, plyometrics and agility work with him."
"She's a special young woman," Perez said. "Since that first moment she was determined to get better. Usually at the high school level, the kids don't come to see us. It's not often when one continues to do the rehab after surgery every single day, six days a week, even during the summer when there is no school. It's why she's doing so well right now."
Libby let nothing hold her back. Last year she went to the prom while on crutches and in a brace, and she also went to the beach and flew to North Carolina despite being on crutches. She missed her senior year of volleyball because it was too early for her to cleared, but now this extraordinary athlete is fully back on track.
Media Contact:
Sam Kennedy, Corporate Communications Director, 484-526-4134, samuel.kennedy@sluhn.org
About St. Luke's
Founded in 1872, St. Luke's University Health Network (SLUHN) is a fully integrated, regional, non-profit network of 14,000 employees providing services at 10 hospitals and over 300 outpatient sites. With annual net revenue of $1.9 billion, the Network's service area includes 10 counties: Lehigh, Northampton, Berks, Bucks, Carbon, Montgomery, Monroe and Schuylkill counties in Pennsylvania and Warren and Hunterdon counties in New Jersey. Dedicated to advancing medical education, St. Luke's is the preeminent teaching hospital in central-eastern Pennsylvania. In partnership with Temple University, St. Luke's created the region's first and only regional medical school campus. It also operates the nation's longest continuously operating School of Nursing, established in 1884, and 28 fully accredited graduate medical educational programs with 226 residents and fellows. St. Luke's is the only health care system in central-eastern Pennsylvania to earn Medicare's five-star rating (the highest) for quality, efficiency and patient satisfaction. St. Luke's has earned the 100 Top Major Teaching Hospital designation from IBM Watson Health (formerly Truven Health Analytics) repeatedly – six times total and four years in a row including 2018. It has also been cited by IBM Watson Health as a 50 Top Cardiovascular Program. Utilizing the EPIC electronic medical record (EMR) system for both inpatient and outpatient services, the Network is a multi-year recipient of the Most Wired award recognizing the breadth of the SLUHN's information technology applications such as telehealth, online scheduling and online pricing information. St. Luke's is also recognized as one of the state's lowest cost providers.