News
St. Luke's Extraordinary Care Becomes a Tradition for This Family
March 12, 2018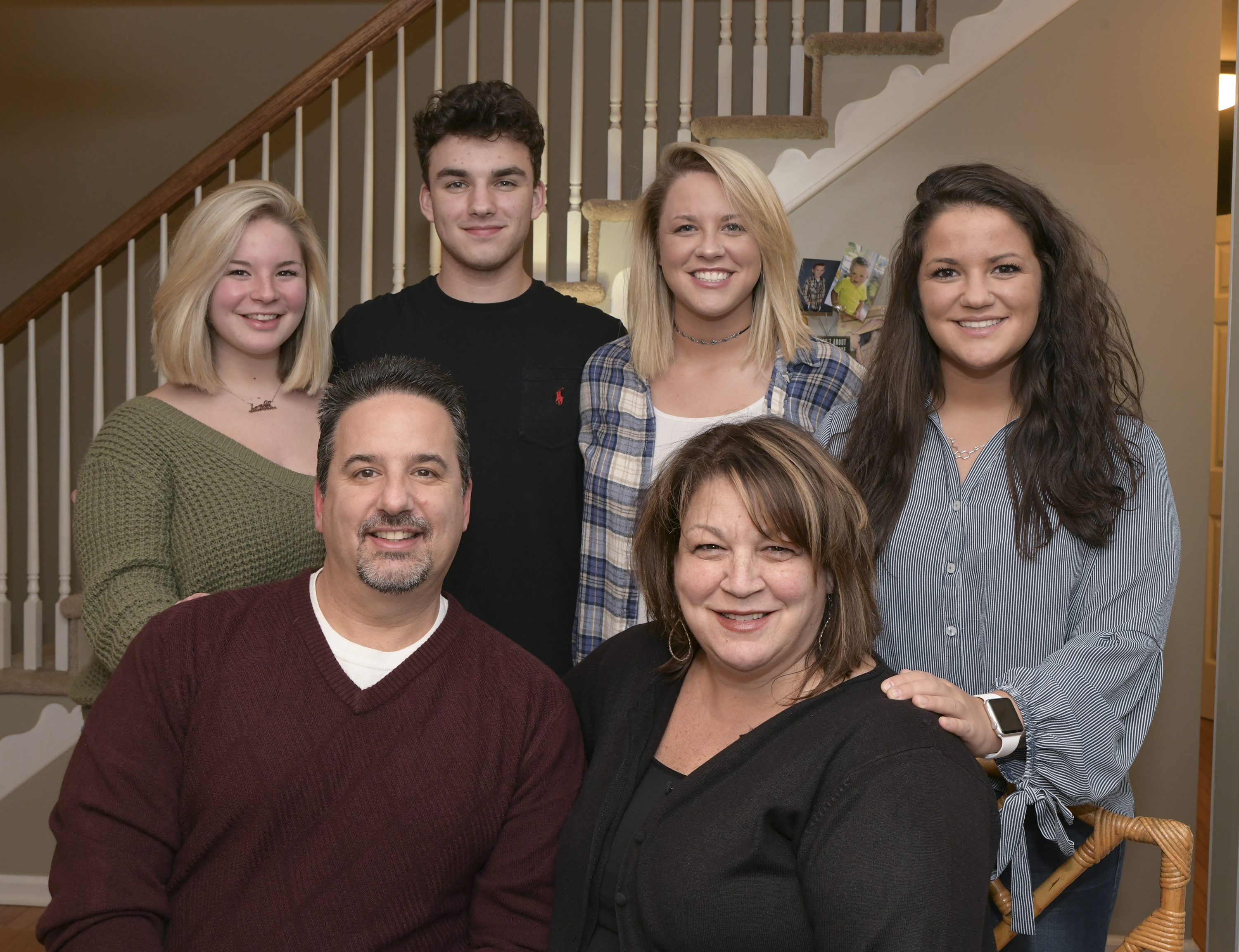 Birthdays are usually indelibly marked in parents' brains. When you have twins, doubly so. When you have two sets of twins, even more so.
But for the Walther Family of Bethlehem Township, with two sets of twins, two other dates are just as indelibly marked: July 26, 2012 and June 11, 2015. And no, those aren't birthdays.
On June 26, 2012, Rick, the father, had surgery to repair a torn biceps, the same day that daughter Julia had reconstruction surgery for a torn anterior cruciate ligament in her knee. On June 11, 2015, younger daughter Madison and Julia's twin, Hayley, both had ACL reconstructions.
All those surgeries were performed through minimally invasive arthroscopic surgery by an orthopedic surgeon with St. Luke's Orthopedic Care, and the rehabilitation therapy was done through Physical Therapy at St. Luke's Warren Campus.
And if that Extraordinary Care in orthopedics wasn't enough, Madison's twin, Richard Jr. (R.J.) had shoulder surgery to repair a torn labrum.
"All my kids have had some sort of orthopedic surgeries, some multiple times for the same injury,' Rick says. "And all the females in my family have had a torn ACL, including my wife Gina, who went through physical therapy and never went through with surgery."
Those are some extraordinary circumstances for the Walther family.
The three girls all tore their ACLs while playing soccer, R.J. injured his shoulder playing baseball while diving back into first base on a pickoff attempt by the pitcher, and Rick tore his biceps while moving things doing landscaping around the family home.
Hayley, now 21, and Madison, both tore their ACLs multiple times and had their first procedures performed by another surgeon.
Hayley, a goalie, tore hers once while playing at Freedom High School, and again when playing at Ramapo College in New Jersey, which caused her to give up the sport.
Madison, 16 and a junior at Freedom, also tore hers twice.
"They did a great job in following through with physical therapy, every one of them. They wanted to get better because they lead active lives and wanted to get back to that. From mom and dad all the way down through the kids, I've had interaction with every one of them."
And that's pretty extraordinary in its own way.
Media Contact:
Sam Kennedy, Corporate Communications Director, 484-526-4134, samuel.kennedy@sluhn.org
About St. Luke's
Founded in 1872, St. Luke's University Health Network is a fully integrated, regional, non-profit network of 14,000 employees providing services at 10 hospitals and over 315 outpatient sites. With annual net revenue of $1.9 billion, the network's service area includes 10 counties: Lehigh, Northampton, Carbon, Schuylkill, Bucks, Montgomery, Berks and Monroe counties in Pennsylvania and Warren and Hunterdon counties in New Jersey. Dedicated to advancing medical education, St. Luke's is a major teaching hospital – the only one in the Greater Lehigh Valley. In partnership with Temple University, St. Luke's created the region's first and only regional medical school campus. It also operates the nation's longest continuously operating School of Nursing, established in 1884, and 27 fully accredited graduate medical educational programs with 211 residents. St. Luke's is the only health care network in central-eastern Pennsylvania to earn Medicare's five-star rating (the highest) for quality, efficiency and patient satisfaction. Repeatedly, including 2018, St. Luke's has earned the 100 Top Major Teaching Hospital and 50 Top Cardiovascular Program designations from IBM Watson Health (formerly Truven Health Analytics). St. Luke's, utilizing the EPIC electronic medical record (EMR) system, is a multi-year recipient of the Most Wired award recognizing the breadth of St. Luke's information technology applications such as telehealth, online scheduling and online pricing information. St. Luke's is also recognized as one of the state's lowest cost providers.