News
Man with Down Syndrome Becomes Fitness Buff at St. Luke's
March 21, 2018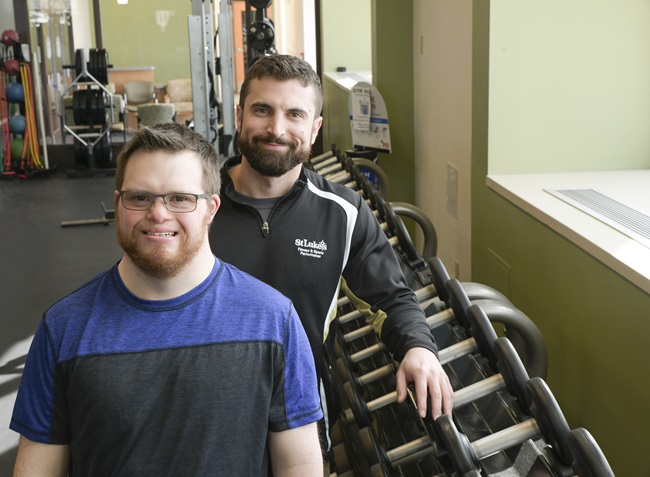 Dan Oplinger, who turns 27 in May, isn't an exercise specialist. He's an everyday fitness member at St. Luke's with a story of extraordinary fitness.
When Dan, who lives in Lower Macungie Township, Pa., first started at St. Luke's, he could barely do one pushup with his hands elevated about three feet off the ground. Today, he's up to 40. And down 30 pounds!
Dan is also a young man with Down syndrome. Eight years ago, he had open-heart surgery to repair a rare congenital heart defect, Ebstein's Anomaly. Prior to the surgery, Dan's endurance was limited and his attempts to achieve physical fitness met with little success.
He started an exercise program that showed modest improvements before finding St. Luke's Fitness & Sports Performance.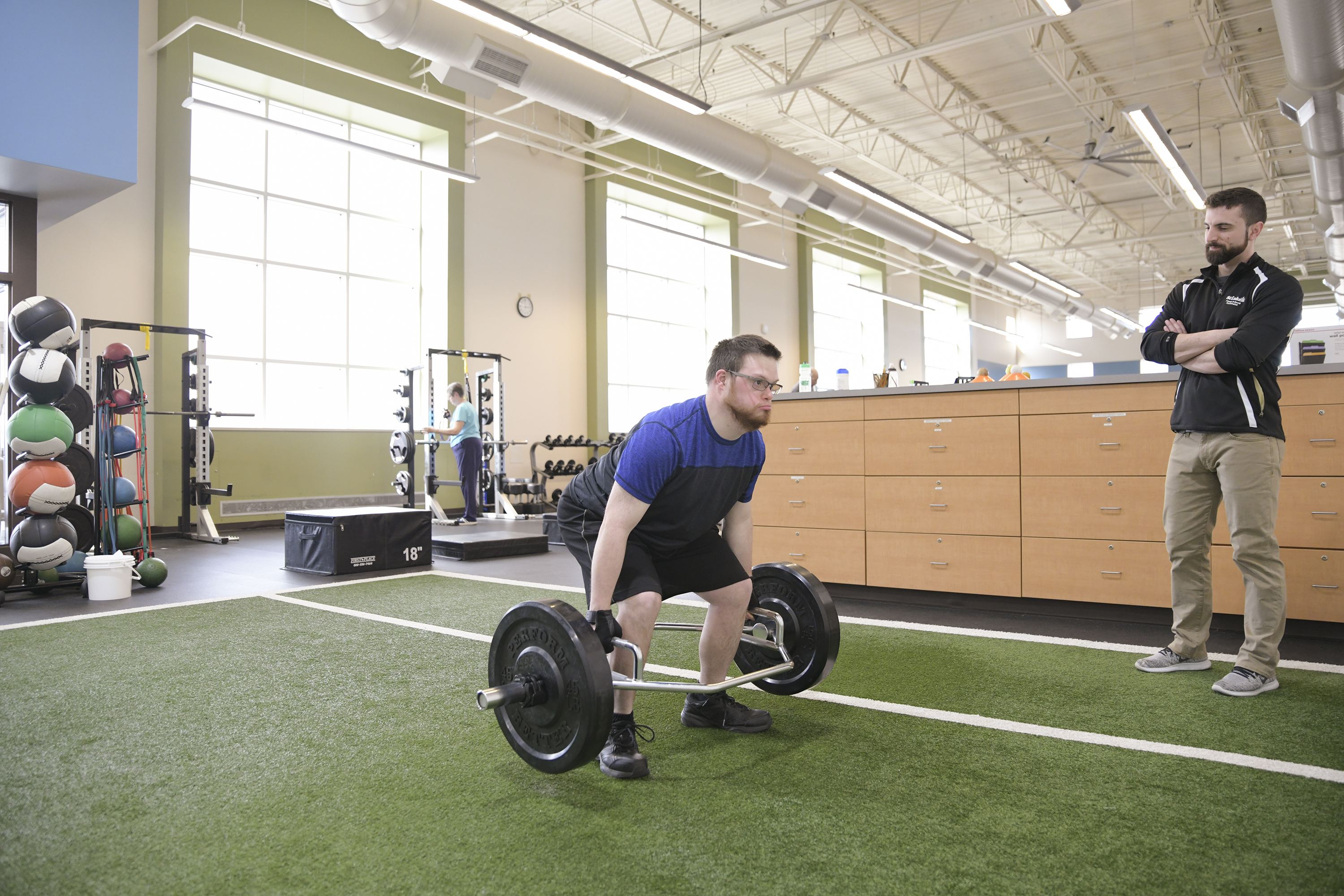 "When we switched to St. Luke's, it was like someone flipped a switch," Robyn Oplinger, Dan's mom, said. "He had lost some weight before that, but with St. Luke's for the past three or four years, he's lost 30 pounds, his posture has improved, his stamina is great."
Both Dan and Robyn credit certified exercise physiologist Jeffrey Baker MS, ACSM EP-C, FMS, FRCms, Director of St. Luke's Fitness & Sports Performance, for the extraordinary results, but Baker places all the laurels on Dan.
"He loves coming in and working out," Baker said. "If I give him a challenge to be able to do an exercise in six months, he'll do it in three. I actually have to dial some things down because he wants to do anything and everything.
"Any time I ask him to do something new, the answer is always 'Yes," with zero hesitation. He's always willing to push himself or try something new."
Dan recently celebrated his fifth anniversary as a front-end loader with Lowe's. Baker designed Dan's fitness program for general fitness and cardiovascular improvement, but also for functionality with the tasks he needs to do at work.
Since his exercise training at St. Luke's Fitness & Sports Performance Center – West End has picked up, he's been given more challenging tasks at work with less supervision.
Dan enjoys working on his arms, abs and doing deadlifts, areas of his body that are critical for safe handling and lifting on the job.
Dan typically works out three times a week with an additional personal training session with Baker. He uses the Jacob's Ladder for conditioning and to work on his balance and coordination skills to increase his quality of job skills at work.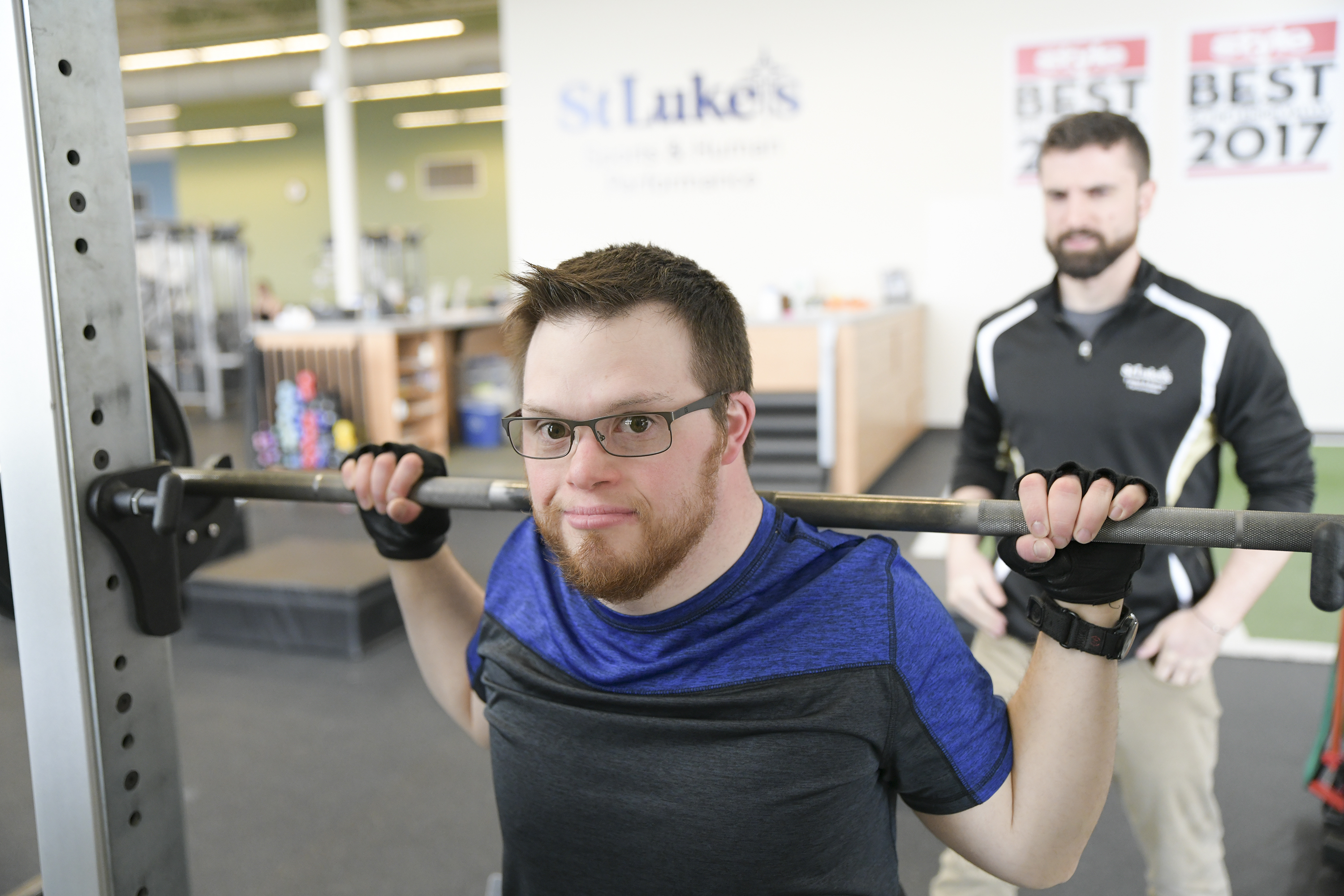 "It's hard on my legs and I have to move fast to keep up with it," Dan said.
"It's more than just being about weight loss or increases in strength," Baker said. "It's about total quality of life. Socially, he's much more open and engaging with staff and members than he was a few years ago.
"I see all the hard work and effort he puts into exercising at the gym, but it's what effect all that effort has on his life as a whole that makes him so extraordinary."
"I think it's wonderful that every individual has the opportunity to participate in a serious fitness program, receive intensive, personalized instruction and achieve outstanding results," Robyn said.
A true example of an extraordinary young man achieving independence through extraordinary fitness.
Media Contact:
Brenda Hageter, Media Relations, (484)-526-3051, Brenda.hageter@sluhn.org
About St. Luke's
Founded in 1872, St. Luke's University Health Network is a fully integrated, regional, non-profit network of 14,000 employees providing services at 10 hospitals and over 315 outpatient sites. With annual net revenue of $1.9 billion, the network's service area includes 10 counties: Lehigh, Northampton, Carbon, Schuylkill, Bucks, Montgomery, Berks and Monroe counties in Pennsylvania and Warren and Hunterdon counties in New Jersey. Dedicated to advancing medical education, St. Luke's is the preeminent teaching hospital in central-eastern Pennsylvania. In partnership with Temple University, St. Luke's created the region's first and only regional medical school campus. It also operates the nation's longest continuously operating School of Nursing, established in 1884, and 28 fully accredited graduate medical educational programs with 226 residents and fellows. St. Luke's is the only health care network in central-eastern Pennsylvania to earn Medicare's five-star rating (the highest) for quality, efficiency and patient satisfaction. Repeatedly, including 2018, St. Luke's has earned the 100 Top Major Teaching Hospital and 50 Top Cardiovascular Program designations from IBM Watson Health (formerly Truven Health Analytics). St. Luke's, utilizing the EPIC electronic medical record (EMR) system, is a multi-year recipient of the Most Wired award recognizing the breadth of St. Luke's information technology applications such as telehealth, online scheduling and online pricing information. St. Luke's is also recognized as one of the state's lowest cost providers.