News
Extraordinary Care Keeps This St. Luke's Volunteer Active at 82
March 02, 2018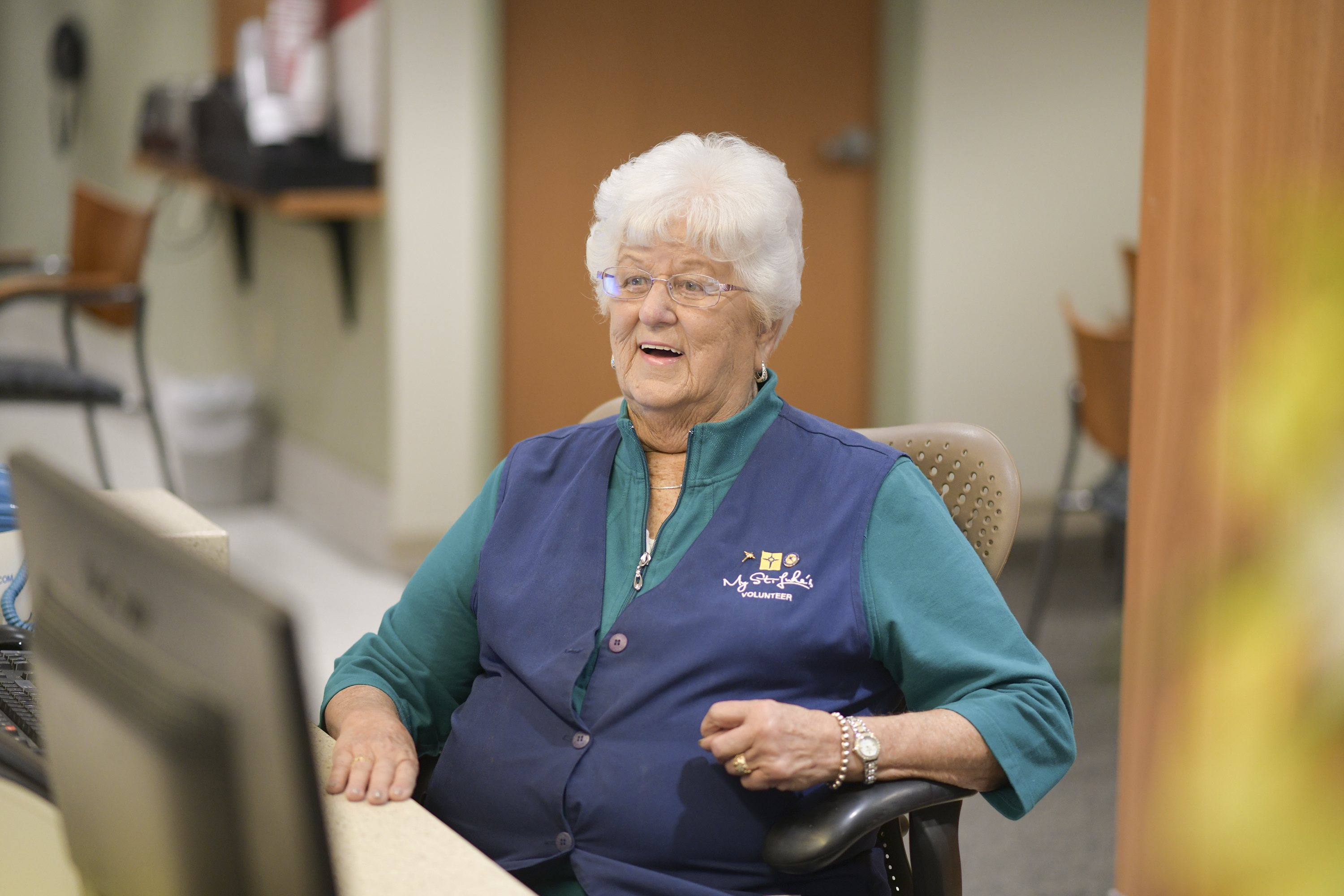 Knee pain was no match for Marilyn Rau, who refuses to sit still even at 82. St. Luke's Orthopedic Care helps to keep her on her feet.
After a full career working in a variety of office jobs at PPL, the Emmaus resident has been a volunteer at St. Luke's Allentown Campus for the past 10 years, working at the Information Desk as well as helping to distribute fresh vegetables to employees through the St. Luke's Employee Wellness co-op.
"That's my job from April or May to October, once a week," she proudly says of helping to distribute the locally sourced produce.
She started volunteering at St. Luke's because her daughter, Kathy Rau, was a respiratory therapist at St. Luke's for 30 years before retiring. That personal connection is one of the reasons she takes so much joy in handing out the fresh vegetables for the co-op.
Marilyn is also active in her church, plays a weekly game of cards with her friends, goes on bus trips, and even spends time in Florida during the spring.
But when she kept experiencing pain in her left knee in 2016, she knew something wasn't quite right.
"I had trouble for about a year," she remembers. "It just hurt in the back of my knee and I thought there was a lump. I always felt like there was something back there. It pained me and was uncomfortable."
Marilyn made an appointment with orthopedic surgeon Jennifer Banzhof, DO, of St. Luke's Orthopedic Care to diagnose and take care of a lifelong accumulation of wear-and-tear that led to arthritis and a degenerative joint.
"I could tell from the get-go that she was an active lady in a lot of areas of life and wanted to keep doing those things," Dr. Banzhof says. "We saw her here and decided to implement some conservative treatments for a while."
Marilyn received a series of cortisone injections that worked at first, but didn't provide the permanent relief she required to continue her busy lifestyle. At that point, it was time to consider surgery and a total joint replacement.
"Dr. Banzhof ordered some X-rays of my knee and it was bone-on-bone," Marilyn says, "so we decided to have the left knee replaced. I am so glad I went through with the surgery."
Surgery was only part of the answer. While the new artificial joint replaced the worn-out knee, Marilyn needed to utilize physical therapy in order to regain her normal activity levels. She went to Physical Therapy at St. Luke's on Main Street in Emmaus and had a good outcome.
And the scar from the knee replacement is thread-thin, barely eight inches long, something a sewer can truly appreciate.
"It's so thin you can hardly see it," Marilyn says. "Dr. Banzhof was amazing. She's a better sewer than me. She's good!"
Dr. Banzhof didn't initially know that Marilyn volunteers at St. Luke's, but now when she walks into the Allentown Campus, they exchange pleasantries and the patient gives the doctor a welcome uplift.
"She's really pleasant," Dr. Banzhof says. "It's always nice to see her there, and I can do a little spontaneous check-in with her. She's been volunteering here for a long time and it's wonderful that she chose her care with St. Luke's. She's active, a mover, and has positive energy."
Marilyn and Dr. Banzhof have forged an extraordinary relationship through the extraordinary care offered at St. Luke's.
Media Contact:
Brenda Hageter, Media Relations, (484)-526-3051, Brenda.hageter@sluhn.org
About St. Luke's
Founded in 1872, St. Luke's University Health Network is a fully integrated, regional, non-profit network of 14,000 employees providing services at 10 hospitals and over 315 outpatient sites. With annual net revenue of $1.9 billion, the network's service area includes 10 counties: Lehigh, Northampton, Carbon, Schuylkill, Bucks, Montgomery, Berks and Monroe counties in Pennsylvania and Warren and Hunterdon counties in New Jersey. Dedicated to advancing medical education, St. Luke's is a major teaching hospital – the only one in the Greater Lehigh Valley. In partnership with Temple University, St. Luke's created the region's first and only regional medical school campus. It also operates the nation's longest continuously operating School of Nursing, established in 1884, and 23 fully accredited graduate medical educational programs with 190 residents. St. Luke's is the only health care network in central-eastern Pennsylvania to earn Medicare's five-star rating (the highest) for quality, efficiency and patient satisfaction. Repeatedly, including 2017, St. Luke's earned Truven's 100 Top Major Teaching Hospital and 50 Top Cardiovascular Program designations, in addition to other honors for clinical excellence. St. Luke's, utilizing the EPIC electronic medical record (EMR) system, is a multi-year recipient of the Most Wired award recognizing the breadth of St. Luke's information technology applications such as telehealth, online scheduling and online pricing information. St. Luke's is also recognized as one of the state's lowest cost providers.