News
Sky's the Limit for This Parkettes Gymnast and St. Luke's Extraordinary Athlete
October 13, 2017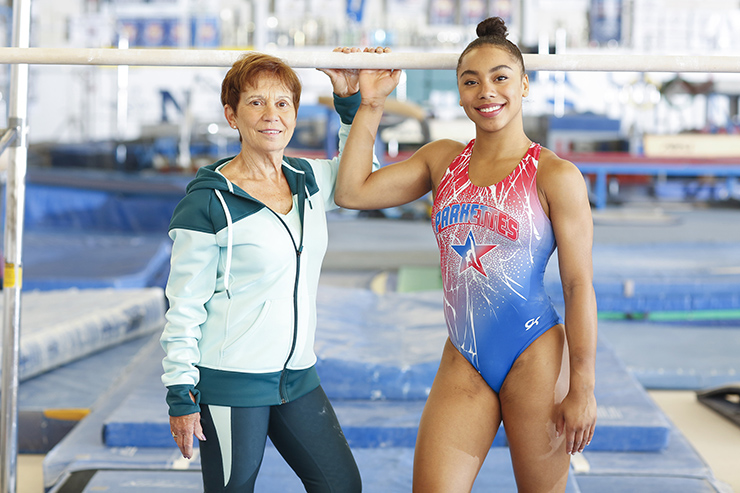 Margzetta Frazier – Marz to everyone who knows her – is one of the extraordinary athletes that impresses even someone who has produced multiple U.S. Olympic gymnasts like Parkettes National Gymnastics Center founder Donna Strauss.
During a rehabilitation stint earlier this year, Strauss lent her "Aqua Jogger" vest to Marz to "water run" laps in her pool so that she could continue cardiovascular conditioning while alleviating stress on an injured leg.
"She did four laps, and I thought, I'm going to go do more, and did eight," Strauss remembered. "I told her I did eight, and then she went out to my pool with her mother and did more. That's how competitive she is."
Marz, 17, is one of St. Luke's Extraordinary Athletes. She spends six days a week honing her abilities as one of the top gymnasts in the United States, commuting back and forth to Allentown from Erial, N.J., just outside Cherry Hill for what becomes 12- and 13-hour days.
"I just love competing, it's a ton of fun," Marz says.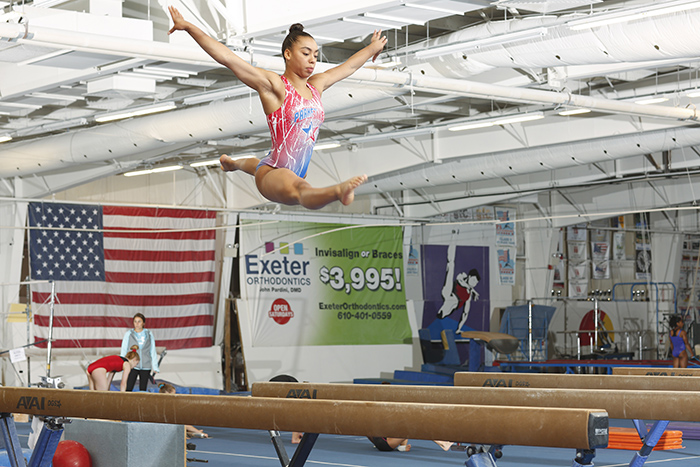 In August, she competed at the P&G Championships in Anaheim, California. Placing in the top five, she earned a coveted spot on the USA National Team. Four top gymnasts from the USA National Team will represent the United States at the World Gymnastics Championships in October.
While Marz just missed making this World Team, she is upbeat about her future, especially UCLA, and her career goal of becoming a sports anchor for ESPN or another network.
The daughter of William and Tina Frazier, Marz played a variety of sports including soccer, but her parents helped her choose gymnastics after she did a series of flips down the soccer field. Choosing a long-distance commute to Allentown from their New Jersey home was something mom Tina says parents do to help foster the best in their children.
"After I originally got to the Parkettes, my one goal was to qualify as an elite gymnast," Marz says. "Before that, I had no idea what an elite gymnast was, so I've come a long way in four years."
St. Luke's supports the Parkettes National Gymnastics Team as the Official Sports Medicine Provider. St. Luke's athletic trainer Ashley Winkelspecht works closely with Marz, and says, "Marz is a joy to work with. She always has a smile on her face and remains positive when dealing with injury. She takes the time to learn about and care for her body which has helped her succeed in an incredibly demanding sport."
"Marz is an extremely positive, energetic, focused young woman," says John Graham, Senior Director, Fitness & Sports Performance, St. Luke's University Health Network, who designs conditioning workouts to improve her stamina and get her in tip-top competition shape. "She's always fun to work with, kind, and very appreciative and respectful. Her explosiveness as an athlete and her work ethic are incredible."
Physical Therapy at St. Luke's also supports Marz and the Parkettes Gymnastics team. "She is a fun kid and is always willing to take herself to the next level," says physical therapist Monica Miller who helps Marz with range of motion and recovery.
"Marz really works hard not just on her gymnastics skills, but on her flexibility and conditioning, and that has helped keep her healthy and performing at such a high level," says St. Luke's physical therapist Jill Eisenberg who also works with the Parkettes. "We are thrilled about Marz getting a college scholarship."
Strauss says that college scholarships are a tradition at the Parkettes, where they have a banner on the wall at the Parkettes National Training Center with the names of the colleges and the girls who have received scholarships to those institutions.
"The college coaches know that the kids who have trained at this gym are dedicated individuals who have work hard and have a great work ethic," Strauss says. "Also, we stress good grades. College coaches like our gymnasts because they end up being team leaders."
Despite all the success Marz has had, Strauss feels that Marz is just beginning to blossom.
"She is just starting to get to where she could be," Strauss told The Morning Call newspaper. "Her bars [routine is] top of the line; she just needs better form and she'll be right there. On beam, she could hit or bobble; on floor [exercise] there is so much more she should be doing but she hurt her knee a little and took some time off. Same with vaulting; she will be really strong. She'll be a fabulous college gymnast."
The immediate ambition for Marz is to still make a U.S. team for worlds in the future, and ultimately, the U.S. Olympic team for 2020 in Tokyo, but for now, she's concentrating on finishing out her high school career and looking forward to setting foot on the UCLA campus. Her interests range from science and literature to singing and dancing, so the sky truly is the limit for this high-flying gymnast.
Media Contact:
Sam Kennedy, Corporate Communications Director, 484-526-4134, samuel.kennedy@sluhn.org
About St. Luke's
Founded in 1872, St. Luke's University Health Network (SLUHN) is a non-profit, regional, fully integrated and nationally recognized network providing services at seven hospitals and more than 270 outpatient sites. The network's service area includes Lehigh, Northampton, Carbon, Schuylkill, Bucks, Montgomery, Berks and Monroe counties in Pennsylvania and in Warren County in New Jersey. Dedicated to advancing health education, St. Luke's operates the nation's oldest School of Nursing and 23 graduate medical educational programs and is considered a major teaching hospital, the only one in the region. In partnership with Temple University, St. Luke's created the region's first Medical School. Repeatedly, including 2017, St. Luke's has earned Truven's 100 Top Major Teaching Hospital designation as well as 50 Top Cardiovascular program in addition to other honors for clinical excellence. St. Luke's is a multi-year recipient of the Most Wired award recognizing the breadth of St. Luke's information technology applications such as electronic medical records, telehealth, online scheduling and pricing information. St. Luke's is also recognized as one of the state's lowest cost providers in comparison to major teaching hospitals and other health systems.