News
Extraordinary Saucon Valley grad overcomes injury to achieve his dream
August 25, 2017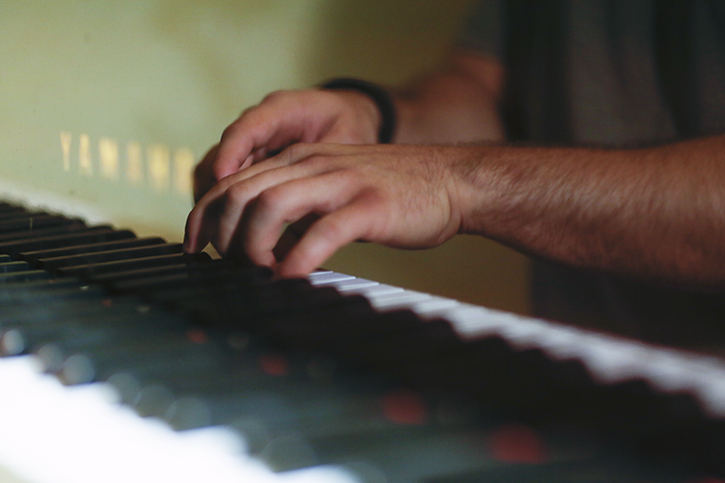 Dino Zaharakis, graduating Friday, is ready for Naval Academy following ACL repair at St. Luke's
Earning admission into the U.S. Naval Academy provided Dino Zaharakis with the ultimate high. Less than two weeks later, on the day before Christmas Eve, the Saucon Valley High School senior hit the ultimate low. During a wrestling match, the anterior cruciate ligament in his left knee tore.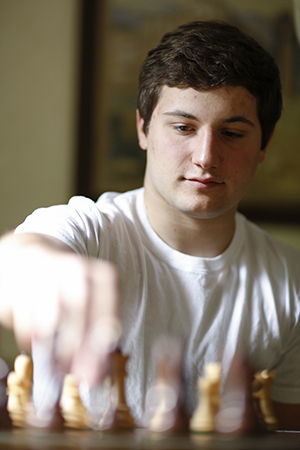 St. Luke's University Health Network athletic trainer Amy Virden, who is assigned to Saucon Valley. "The only thing that could have prevented him from entering the Naval Academy was a catastrophic injury, and this was it. We knew he needed to be in Annapolis for basic training in six months, and he needed his ACL reconstructed."
Dino will graduate from Saucon Valley High School this Friday, June 9. He is a beloved student-athlete and leader at Saucon Valley, where his smile and vibrant personality draw people to him. A three-sport athlete, senior class president and representative on the student government, Dino is also an inventor, holding a patent for DZ Dock, an iPad holder he designed when he was just 11 years old.
"I've been coaching for a while now, and when Dino got injured, I was sick to my stomach," says Saucon Valley wrestling coach Chad Shirk.
"When I was on the mat, I remember saying to the trainer, 'Oh my gosh, I'm not going to the Naval Academy now,' " Dino recalls.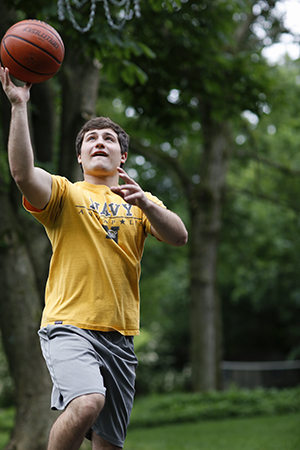 For a normal person, rehabbing from ACL surgery takes a full year. Dino's timetable needed to be much shorter. He needed to be physically ready for the physical rigors and basic training qualifications required of incoming Midshipmen.
The lessons Dino learned in teamwork translated well into working with the team of professionals at St. Luke's University Health Network, beginning with Virden, who made the necessary contacts for proper diagnosis as well as pre- and post-operative treatment.
St. Luke's Orthopedic Care surgeon Dr. Gregory Carolan performed the ACL reconstruction using part of Dino's hamstring as the new ligament, but not before Dino had already begun physical therapy.
"We explained to him exactly what it would take, the possibility that things may not work out, but as long as he worked hard, he had the chance to be successful, and he did work extremely hard," Virden says. "He often asked me if there was more that he could do. The tricky thing with ACL rehabilitation is you can't get too far ahead of yourself, but he was extremely driven."
Dino, who has higher than a 4.0 GPA and is one of the speakers at Saucon Valley's commencement, worked weekly with physical therapist Laura Rothermel, and every day after school with Virden, as well as at home on weekends. "Dino is goal-oriented and driven," says Rothermel. "On day one, we set goals together and his hard work and consistency helped him get where he needed to be. His work ethic is admirable." Officials from the Naval Academy told Dino he needed to be medically cleared by June 29, and he obliterated that deadline by receiving clearance in May.
"He worked his butt off in rehab, to the point of where he was two months ahead of most kids after two months," Dr. Carolan says. "I saw him recently and he even asked me if he could play lightweight football and wrestle."
Friends and family describe Dino, the son of Laura and Steve Zaharakis, as enjoying challenges, which he fully embraced with his aggressive rehabilitation and decision to attend the Naval Academy.
"The big thing for me was I want to do something that's important and help other people," Dino says. "The United States has been on the right side of history very consistently and I'd like to be a part of that."
Dino exudes all the qualities of a well-rounded person with outstanding academic performance, determination on and off the athletic field, and an unquenchable thirst to reach new heights.
"Not a lot of kids get into the Naval Academy," says Dr. Carolan. "You have to be an extraordinary person to achieve that. I'm very proud knowing that a young person from my community is accomplished enough to attend the Naval Academy and serve our country."
"I never thought my kid would be such an athlete," says mom Laura. "I never thought my kid would be a military kid and go to the Naval Academy. It's amazing how these kids surprise you. You don't have as much control as you think you do about their destiny."
Media Contact
Sam Kennedy, Corporate Communications Director, 484-526-4134, samuel.kennedy@sluhn.org
About St. Luke's
Founded in 1872, St. Luke's University Health Network (SLUHN) is a non-profit, regional, fully integrated and nationally recognized network providing services at seven hospitals and more than 270 outpatient sites. The network's service area includes Lehigh, Northampton, Carbon, Schuylkill, Bucks, Montgomery, Berks and Monroe counties in Pennsylvania and in Warren County in New Jersey. Dedicated to advancing health education, St. Luke's operates the nation's oldest School of Nursing and 22 graduate medical educational programs and is considered a major teaching hospital, the only one in the region. In partnership with Temple University, St. Luke's created the region's first Medical School. Repeatedly, including 2017, St. Luke's has earned Truven's 100 Top Major Teaching Hospital designation as well as 50 Top Cardiovascular program in addition to other honors for clinical excellence. St. Luke's is a multi-year recipient of the Most Wired award recognizing the breadth of St. Luke's information technology applications such as electronic medical records, telehealth, online scheduling and pricing information. St. Luke's is also recognized as one of the state's lowest cost providers in comparison to major teaching hospitals and other health systems.