News
St. Luke's Medical Offices—West Penn, Care Now Open in West Penn Township
November 14, 2016
St. Luke's Medical Offices—West Penn, Care Now Open in West Penn Township

West Penn Township, PA (11/14/2016)—St. Luke's University Health Network
opened its 7th walk-in health care facility on Nov.14. St. Luke's Care Now—West Penn is located in the new St. Luke's Medical Offices—West Penn at 2092 West Penn Pike, New Ringgold (West Penn Township), near the intersection of routes 895 and 309.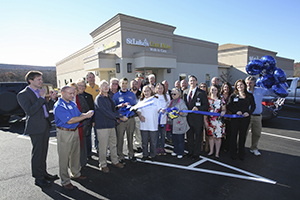 ---
St. Luke's Medical Offices--West Penn opened Nov. 14
Physical Therapy at St. Luke's
, formerly located in the strip mall across West Penn Pike from the new building, will relocate into much bigger accommodations when it also opens in the St. Luke's Medical Offices—West Penn on Nov. 14.
In addition to walk-in care and outpatient PT, clinicians at the new facility also offer onsite diagnostic testing, including lab and X-ray services, and occupational medicine services to local employers.
The new Care Now offers extended weekday and weekend hours—between noon to 8 p.m. Monday through Friday and 8 am to 4 pm on Saturday. Patients receive prompt treatment for illnesses and injuries that require immediate medical care and that are not serious enough to warrant a visit to the Emergency Room: fever and flu-like symptoms, sinus infections, bronchitis, sprains, strains, broken bones, dislocations, cuts, minor burns and animal bites.
"Not every medical need is serious enough to require an Emergency Room visit," says Joe Cunningham, Network Director,
Urgent Care Services
at St. Luke's University Health Network. "St. Luke's Care Now bridges the gap, providing immediate, high quality St. Luke's walk-in care for acute illnesses and injuries, or as the name implies, care now."
No appointment is needed at St. Luke's Care Now, according to the center's medical director
Robert Dolansky, DO
.
"Patients can walk right in and be seen by a St. Luke's primary care provider, making it the quick, practical choice for anyone who cannot get an immediate appointment for acute health concerns with their primary care physician," Dolansky said. "Care also is provided faster and at a lower cost than an emergency room visit. And, for the convenience of our patients, we can electronically submit most prescriptions right to the pharmacy if needed." While St. Luke's Care Now manages unpredictable acute medical needs that cannot wait, it does not replace an individual's primary care physician or manage chronic health concerns.
St. Luke's Care Now—West Penn can be reached at 570-645-1520 during the hours listed above.
About St. Luke's
Founded in 1872, St. Luke's University Health Network (SLUHN) is a non-profit, regional, fully integrated and nationally recognized network providing services at seven hospitals and more than 270 outpatient sites. The network's service area includes Lehigh, Northampton, Carbon, Schuylkill, Bucks, Montgomery, Berks and Monroe counties in Pennsylvania and in Warren County in New Jersey. Dedicated to advancing health education, St. Luke's operates the nation's oldest School of Nursing and 22 graduate medical educational programs and is considered a major teaching hospital, the only one in the region. In partnership with Temple University, St. Luke's created the region's first Medical School. Repeatedly, including 2016, St. Luke's has earned Truven's Top 100 Major Teaching Hospital designation as well as Top 50 Cardiovascular program in addition to other honors for clinical excellence. St. Luke's is a multi-year recipient of the Most Wired award recognizing the breadth of St. Luke's information technology applications such as electronic medical records, telehealth, online scheduling and pricing information. St. Luke's is also recognized as one of the state's lowest cost providers in comparison to major teaching hospitals and other health systems.