Learn More
Why Sterile Processing?
Great pathway into healthcare.
Patients will always need surgery and hospitals depend on Sterile processing to provide medical equipment and surgical instruments.
Sterile Processing technician's role is critical to patient care by providing clean and sterile surgical instrumentation that allows Doctor's to perform lifesaving procedures in scheduled and emergency situations.
Defined ladder for growth and advancement (St. Luke's team has grown 20% in the last year, and we're not stopping now!)
It's a great entry point into the field and Sterile Processing has many personal growth opportunities – check out the career growth opportunities below.
Is there room for growth?
Yes, St. Luke's continues to grow and there is plenty of opportunity for upward mobility. After your initial 18-month commitment, you may choose to grow your career with us. We'll help you explore St. Luke's numerous career advancement opportunities. Here are many of the career growth opportunities in Sterile Processing.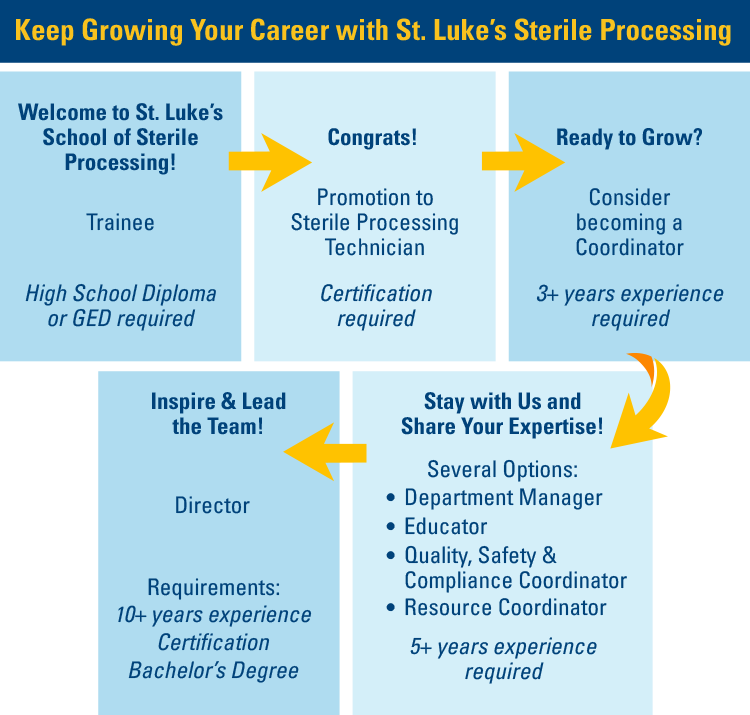 What Responsibilities are involved with Sterile Processing?
Receiving used surgical instruments and supplies from the operating room and various other departments.
Disassembling, inspecting, and cleaning instruments.
Loading, monitoring, and operating different kinds of equipment.
Organizing and assembling instrument trays required for surgical cases.
Maintaining records of all equipment and supplies.
Delivering exceptional customer service.
Who Typically Enjoys a Career in Sterile Processing?
Individuals who excel in Sterile Processing are typically very organized and detail-oriented. They have strong communication skills and are good problem solvers. Sterile Processing is a rewarding field for many, especially those who:
Like a fast-paced environment.
Enjoy hands-on work.
Appreciate performing routine tasks.
Will I get paid during the 6-month orientation period?
Yes, you will receive a paycheck and full benefits.
When would my employee receive benefits?
We care for you – day 1. Benefits begin on your first day of employment.
Will I incur any out-of-pocket expense for the training?
St. Luke's invests in its employees. With your commitment to an 18-month contract, your tuition is waived.
How long will it take before I hear about my application?
Please allow two weeks for processing of your application once submitted.
Is the orientation/training program offered only a few times a year or can I start at any time?
The School of Sterile Processing training program typically runs twice a year. New employees joining the Network for the training program can sometimes start a few weeks before the program begins. Employees will be allowed to complete other tasks until the training program starts.
What if I'm already certified? Can I still apply to St. Luke's?
Yes, we have open positions available. Apply today!
Will I need to travel?
Yes, there will be some travel involved locally to different St. Luke's campuses.
---
Do you still have questions?
Please contact our School of Sterile Processing at sterileprocessing@sluhn.org or 484-526-6206.