News
Surgeon and Former Teacher Dr. Justin Miller to Speak at Tamaqua Middle School Career Day
May 16, 2023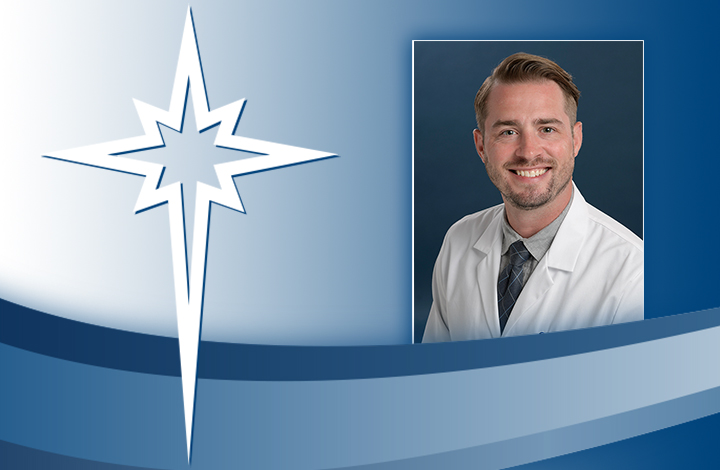 Justin Miller, DO
Former math teacher Justin Miller will again find himself standing before middle school students on May 17. But this time, he won't be teaching algebra. Now Justin Miller, DO, an orthopedic surgeon and orthopedic oncologist at St Luke's Orthopedic Care in Tamaqua, will be one of many speakers participating in the Tamaqua Area Middle School's Career Day. He plans to encourage students to doggedly pursue "what they really care about."
"The experience will bring me full circle by putting me back where my career started," he said. "I'm sure it will be exciting and spark fun memories. While I enjoyed the kids and fellow teachers, I wanted something different and having the wealth of youth, I could pursue what I truly wanted to do." As an orthopedic surgeon, Dr. Miller guides patients through their orthopedic healing and rehabilitation and cares for patients with certain types of cancer.
In 2008, 23-year-old "Mr. Miller" taught algebra to middle schoolers in Bucks County. Then a freak accident started his path to a different career. Dr. Miller was helping his father, a mason, purchase supplies when his 14-year-old brother accidentally ran over the back of his ankle with a wheelbarrow, slicing his Achille's tendon. Surgery and months of physical therapy followed, resulting in a full recovery.
But the experience led him to question his career choice. He was intrigued by medicine and impressed by the surgeon's impact on his life. He wanted to be that person for someone else. Over the next decade, he earned a medical degree and completed an orthopedic surgery residency and then a musculoskeletal oncology fellowship.
"I thought I had made an incorrect career choice, so I made a different one," he said. "I want students to know that if you think you want one career and get inspired by something else, go after what excites you. For me, it took time and a lot of hard work, but now I'm doing what I love."
Dr. Miller, who comes from a blue-collar background, also wants students to know they don't have to be from high society to achieve an advanced degree. But also, they don't necessarily need an advanced degree, or any degree, to find an occupation that makes them happy.
Sue Brickle, Tamaqua Middle School Guidance Counselor, said the school holds a school-wide career day every three years. Hearing professionals describe their jobs helps students learn about careers that might interest them.
Media Contact:
Sam Kennedy, Corporate Communications Director, 484-526-4134, samuel.kennedy@sluhn.org
About St. Luke's
Founded in 1872, St. Luke's University Health Network (SLUHN) is a fully integrated, regional, non-profit network of more than 18,000 employees providing services at 14 campuses and 300+ outpatient sites. With annual net revenue of $3.2 billion, the Network's service area includes 11 counties in two states: Lehigh, Northampton, Berks, Bucks, Carbon, Montgomery, Monroe, Schuylkill and Luzerne counties in Pennsylvania and Warren and Hunterdon counties in New Jersey. St. Luke's hospitals operate the biggest network of trauma centers in Pennsylvania.
Dedicated to advancing medical education, St. Luke's is the preeminent teaching hospital in central-eastern Pennsylvania. In partnership with Temple University, the Network established the Lehigh Valley's first and only four-year medical school campus. It also operates the nation's longest continuously operating School of Nursing, established in 1884, and 45 fully accredited graduate medical educational programs with more than 400 residents and fellows. In 2022, St. Luke's, a member of the Children's Hospital Association, opened the Lehigh Valley's first and only free-standing facility dedicated entirely to kids.
SLUHN is the only Lehigh Valley-based health care system to earn Medicare's five-star ratings (the highest) for quality, efficiency and patient satisfaction. It is both a Leapfrog Group and Healthgrades Top Hospital and a Newsweek World's Best Hospital. The Network's flagship University Hospital has earned the 100 Top Major Teaching Hospital designation from Fortune/Merative 10 times total and eight years in a row, including in 2022 when it was identified as THE #2 TEACHING HOSPITAL IN THE COUNTRY. In 2021, St. Luke's was identified as one of the 15 Top Health Systems nationally. Utilizing the Epic electronic medical record (EMR) system for both inpatient and outpatient services, the Network is a multi-year recipient of the Most Wired award recognizing the breadth of the SLUHN's information technology applications such as telehealth, online scheduling and online pricing information. The Network is also recognized as one of the state's lowest cost providers.