News
SLUHN Ranked among 100 Top Hospitals
September 21, 2023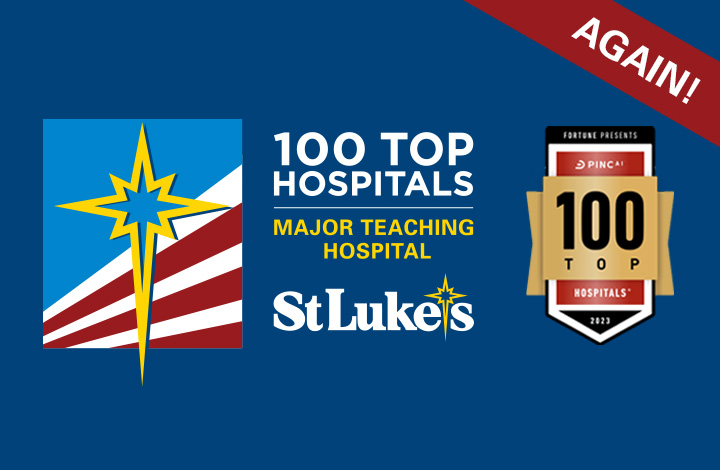 St. Luke's, highest-ranked in the state, is the region's only health network to earn a spot on the annual list recognizing excellence in clinical outcomes, operational efficiency, patient experience and financial health.
St. Luke's University Health Network has been named to Premier's 2023 PINC AI 100 Top Hospitals list published by Fortune magazine.
This is the 11th time that St. Luke's University Hospital has been recognized among the 100 Top Hospitals in the United States. St. Luke's is the only health network in the greater Lehigh Valley region to ever earn this distinction, and this year it is the highest-ranked network in Pennsylvania.
"St. Luke's enjoys a well-deserved reputation as the health network in the Lehigh Valley that is the most compassionate and whose quality stands in no-one's shadow," said Rick Anderson, President and CEO of St. Luke's University Health Network. "This latest 100 Top Hospitals designation validates that St. Luke's delivers the highest quality health care with the best clinical results in the region."
The 100 Top Hospitals ranking, conducted annually since 1993, is the most prestigious honor for hospitals in the United States, as it is based entirely on objective data and also as top performers are not subjected to the exorbitant, pay-for-play promotional fees associated with recognitions from other organizations such as U.S. News & World Report. The sponsoring company has changed over the years, but the methodology underlying the ranking remains the same.
PINC AI, the technology and services platform of healthcare consultancy Premier, Inc., has identified the top hospitals from a rigorous evaluation of 2,644 short-term, acute care, non-federal hospitals in the U.S., recognizing excellence in patient outcomes and quality as well as operational efficiency, financial health and community impact.
Specifically, St. Luke's University Hospital, which comprises the Bethlehem, Allentown and Sacred Heart campuses, was recognized as No. 4 of the 15 best Major Teaching Hospitals. It is the highest-ranked Pennsylvania hospital in the Major Teaching category.
St. Luke's Anderson campus was also recognized No. 5 of the 25 Best Teaching Hospitals. It too was the highest-ranked hospital in the state in its category.
"These hospitals bested their peers on all measures," Fortune said in its article concerning the ranking. "And according to PINC AI's analysis, there's much to gain in following their lead: If all hospitals performed at the same level as the Top 100, more than 272,000 additional lives would be saved in the hospital and more than 432,000 additional patients would be spared complications as a result of care. $15.7 billion in inpatients costs would be avoided."
For more information, visit https://fortune.com/article/100-top-hospitals-2023-pinc-ai/.