News
Ranked among 50 Top Cardiovascular Hospitals Nationally
March 16, 2023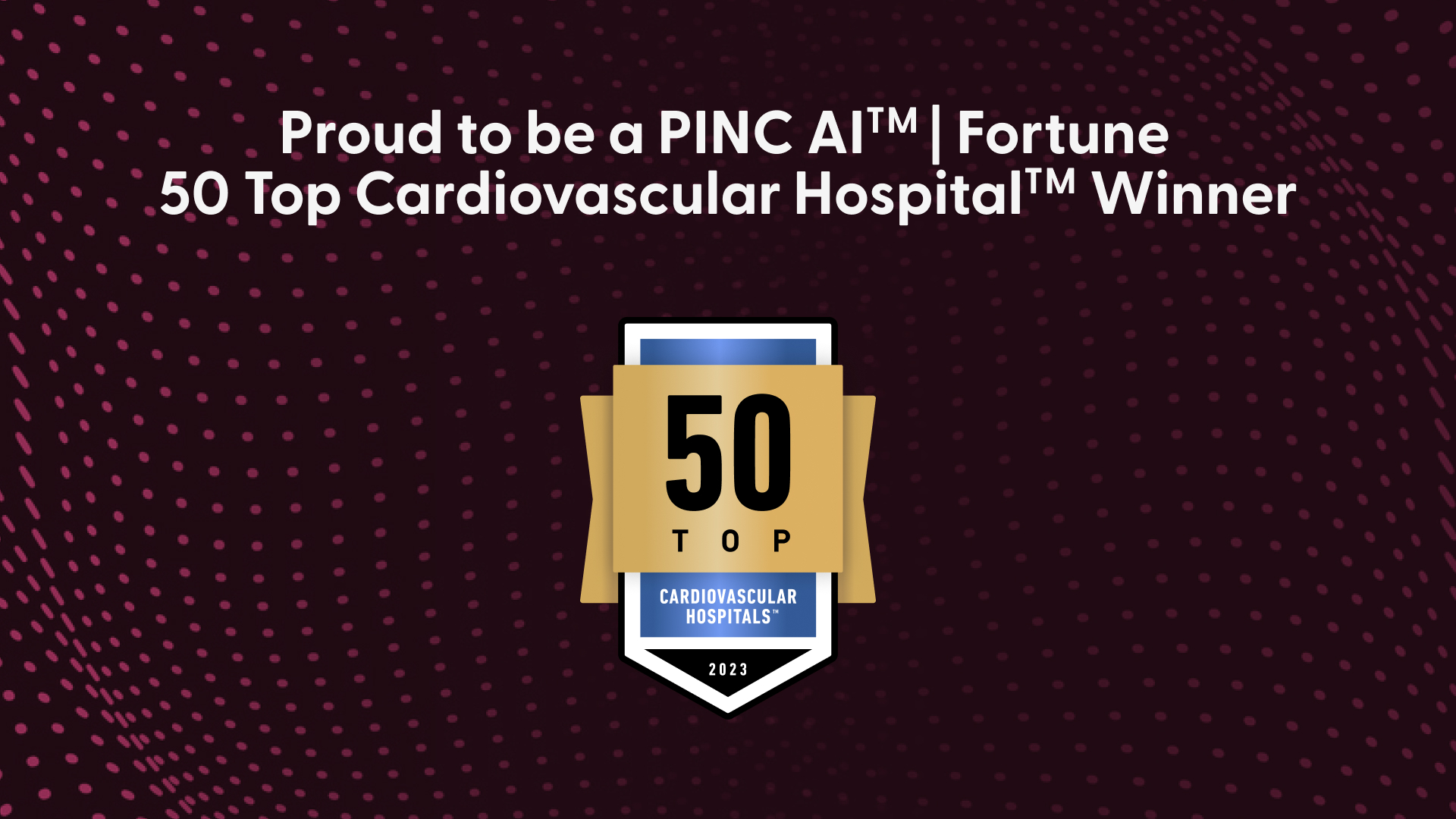 St. Luke's University Hospital, ranked among the top 50 in cardiovascular care nationwide for the eighth time, demonstrated significantly higher survival rates associated with cardiac care, with fewer readmissions and complications.
St. Luke's University Hospital this week was identified as one of the nation's 50 Top Cardiovascular Hospitals™ according to an independent quality analysis provided by PINC AI™ and reported by Fortune.
To select top performers, an objective, independent, quantitative research analysis was performed using publicly available data measuring cardiac care in the United States.
"This prestigious award is a credit to our entire team – the incredible St. Luke's heart doctors and heart surgeons, advanced practitioners, nurses and other staff who demonstrate a tireless commitment to providing the very best care to every patient every day," said St. Luke's Cardiovascular Chairman Raymond Durkin, MD.
St. Luke's University Hospital (Bethlehem and Allentown campuses) was previously named to the 50 Top Cardiovascular Hospitals list in 1999, 2001, 2002, 2003, 2012, 2014 and 2021. St. Luke's is the only health care network in the Lehigh Valley to earn this honor in recent years.
50 Top Cardiovascular Hospitals™ program performance
This year, the 50 Top Cardiovascular Hospitals™ program winners delivered better outcomes while operating more efficiently and at a lower cost. Compared to a peer group of non-winning cardiovascular hospitals, this year's winners had:
Significantly higher inpatient survival rates (19.0 to 40.6 percent higher).
Fewer patients with complications (13.2 to 15.4 percent fewer complications).
Higher 30-day survival rates for acute myocardial infarction (AMI), heart failure (HF) and coronary artery bypass grafting (CABG) patients (0.4 to 0.9 percentage points higher).
Lower 30-day readmission rates for AMI, HF, and CABG patients (0.5 to 1.0 percentage points lower).
Average lengths of stay (ALOS) varied between patient groups from 0.6 (AMI, HF, PCI) to 0.8 (CABG) shorter length of stay.
$860 to $5,076 less in total costs per patient case (the smallest dollar-amount difference was for HF, and the largest was for CABG).
Lower average 30-day episode of care payments for AMI and HF ($1,493 and $781 less per episode, respectively).
Patients had a better experience at benchmark hospitals compared to peer hospitals, with a top-box HCAHPS score of 75 percent versus 70 percent.
"Heart disease remains the leading cause of death for all Americans, resulting in nearly 700,000 deaths and $229 billion in added costs each year," said Leigh Anderson, Premier's President of Performance Services and the leader of PINC AI™. "Given the life and death nature of this condition, patients and their loved ones need credible information to help them determine where to go for the best possible care. This objective, data-driven study proves that St. Luke's excels across a range of core performance indicators, which directly leads to significantly higher survival rates associated with cardiac care, with fewer readmissions and complications."