News
Pavilion Named for Kapoor Family
November 20, 2023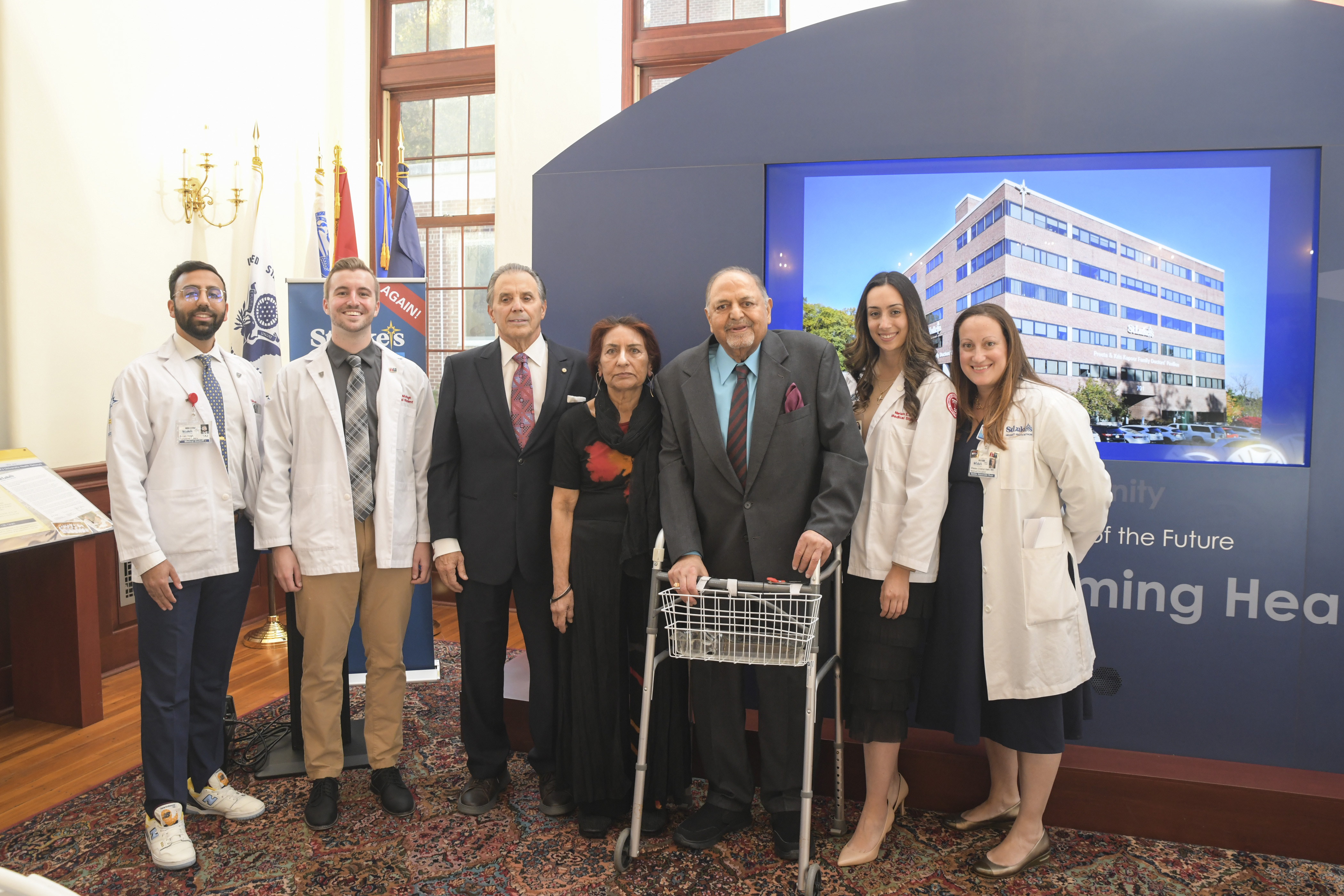 Preeta and Kris Kapoor join St. Luke's President & CEO Rick Anderson, Temple/St. Luke's School of Medicine Senior Associate Dean Dr. Shaden Eldakar-Hein and students Taj Singh, Riley McHugh and Meriam Deeb during a reception at the St. Luke's Bethlehem Campus.
Accomplished engineer, businessman and developer Gopal "Kris" Kapoor and his wife, Preeta, were recently recognized at a reception at the St. Luke's Bethlehem Campus celebrating the couple's transformational gift to support scholarships for Temple/St. Luke's School of Medicine students. In their honor, the Doctors' Pavilion at the campus has been renamed The Preeta and Kris Kapoor Family Doctors' Pavilion.

"We are very strong believers in the power of education to transform lives," said Kris Kapoor. "That's why we chose to support St. Luke's. It is the only medical school in the Lehigh Valley that will educate and train young doctors here in our community. We are so happy that our contribution will go toward scholarships to benefit these students."
In recent years, the Kapoors and other donors have allowed St. Luke's to establish an endowment of nearly $25 million for scholarships to help medical students achieve the dream of serving others as physicians.
"Over the past decade, a third of the nearly 300 physicians who have graduated from Temple/St. Luke's, the Lehigh Valley's only medical school, have continued their training at St. Luke's or are now employed as attending physicians," St. Luke's President & CEO Rick Anderson said. "Generous donors such as Preeta and Kris Kapoor have made a transformational investment in the future of health care in the Lehigh Valley, and we are profoundly grateful for their support."
Shaden Eldakar-Hein, MD, MS, FACP, senior associate dean of the Temple/St. Luke's School of Medicine, said that a primary goal of the school is to "attract the most talented medical students to learn, train and enhance their careers in the Lehigh Valley. Retaining these young doctors helps to lessen the impact of an ongoing national physician shortage and ensures that our region will have access to high-quality health care.
"The Kapoor's gift will have an immediate and lasting impact in helping St. Luke's attract and educate the next generation of physicians who will serve the Lehigh Valley and beyond for decades to come. Of the 40 new students who join the Temple/St. Luke's School of Medicine each year, more than half are Pennsylvania residents."
Born and educated in India, Kris Kapoor said he was drawn to the "freedom and excitement of the Western world" after graduating from the Delhi College of Engineering in 1958. He first traveled to Germany to learn about cement machinery and, a year later, found himself in Catasauqua, Pa., as a design engineer with Fuller Company. Kris spent his evenings taking post-graduate classes at Lehigh University, where he studied subjects that furthered his engineering knowledge and helped him understand the complexities of the company's international business reach.
He quickly moved up within the company that sold cement plant equipment and technology in primarily developing countries, which relied on cement to build roadways and structures. His role as vice president of marketing and sales required him to travel extensively – an estimated 4.5 million miles, or the equivalent of 160 times around the globe. In 1986, he joined with five other Fuller senior executives to buy the company and then resell it in 1991 to F.L. Smidth, a Danish firm.
"I'm proud to have had a role in the first infrastructure boom in the United States, and later the globe, providing critical materials for human prosperity," Kapoor said.
Kapoor then turned his focus toward real estate development, building nearly 300 homes in the Macungie area. With a goal of enjoying his retirement, he sold the last of his 30 rental properties in the Lehigh Valley and his three commercial rental properties in India in 2021.
In Kapoor's commitment to the Lehigh Valley, he was one of the founders of the Hindu Temple Society of Allentown and was Chairman of the Board of Trustees, along with being on the board of the Allentown Rescue Mission, ArtsQuest and the ArtsQuest Foundation.
The Kapoor's have strong ties with St. Luke's after seeking care from several physicians within the Network over the years. "We've always been pleased with the quality of the care we've received," said Kapoor. "So, when Preeta and I were thinking of ways we could give back to our community, we decided that a good way to help was to send more well-trained doctors out into the world."
Adds Preeta: "God has given us so many blessings. Our two children are doing well. They are happy in their fields, happy in their lives. We have seven grandchildren, and they are doing well, too. We've had a very good and interesting life and we are happy to share what we have. Now it's time to give back."