News
New Buxmont Gastroenterology Location in Harleysville
May 04, 2023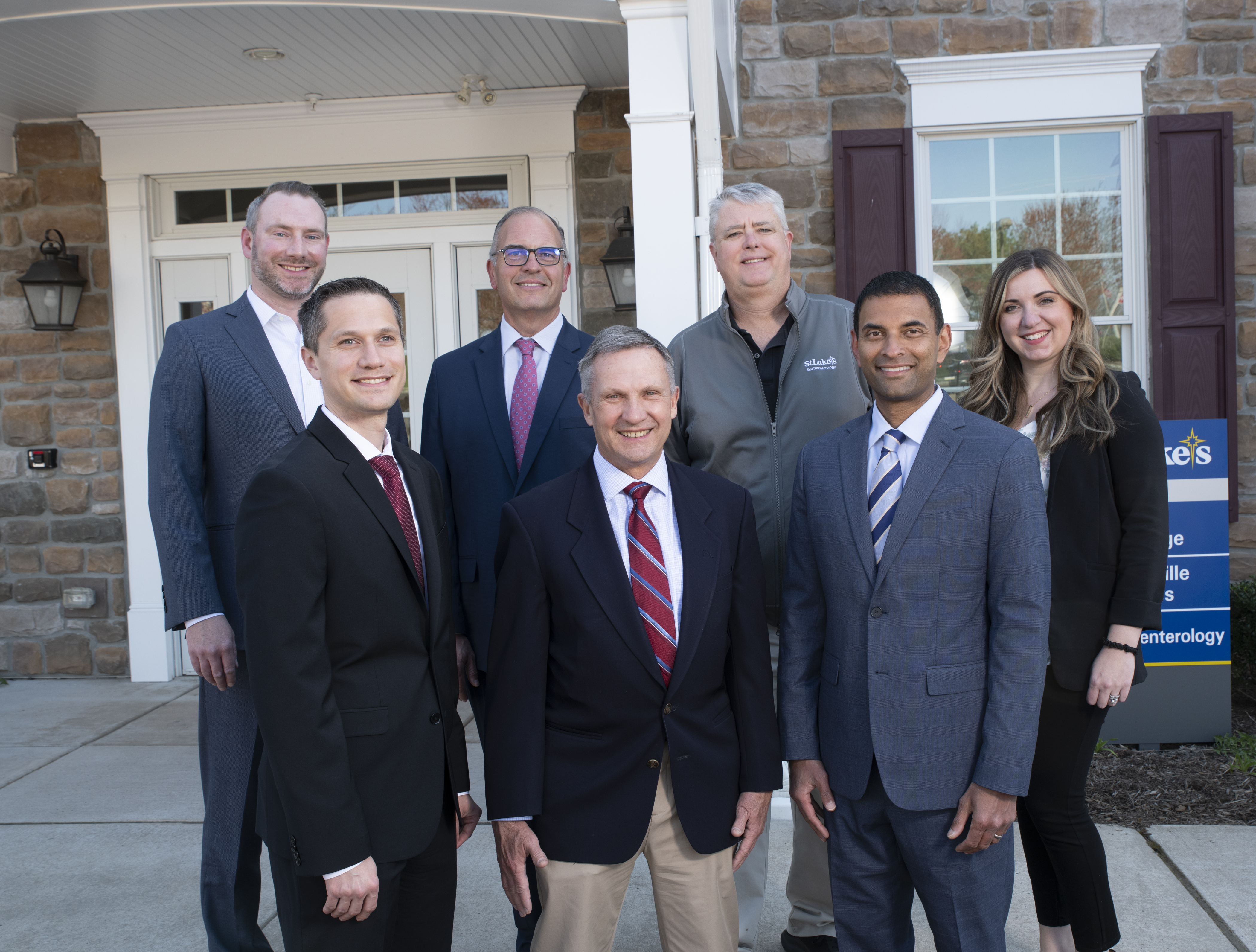 Photo caption, from ribbon cutting: Back row - Dr. Christopher Hibbard, Dennis Pflieger, Dr. Michael Cassidy, Sarah Halpin; front row - Scott Siegfried, Dr. Jerome Burke, Dr. Noel Martins.
As St. Luke's University Health Network (SLUHN) expands its presence in Bucks and Montgomery counties, it is also enhancing its capabilities. This week, on May 1, St. Luke's University Health Network opened a new office for Gastroenterology patients at 142 Clemens Road in Harleysville.
"Opening a Harleysville practice was a high priority for us. We have many patients in the community seeking our care and wanted to bring their care closer to home," says Scott Siegfried, St. Luke's University Health Network's (SLUHN) Service Line Administrator of Gastroenterology.
"The St. Luke's Gastroenterology team, regionally comprised of providers formerly known as Buxmont Gastroenterology, used to have a presence in the Harleysville community. It is important to bring their great care back to the community."
New to the practice is Christopher Hibbard, DO, who is certified in gastroenterology by the American Board of Internal Medicine and specializes in esophageal studies. He joins other providers at St. Luke's Gastroenterology, including:
Jerome M. Burke, MD
Michael J. Cassidy, MD
Inki Hong, MD
Keith R. Kearney, DO
Ira Kelberman, MD
William J. O'Toole, MD
Herman D. Sharrer, CRNP
Dr. Hibbard joined St. Luke's because of the Network's support for gastroenterology.
"It's evident that St. Luke's values the expanding technology and subspecialties of GI, and I wanted to be a part of its new growth," he explains.
"St. Luke's Gastroenterology is a perfect fit because it has a small, private practice feel within the larger GI division of St. Luke's. The people are fantastic to work with, and I'm excited to part of St. Luke's southern expansion into Harleysville."
Dr. Hibbard is the former Director of Esophageal Disease at Einstein Medical Center Philadelphia, so he brings a wealth of expertise in disorders of the esophagus, including motility issues, GERD, and Barrett's esophagus treatment.
"The technologies and training I'm bringing to the Network will allow patients in the Sellersville and Harleysville areas to have access to these tests and treatments here," he says.
Previously, these studies were only available at the St. Luke's Bethlehem Campus.
"Instead of having to drive to the Lehigh Valley or Philadelphia, patients who live farther south in our region will be able to access these types of studies closer to home. That expertise and convenience is a big part of what the St. Luke's Network strives to provide," Siegfried explains.
Dr. Hibbard earned a B.A. in biologic basis of behavior with minors in chemistry and bioethics from the University of Pennsylvania before receiving his medical degree from the Philadelphia College of Osteopathic Medicine.
He completed both his internship and residency, and a fellowship in gastroenterology at Albert Einstein Medical Center in Philadelphia.

Dr. Hibbard serves as an instructor in medicine at Albert Einstein Medical Center and as an assistant professor of medicine at Thomas Jefferson University.
"The world of gastroenterology tends to be quite a personal one, so the first thing I do with patients is establish a solid rapport," Dr. Hibbard says. "The fact that I myself have reflux disease allows me to connect to my patients in a unique way because I know exactly what they're experiencing."
Adds Siegfried: "Dr. Hibbard highly skilled and focused on giving his patients the highest quality of care. This fits very nicely with the approach of our entire St. Luke's Gastroenterology team."
St. Luke's Gastroenterology also has locations at St. Luke's Hospital – Quakertown Campus and at St. Luke's Gastroenterology – Buxmont 1107 Bethlehem Pike in Sellersville.
Dr. Hibbard is accepting new patients. For an appointment with him or other providers at St. Luke's Gastroenterology or network wide, call 484-526-6545.