News
Get-Your-Tail-on-the-Trail Promotes Personal Fitness and Outdoor Exercise
May 04, 2023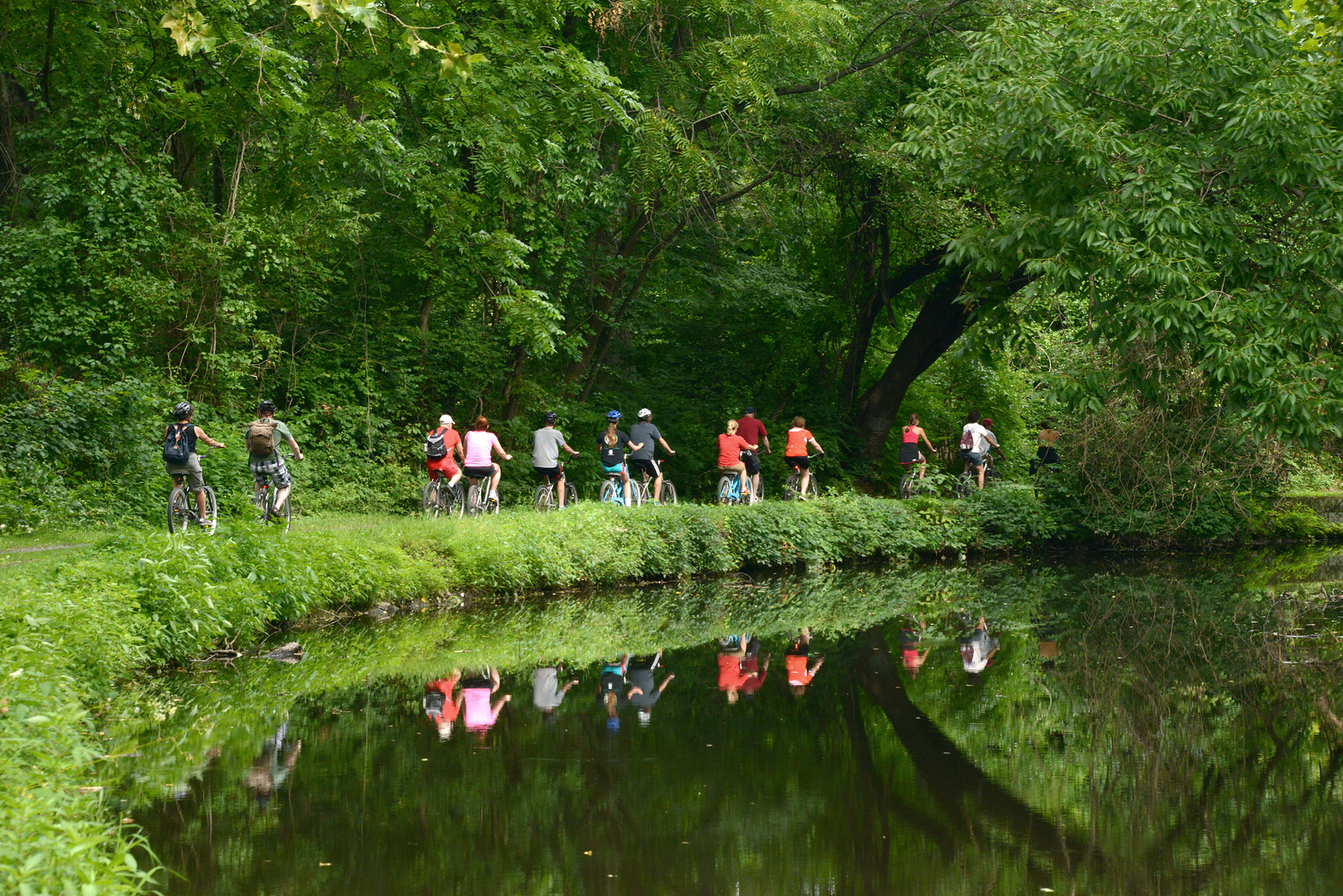 In the 10 years since its launch, the "Get Your Tail on the Trail" (GYTOT) program has shattered goals and gained national recognition, while simultaneously galvanizing the Greater Lehigh Valley community around personal fitness and an appreciation of exercising in nature.
GYTOT is the result of a partnership between St. Luke's University Health Network (SLUHN) and the Delaware and Lehigh National Heritage Corridor (D&L) that was initiated in 2013 to combat the lack of physical activity that commonly plagues communities across the country.
GYTOT helps people of all ages and abilities meet their personal fitness goals and experience the outdoors through day-to-day challenges, public events and the chance to earn prizes. Individuals log the miles they accumulate during various activities, such as running, walking, biking and paddling in the program's web app.
In 2013, at its inception, organizers set a goal of having 250 participants in the GYTOT program. Across the decade since, there have been more than 15,000 total participants who have traversed an astounding 4.6 million-plus miles.
The foundation of the collaboration is shared goals of fitness, improved health outcomes and community engagement, says Kathy Ramson, SLUHN's Director of Community Health Clinical Operations. Plus, the close geographical and historical alignment of SLUHN and the 165-mile D&L Trail corridor – which runs from Bristol to Wilkes-Barre – makes the partnership a natural fit.
"We want to motivate and incentivize community members to become physically active while enjoying and reaping the benefits of exercising in nature," Ramson says.
"Our primary goal is to introduce residents of eastern Pennsylvania and western New Jersey to the benefits of healthy living and outdoor exercise, while motivating them to take advantage of the opportunities that exist on regional trails centered on the Delaware & Lehigh National Heritage Corridor."
Community members can register for and participate in ongoing challenges. For example, GYTOT's 2023 165 Challenge – which will kick off on May 7 – encourages members to accumulate 165 miles of exercise between May 1 and November 12, 2023, to earn a virtual badge and a reward. In addition to the challenges, program members can attend special GYTOT community events, such as dog walks and beginner's workshops.
Others have noticed the popularity and success of GYTOT. In 2015, the program received national recognition when it earned the Trails for Health Award from American Trails in Oregon and was the subject of a story in the Washington Post. Through its chapter program that launched in 2018, GYTOT also serves as a template for organizations looking to replicate its framework and success in other regions.
Locally, the GYTOT program has been an instrumental tool for energizing the region about outdoor exercise and meeting national health standards in a convenient and cost-free way.
In 2022, St. Luke's received the Pennsylvania Recreation and Park Society's (PRPS) Community Champion Award for its community partnership program, Get Your Tail on the Trail for making an outstanding contribution through their commitment to a parks and recreation related program, event, or initiative, and that have stimulated local, regional, state or national interest in parks and recreation goals and objectives.
"The education and outreach enabled by the GYTOT Program helps D&L and St. Luke's promote the Healthy People 2030 recommendation for a minimum of 150 minutes of exercise per week," Ramson says.
"Our partnership is aimed at creating those opportunities to improve lives and well-being, and education is key to enabling residents to take advantage of local free programs."
The 2023 GYTOT 165 Challenge Kick Off will be held on Sunday, May 7 at 1 pm at Sand Island in Bethlehem. There will be a group-led walk, run and bike ride by St. Luke's Community Ambassadors: Mandy Marquardt, Champion Cyclist; John Graham St. Luke's Senior Network Administrator, Fitness & Sports and Dr. Kara Mascitti, St. Luke's Chief Wellness Officer. Choose which event you want to take part in and join the fun!