News
Fathers and Sons Help Bolster Health Care in Rural Region
June 01, 2023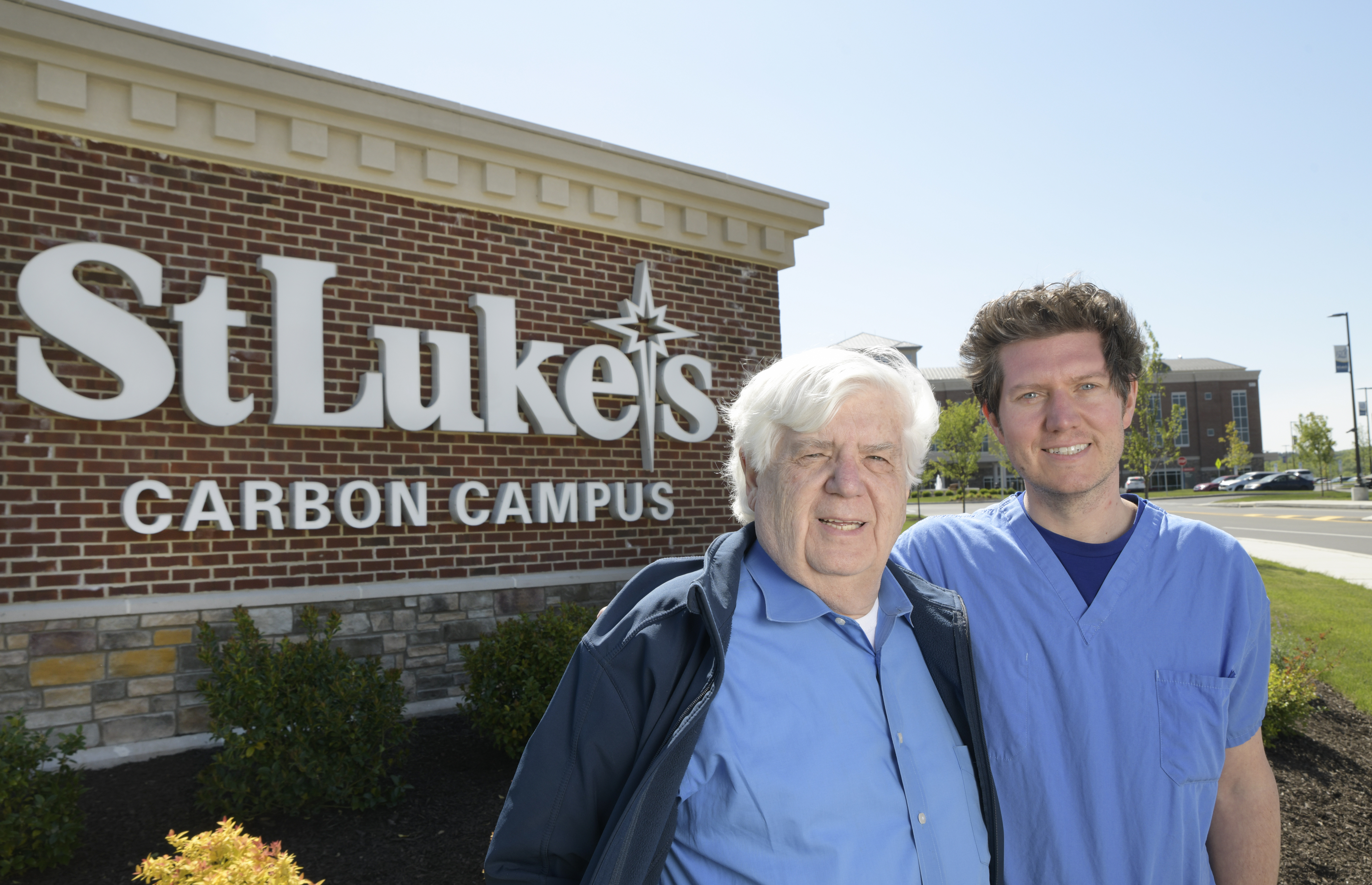 Mark Fegley, MD, is following in the footsteps of his father and grandfather providing vital health services to the northern reaches of the St. Luke's network.
"It's pretty remarkable that I work at the two hospitals where my dad and grandfather were passionate about expanding rural healthcare access," said Dr. Fegley, a St. Luke's critical care and anesthesiology physician at its St. Luke's Carbon and Miners campuses, among other locations.
Dr. Fegley was a member of the first class of the Temple/St. Luke's School of Medicine, which graduated in 2015. He returned to St. Luke's after completing a four-year residency in critical care and anesthesiology at the Hospital of the University of Pennsylvania in Philadelphia.
The Temple/St. Luke's School of Medicine at St. Luke's University Hospital in Fountain Hill is the Lehigh Valley's first and only four-year medical school, where the region's brightest young minds go to become doctors. By cultivating medical talent, such as Dr. Fegley, who has roots in the St. Luke's service area, the Network is helping the region to secure its health and well-being amid a worsening doctor shortage nationally.
The 37-year-old resident of Center Valley shares his elders' passion for improving health services access in those areas that historically suffered from a dearth of advanced medical services. These are being remedied since St. Luke's rescued the struggling Blue Mountain Health System, in 2018, and Coaldale Hospital (renamed St. Luke's Miners Campus), in 2000.
William Fegley, Jr., Dr. Fegley's father, who was born nearby and lived in Tamaqua for many of his pre-college years, has long been a supporter of the Carbon County community, as a businessman and 13-year board member of Gnaden Huetten Memorial Hospital. He's now as a trustee of the new St. Luke's Carbon Campus, which he calls "a godsend," for the health of the community. "St. Luke's is wonderful for this area," he adds.
Dr. Fegley's grandfather, William Fegley, Sr. was born and spent most of his life in Tamaqua. As a longtime member of the Lions Club there, he was instrumental in bringing advanced medical services to Coaldale Hospital after it was turned over to the community by the state. He spent five years as its board chairman following its merger with St. Luke's University Health Network in 2000. He passed away in St. Luke's Miners Campus in 2015, where a room was named for him in honor of his service there. His widow, Florence Fegley, is currently a resident of the skilled nursing facility at the hospital.
Born in Montgomery County, Dr. Fegley recalls visiting his grandparents and other relatives in Tamaqua and the towns nearby. He'd often hear his father and grandfather discuss how to improve access, quality and scope of healthcare services in the region.
"I'm sure it had an impact on me," he says.
And now Dr. Fegley is carrying on their commitment as a front-line provider at both hospitals, something that gives him great personal and professional satisfaction.
He calls it "a neat circle" that he's following the elder Fegleys' footsteps and blazing his own path providing advanced and much-needed medical specialties there. Depending on the day, he could be caring for desperately ill patients in the ICU or providing anesthesia services in an OR at St. Luke's Carbon or Miners campuses. He also does this at the Network's Bethlehem, Geisinger St. Luke's and Monroe campuses.
He's also inspired by advice from his friend and medical school mentor, Aldo Carmona, MD, St. Luke's chair of anesthesia who also trained at Penn.
"Dr. Carmona told me early in medical school to, 'do the right thing,'" recalls Dr. Fegley, for whom this adage has become his North Star. During his somewhat nomadic and hectic schedule of OR and ICU duties spread out among the counties of Lehigh, Schuylkill, Carbon and Monroe counties, he reflects on how his elders' mission and the impact of Dr. Carmona's words have helped shape his career.
He wouldn't have it any other way. Caring for patients at all hours of day and night is how he's writing the next chapter of his family's legacy, informed by Dr. Carmona's counsel, improving the health of the community, any community where he serves.
"Whether I'm in Carbon or Schuylkill County, in Bethlehem, Monroe or anywhere, I keep his words in mind. They're guiding me every day as I perform my duties as a St. Luke's doctor."