News
Expanded Adult Behavioral Unit at Quakertown Campus
March 09, 2023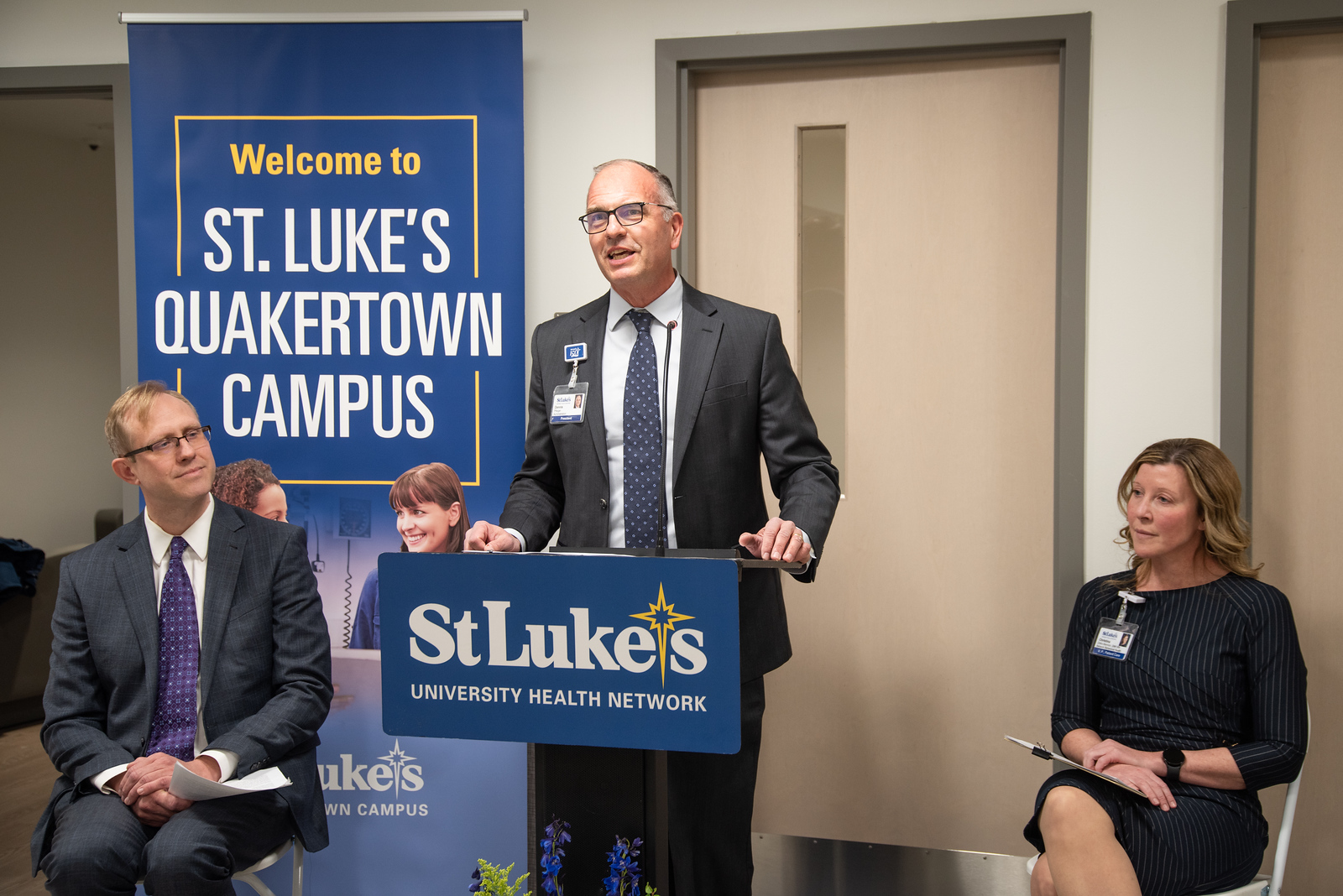 Dennis Pfleiger, President of St. Luke's Quakertown/Upper Bucks campuses, speaks at the ribbon cutting.
St. Luke's University Health Network (SLUHN) cut the ribbon on its newly renovated and expanded Adult Behavioral Health Unit at its Quakertown Campus on Wednesday, March 8.
Thirteen beds were added through the $6.4 million project, bringing the unit's bed-count to 32. SLUHN's total inpatient adult behavioral health capacity is approximately 200 licensed beds spanning four campuses.
The expansion meets a large and growing need for inpatient mental health services in Bucks and Montgomery Counties, said Dennis Pfleiger, President of St. Luke's Quakertown/Upper Bucks campuses. Currently, the Quakertown site is one of only two facilities in all of Bucks County. "The increase of 13 beds will allow for improved access to needed services across the county," Pfleiger said.
Jody McCloud-Missmer, Network Behavioral Health Service Line Administrator, said St. Luke's has continued to see an increase in patients presenting to its emergency rooms in need of crisis response from St. Luke's Crisis Intervention Team. "In addition, our Community Health Needs Assessment demonstrates that mental health is an important health focus for the surrounding area," McCloud-Missmer said. "The additional bed capacity will help provide treatment to those with the most acute symptoms while remaining closer to home."
Recovery, hope, dignity central theme
The project included the demolition and renovation of the former medical-surgical and ICU footprint located on the second floor of the Quakertown campus.
The new unit was renovated with the theme of keeping recovery, hope, dignity and privacy central. "The aesthetic design brings in an abundant amount of natural light and serene imaging within the spacious 16,400 square-foot layout," said Christina Zelko Bennick, Vice President, Network Inpatient Behavioral Health Services. "In addition, the new unit will feature state-of-the-art monitoring technology for both patient and staff safety."
The targeted date for the unit to open is March 15. It is still subject to regulatory inspection results. Due to the tentative opening timeline, the ribbon-cutting will be kept to a minimum of attendees including Pfleiger, Zelko Bennick, McCloud-Missmer and other members of the core leadership team and staff. Members of both the Board of Trustees for St. Luke's Quakertown and St. Luke's Upper Bucks and the Penn Foundation toured the facility while still under construction.
Dr. James James III, DO , Chair, Department of Psychiatry & Behavioral Health and the Division of Addiction and Recovery, said, "We recognize the significant mental health needs of the community are not adequately being met with current resources. As we work to improve people's lives through early intervention and prevention the need for acute care beds remains high. This expansion is aimed at reducing wait times and expediting high quality care so that people can spend less time in the hospital and more time living their lives."