News
Certified Child Life Specialist Joins Pediatrics Team
April 17, 2023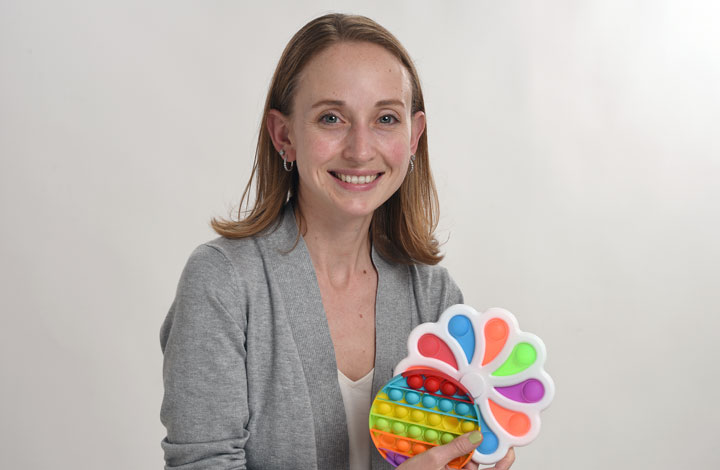 St. Luke's Pediatrics recently welcomed Gretchen Duffy, Certified Child Life Specialist, to St. Luke's University Health Network.
Child Life Services help children and families cope with the stress and uncertainty of acute and chronic illness, injury, trauma, disability, loss and bereavement. Certified Child Life Specialists provide evidence-based, developmentally and psychologically appropriate interventions including therapeutic play, preparation for procedures, and education to reduce fear, anxiety, and pain.
Ms. Duffy earned her B.A. from Wesleyan University and completed graduate coursework in recreation therapy at Temple University, followed by child life clinical training at Children's Hospital of Philadelphia (CHOP) & Shriners Hospital for Children. She routinely partners with the robust team of St. Luke's pediatric specialists to ensure the emotional well-being of children and families during hospital visits.
"We are so grateful to have Gretchen on our team," says Shaheen Timmapuri, MD, St. Luke's pediatric surgeon. "Our pediatric surgical patients often experience fear and anxiety before and after procedures and Gretchen's interventions have significantly helped our patients and their families cope during challenging experiences."
The addition of Child Life Services is part of St. Luke's ongoing commitment to significantly expand services, allowing patients and their families to remain close to home for their pediatric care.
The American Academy of Pediatrics (AAP) has endorsed the important role of the Certified Child Life Specialist, and U.S. News & World Report has recognized that expertise in child life is a vital variable in the success of pediatric care.
About the Association of Child Life Professionals
ACLP is the leading professional association supporting child life professionals. Child life professionals advance psychosocial care and the emotional safety of children, youth and families impacted by healthcare and significant life experiences. Founded as a nonprofit organization in 1982, ACLP provides members with professional development programs, resources, membership certification and advances best practices. More information on ACLP can be found at childlife.org.