News
Air Products Foundation Supports Rodale Organic Farm at Anderson Campus
May 23, 2023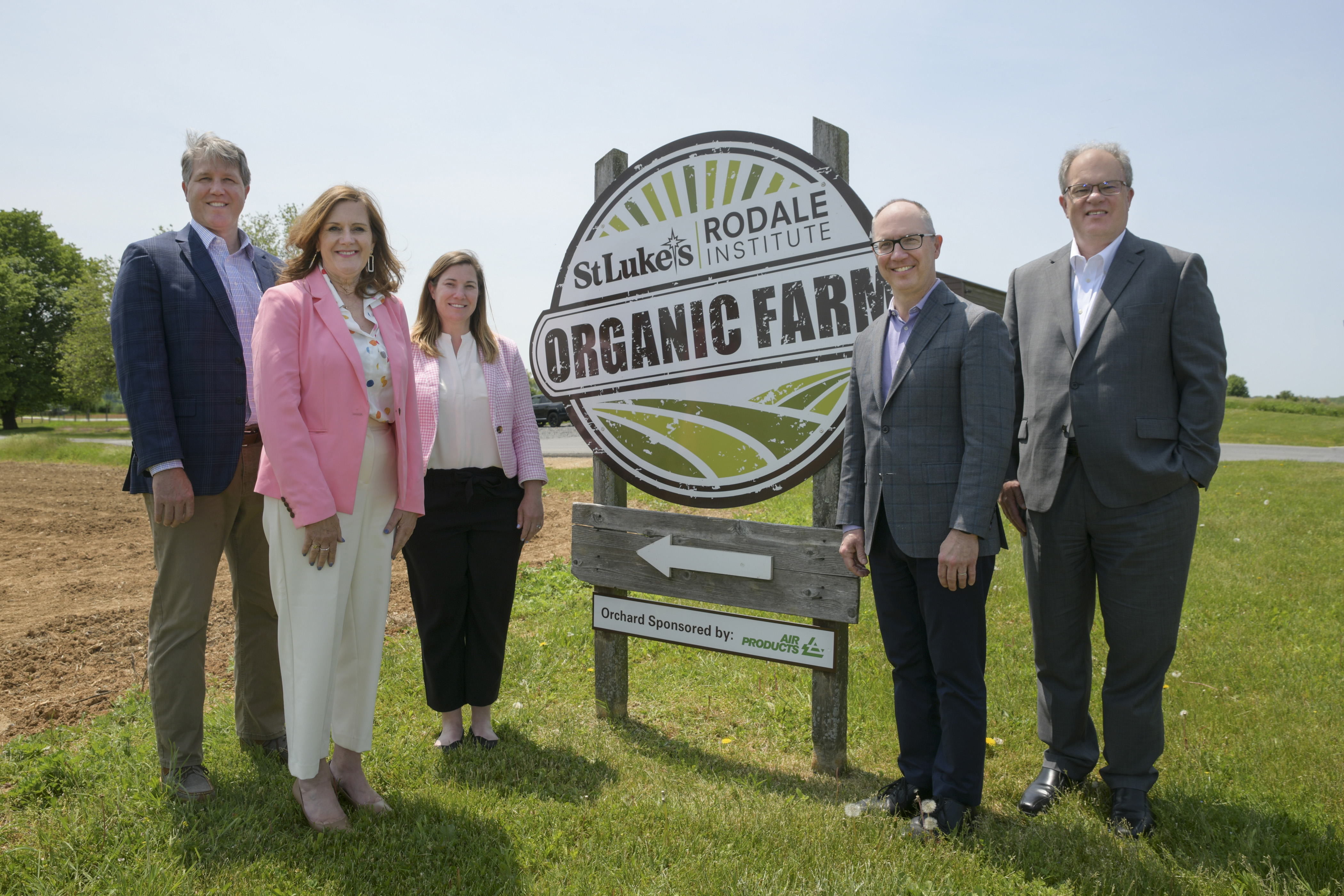 (L-R) Dr. Drew Smith, Chief Operating Officer, Rodale Institute; Laurie Hackett, Director of Community Relations and Amy Saul, Corporate Relations/Employee Engagement, Air Products; Ed Nawrocki, President/Anderson Campus and East Region and Pat Bower, Vice President/Development, St. Luke's.
Air Products is encouraging healthy living to take root and grow in the Lehigh Valley by donating $25,000 from the Air Products Foundation to the St. Luke's Rodale Institute Organic Farm, located on 14 acres at the St. Luke's Anderson Campus in Bethlehem Township.
This funding will establish the first orchard at the farm, with more than 700 apple and pear trees that will provide fruit for generations to come. Currently, over 70 varieties of certified organic vegetables and fruits from the farm are supplied to all of St. Luke's campuses for patients, visitors and employees.
"Air Products' thoughtful investment supports St. Luke's mission of encouraging healthy diets and will help raise awareness about the impact of food choices on overall health and well-being," says Anderson Campus President Ed Nawrocki.
The company's commitment to sustainability and environmental stewardship is embedded in its purpose to bring people together to collaborate and find solutions to protect the environment, along with caring for the community through better quality products and services.
"We are excited to support both St. Luke's and the Rodale Institute to provide resources and opportunities to reinforce healthy living to a variety of communities," commented Laurie Hackett, Director of Community Relations at Air Products.
With 500-acres, the Anderson Campus is the largest green space in the St. Luke's Network and an ideal site for a "farm to hospital" partnership. In addition to providing food to the hospital and employees, it also provides an array of produce for lifestyle medicine research. The farm offers seasonal internships for aspiring organic farmers, volunteer opportunities, and school visits and tours.
"We're looking forward to hosting Air Products' volunteers this spring to help tend to the orchard trees and other farm activities as the 2023 growing season unfolds," adds Nawrocki. A berry patch was recently added on the farm, and the strawberries, raspberries and blackberries are expected to fruit and be certified organic in 2024.