News
Addressing Lack of Food Access in Phillipsburg
May 25, 2023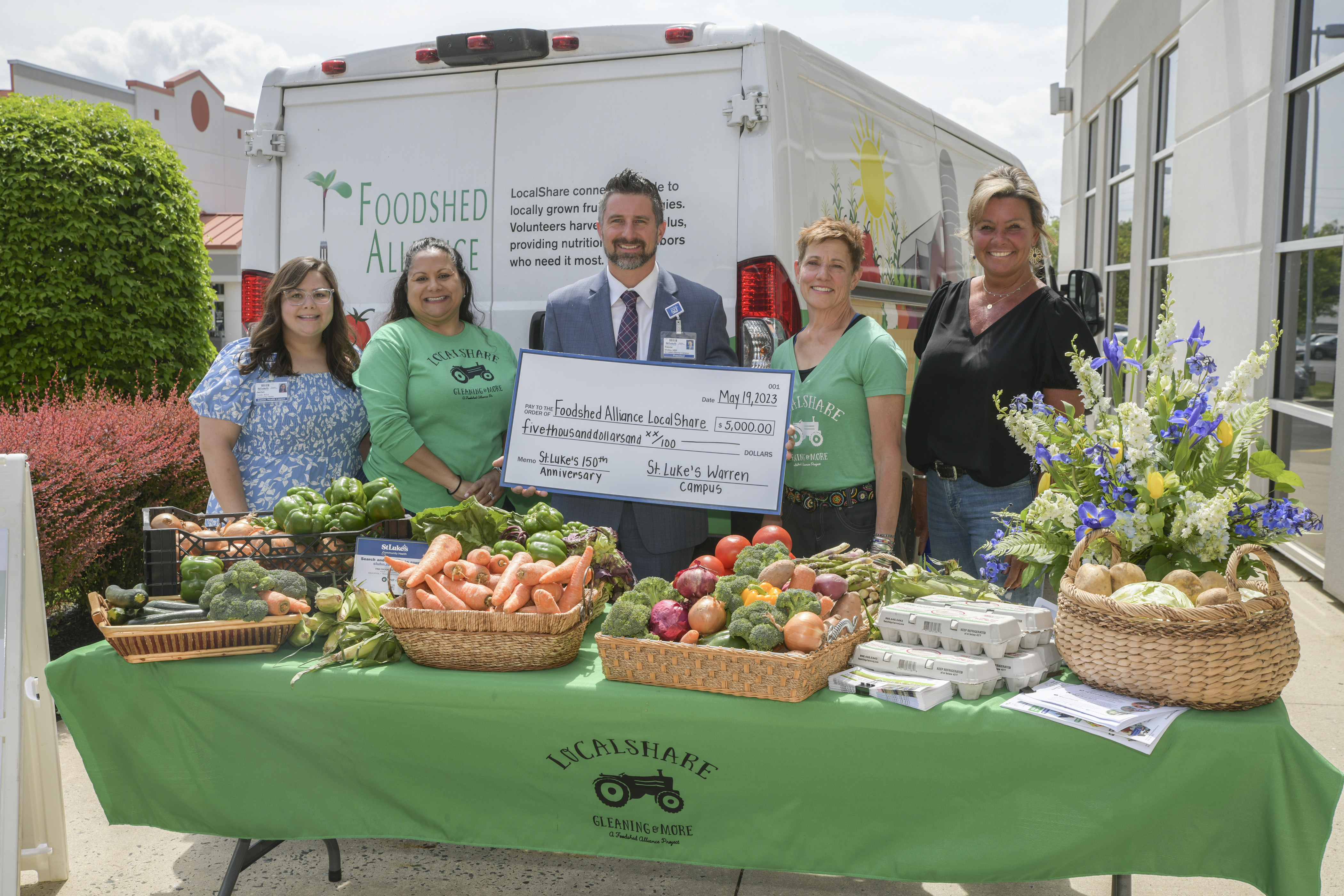 From left: Jacki Hudak, Community Health Liaison SLUHN; Daisy Taylor, LocalShare; Trevor Micklos, President Warren Campus; Christine Parauda, LocalShare Coordinator; Kendrya Close, Executive Director, Foodshed Alliance.
In celebration of St. Luke's University Health Network's (SLUHN's) 150th anniversary, the Network's Community Health Department is working with its priority partners to build capacity and make stronger connections to resources in New Jersey.
This includes a new initiative by St. Luke's Warren and the Foodshed Alliance's LocalShare program that will help provide fresh produce in the Phillipsburg, N.J., food desert. The monthly pop-up produce stand is supported by a 150th-anniversary grant from SLUHN.
"As part of St. Luke's 150th anniversary celebration, we are proud to partner with the Foodshed Alliance's LocalShare program to improve access to fresh fruits and vegetables in Phillipsburg," says Trevor Micklos, President of St. Luke's Warren Campus.
Throughout its sesquicentennial year, SLUHN has allocated a total of $150,000 in special one-time grants to partner nonprofits and schools that are working to make a positive impact in the community, such as the LocalShare program's work in Phillipsburg.
A food desert is a geographical area where residents lack access to fresh, affordable, healthy foods. Phillipsburg has no grocery store, meaning residents may need to travel outside of town to obtain these key components of a healthy diet. For residents with limited funds or access to transportation, this is problematic.
Enter the partnership between St. Luke's Warren and the Foodshed Alliance's LocalShare program, which provides free produce gleaned by volunteers at local farms to be distributed to local residents.
This pop-up produce stand will occur on the last Thursday of every month from May through November from 1 to 3 p.m. in the parking lot of the St. Luke's Hillcrest Plaza at 755 Memorial Parkway in Phillipsburg, between Buildings 100 and 200. Stand dates are:
May 25

June 29

July 27

August 31

September 28

October 26

November 30
The partnership also connects area residents with St. Luke's Coventry Family Practice physicians and medical residents, who will provide adult health literacy, education, resources and more. St. Luke's Coventry Family Practice is located in the St. Luke's Hillcrest Plaza.
"This partnership allows us to provide healthier food choices and addresses one of our four main priorities in our 2022 Community Health Needs Assessment," says Rajika Reed, PhD, MPH, MEd, Vice President of Community Health at SLUHN.
"Furthermore – from the farm gleanings done by LocalShare volunteers to the involvement of St. Luke's Coventry Family Practice medical residents and physicians at the pop-up produce stands – this initiative comes down to people helping people."
Local residents do not need to provide any information other than the number of people in their household and should bring their own bags. Produce will be distributed on a first-come, first-served basis.
"This is a stigma-free event open to all who experience a need. Access to fresh food is difficult for all in a community without a grocery store, but for those facing additional challenges – such as the rising cost of feeding one's family and recent reductions to SNAP benefits – it is sometimes beyond reach," explains Christine Parauda, LocalShare Coordinator with Foodshed Alliance.
The Foodshed Alliance is a grassroots, non-profit organization devoted to promoting sustainable farming and locally grown, fresh, healthy food in northern New Jersey. It works to strengthen sustainable farming; increase access to local, healthy food; and protect the environment for all members of its communities.
LocalShare hosts monthly, free produce stands in several other locations in Phillipsburg, in collaboration with partner organizations.
"With the addition of the St. Luke's Hillcrest Plaza location, a place where people come for medical appointments and to visit other business, we are meeting the population in a popular place they already visit, making access possible," Parauda says.
"Free pop-up produce stands are an efficient way to provide food directly to people, eliminating stigma and creating a positive atmosphere and experience. They have proven extremely popular with recipients, who can select what they want. Recipes and other nutritional information are provided in cooperation with our SNAP-Ed partners."
She stresses that support from SLUHN speaks to the importance of food equity and making nutritious food available to all.
"Our new partnership and common goal of access to healthy, nutritious food for all will help to address diet-related illnesses and begin a shift to improve health outcomes," Parauda explains.
"This produce is as fresh as it gets! It is harvested from area farms and can be on someone's dinner plate that night. Food this fresh offers the highest density of nutrients and provides health benefits for all. And when participants learn that the produce was harvested by volunteers who care about their nutrition and health, it has a profound impact. That knowledge generates a sense of gratitude and value for what is provided and for a community that cares."
Individuals and/or groups interested in volunteering with Foodshed Alliance's LocalShare program can download the LocalShareNJ app from their app store and register under "Volunteer Opportunities." It is a great opportunity for students in need of service hours, families, corporate teams, scouts, service clubs, mom groups, churches and anyone else interested in giving back to the community. Please reach out to Christine Parauda at Christine@FoodshedAlliance.org with questions.