News
St. Luke's and Sacred Heart Mark 5-Year Merger Anniversary
March 02, 2023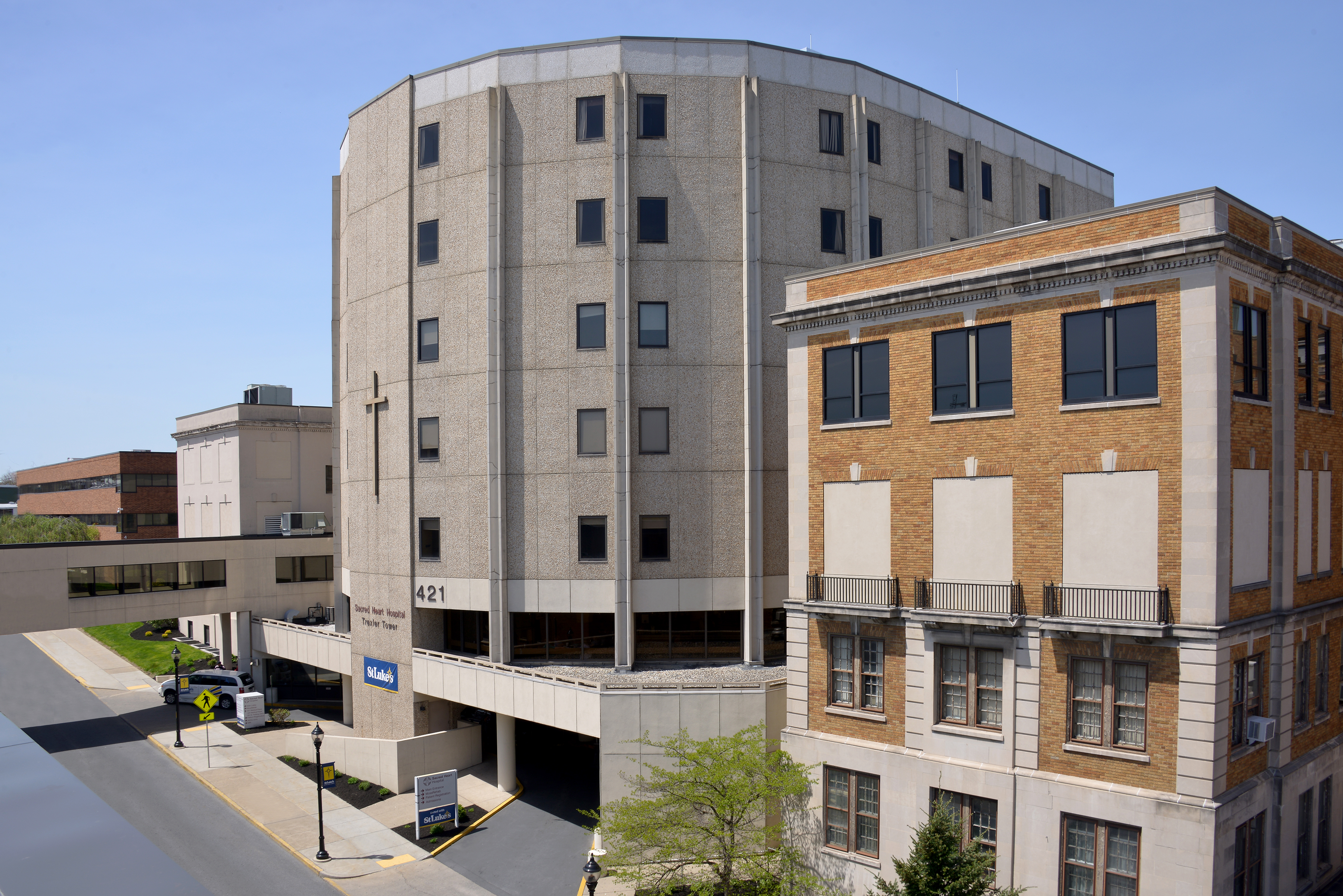 The inner-city Catholic hospital continues to serve as a "beacon of hope and opportunity" for the local community.
Today St. Luke's University Health Network and Sacred Heart Hospital in Allentown are marking the five-year anniversary of the Center City Catholic hospital joining the broader Network.
Sacred Heart Campus President Frank Ford said, "St. Luke's has successfully revitalized a number of distressed hospitals over the past 25 years. The unique challenges at Sacred Heart included a large aging facility and another Network hospital just 1.5 miles away at St. Luke's Allentown. With $42 million of investment and the addition of services tailored to the needs of the inner city, the campus is thriving and well on its way to making a positive impact on the health of the Allentown community."
Ford said that the hospital's strategic plan focuses on three key areas: improving access to primary care, expanding outpatient behavioral health services, and treating substance use disorders. Evidence of progress can be found in several developments, including creation of the Star Community Health clinic located in the Sigal Center on the Campus, he added.
"Designated a Federally Qualified health Center (FQHC), we invested more than $5 million in the facility, improving access and the level of patient services," said Ford of the center that offers preventative care, care for acute and chronic illnesses, patient education, immunizations, and referrals to specialists and higher levels of care.
In the area of behavioral health, Sacred Heart offers inpatient and outpatient services, and partial hospitalization care in group settings. This June, SLUHN will graduate the first six residents of its recently established four-year psychiatric residency program.
The focus on substance abuse disorders has resulted in a recently opened 16-bed, Level Four detox center and a partnership with Lehigh County and Treatment Trend, Inc. to open a recovery center near the hospital where clients in recovery can support others in recovery. "Overarching these developments is the recent acquisition of Penn Foundation located in Sellersville, which has 67 years of experience in progressive care for behavioral health and substance use disorders. That will certainly benefit these areas of concentration at St. Luke's Sacred Heart," Ford said.
All these developments were made despite a global pandemic, which certainly complicated revitalization efforts, Ford said. Progress is also evident in developments that included the installation of an electronic medical records system, the upward adjustment of employee salaries, the forthcoming renovation of the emergency department and partnerships with the Allentown School District, Career Link, Habitat for Humanity, Community Action Lehigh Valley, and Catholic Charities, which recently located to the Seton Hall building on the Campus.
Honoring its mission
The Catholic medical center was founded in 1912 during a diphtheria epidemic and served one of Allentown's most economically distressed communities for more than 100 years before its leaders recognized the need to become a part of a larger health care system to ensure its survival. After a competitive selection process that evaluated the level of interest from nine profit and non-profit health care systems, the merger with St. Luke's was announced in 2018.
At the time, the Sacred Heart HealthCare system employed more than 1,070 people in its network, which included Sacred Heart Hospital, primary care centers at 10 sites and senior housing services. Today, 715 employees work at St. Luke's Sacred Heart Campus, which remains the Lehigh Valley's only Catholic hospital. It offers advanced inpatient and outpatient services, along with specialty services in the hospital, the medical office building and the Sigal Center for Family Medicine. Patients can also access emergency room, surgical, behavioral health, radiology and lab services.
"St. Luke's also sees itself as a community hospital system, which is tailored to the specific needs of the people they serve across the region," said Paul Huck, a Sacred Heart board member since 2001 and chair at the time of the merger. "We were an inner-city single hospital. If we weren't able to continue in this location, there would be a significant number of people who wouldn't be able to access health care. To me, as a Catholic, I felt very devoted to that mission, so it was clear we had to find the right road forward, and St. Luke's was that."
St. Luke's leaders, Huck said, "understood what we saw was the future of this hospital, from day one." Five years later, that impression has only been strengthened by the significant investments made by St. Luke's and the health network's adherence to the Sacred Heart driving mission.
Thomas J. Scalici, who served on the Sacred Heart Board from 2007-2018 and became board chair in October 2022, agreed. "As a small, independent hospital, we just couldn't compete. We couldn't bring in the patients, retain staff and invest in an aging facility with limited resources. I used to say, we are only playing defense if all we can focus on are the day-to-day operations. To our credit, we survived and were able to provide a lot of good jobs to a community that needed them."
Following the merger, Scalici said the board was able to broaden their focus to supporting health, well-being and opportunity within the local community. "St. Luke's did everything they said they would and more. They invested more than $40 million to upgrade facilities and technology, centralized key services and divested others that were not sustainable in that location. And most importantly, they supported our number one goal: Strengthen the local community through outreach and investment."
Today, Scalici said, Sacred Heart continues to serve "as a beacon of hope and opportunity," leading him to feel very optimistic about its future. "There is still much more to do in helping the community, in moving that needle in a positive way. Our outcomes are very good, we're one of the top 100 hospitals in the country, and the work we are doing in downtown Allentown is making a difference. All of that is testament to those who work at Sacred Heart, and I'm sure that progress and impact will only continue."