News
St. Luke's University Health Network Named to the 2022 100 Top Hospitals List
July 01, 2022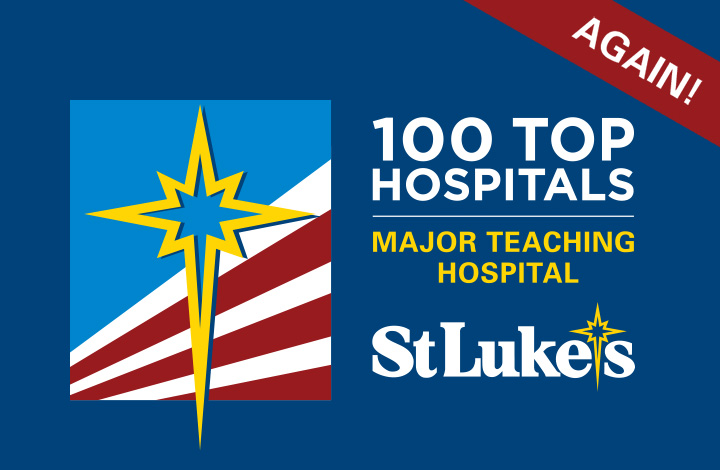 Annual list recognizes excellence in clinical outcomes, operational efficiency, patient experience, and financial health
Bethlehem, PA – 7.1.22 - St. Luke's University Health Network has been named to the 2022 Fortune/Merative 100 Top Hospitals® list, formerly known as the IBM/ Watson Health 100 Top Hospital list. Though the sponsoring company has changed over the years, the methodology behind the rankings remains the same as in prior years. This list is determined using independent and objective research to analyze hospital performance. Organizations do not apply or pay for this honor or pay to promote their award. Award-winning hospitals serve as a model of excellence for the industry. The annual list is now published by Fortune Magazine. For more information, visit http://www.100tophospitals.com/.
This is the 10th time, St. Luke's has been recognized with this honor as one of the top performing health systems in the U.S.
St. Luke's is the ONLY hospital in the greater Lehigh Valley region to EVER earn this distinction.
Merative, (IBM Watson Health) a data, analytics and technology partner for the health industry, has identified for 2022 the top hospitals from a rigorous evaluation of 2,650 short-term, acute care, non-federal hospitals in the U.S. The annual list recognizes excellence in clinical outcomes, operational efficiency, patient experience, and financial health.
As part of this distinction, St. Luke's Bethlehem and Allentown campuses were recognized as Number 2 of the 15 Best Major Teaching Hospitals in the US.
St. Luke's Anderson campus was also recognized as Number 2 of the 15 Best Teaching Hospitals in the USA.
"These awards are particularly meaningful because they represent the outstanding healing environment that we provide to patients day in and day out when doing so requires our undivided attention and during a once in two generation pandemic," said Rick Anderson, President and CEO of St. Luke's University Health Network.
Recognition as one of the Fortune/Merative 100 Top Hospitals(IBM Watson Health) demonstrates St. Luke's ongoing commitment to prioritize patient-centered care. According to Merative, compared to similar hospitals, the hospitals included on the Fortune/Merative 100 Top Hospitals list had outstanding outcomes on key clinical and operational performance indicators. These outcomes include survival rates, patient complications, healthcare associated infections, 30-day mortality and 30-day hospital-wide readmission rates, length of stay, throughput in emergency departments, inpatient expenses, profitability and ratings from patients.
About Merative (formerly IBM Watson Health)
Merative is a data, analytics and technology partner for the health industry, including providers, payers, life sciences companies and governments. With trusted technology and human expertise, the company works with clients to drive real progress. Merative helps clients orient information and insights around the people they serve to improve healthcare delivery, decision making and performance. Formerly IBM Watson Health, Merative became a new standalone company as part of Francisco Partners in 2022. Learn more at www.merative.com.
About St. Luke's University Health Network
Founded in 1872, St. Luke's University Health Network (SLUHN) is a fully integrated, regional, non-profit network of more than 17,000 employees providing services at 14 campuses and 300+ outpatient sites. With annual net revenue of $3 billion, the Network's service area includes 11 counties in two states: Lehigh, Northampton, Berks, Bucks, Carbon, Montgomery, Monroe, Schuylkill and Luzerne counties in Pennsylvania and Warren and Hunterdon counties in New Jersey. St. Luke's hospitals operate the biggest network of trauma centers in Pennsylvania.
Dedicated to advancing medical education, St. Luke's is the preeminent teaching hospital in central-eastern Pennsylvania. In partnership with Temple University, the Network established the Lehigh Valley's first and only regional medical school campus. It also operates the nation's longest continuously operating School of Nursing, established in 1884, and 40 fully accredited graduate medical educational programs with 419 residents and fellows. In 2022, St. Luke's, a member of the Children's Hospital Association, opened the Lehigh Valley's first and only free-standing facility dedicated entirely to kids.
SLUHN is the only Lehigh Valley-based health care system to earn Medicare's five-star ratings (the highest) for quality, efficiency and patient satisfaction. It is both a Leapfrog Group and Healthgrades Top Hospital and a Newsweek World's Best Hospital. U.S. News & World Report ranked St. Luke's #1 in the Lehigh Valley and #6 in the state. The Network's flagship University Hospital has earned the 100 Top Major Teaching Hospital designation 10 times total and eight years in a row, including in 2021 when it was identified as THE #1 TEACHING HOSPITAL IN THE COUNTRY. In 2021, St. Luke's was listed among the 15 Top Health Systems nationally. The Network is a multi-year recipient of the Most Wired award recognizing the breadth of the SLUHN's information technology applications such as telehealth, online scheduling and online pricing information. The Network is also recognized as one of the state's lowest cost providers.