News
St. Luke's Dermatology Offering Free Skin Cancer Exams to U.S. Senior Open Golfers and Volunteers
June 21, 2022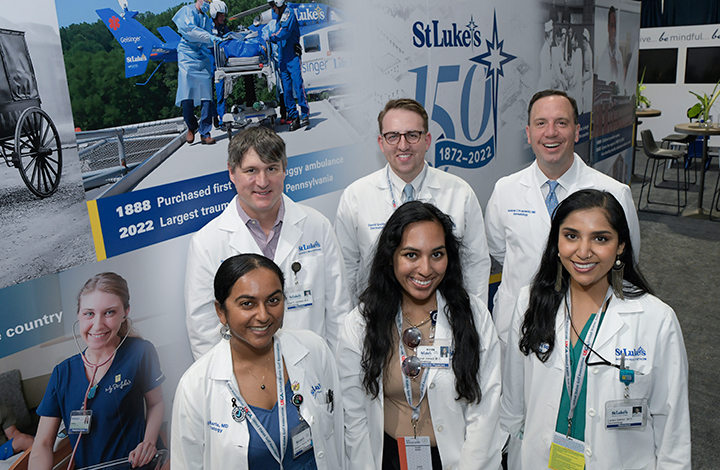 (Top, left to right) Dr. Johnson, Dr. Smith, Dr. Krakowski, (Bottom, left to right) Dr. Narla, Dr. Ahmed and Dr. Safeer
St. Luke's Dermatology provided free skin cancer examinations to golfers and volunteers Monday during the U.S. Senior Open at Saucon Valley Country Club in Bethlehem.
"We want to support Saucon Valley Country Club as it hosts the U.S. Senior Open and use the national spotlight as an opportunity to remind people – golfers, specifically – about having safe 'fun in the sun,'" explains Andrew C. Krakowski, MD, chair of the Department of Dermatology and the Program Director for the Residency in Dermatology at St. Luke's University Health Network.
Skin examinations were held in the St. Luke's Health and Wellness Pavilion during a day of practice rounds. U.S. Open players and volunteers could sign up for one of 50 appointments during which they met with the St. Luke's skin cancer screening team composed of resident physicians Dr. David Smith, Dr. Sarah Ahmed, Dr. Laraib Safeer and Dr. Shanthi Narla.
Dr. Krakowski was on hand, along with board-certified dermatologist and Mohs micrographic surgeon Dr. Ryan Johnson.
"Our skin cancer examinations are a simple but powerful tool for screening participants, allowing us to catch possible problems before they become major issues," Dr. Krakowski says. "There is nothing better than spending an afternoon outdoors, however, you do have to remember that ultraviolet radiation from the sun puts you at increased risk for eye cataracts, accelerated skin aging and skin cancers."
Dr. Krakowski adds that if the St. Luke's skin cancer screening team discovers something on one of the screening participants that needs further examination, the team will offer that person expedited access to the Urgent Dermatology Clinic conducted on Tuesdays, Thursdays and Fridays at St. Luke's Hospital – Anderson Campus. This state-of-the-art, full-service dermatology clinic handles a range of advanced testing and procedures, from skin biopsies to full skin cancer surgeries.
"If, for any reason, the participant cannot access our local St. Luke's services, we will partner with them to convey our concerns directly to a dermatologist in the area in which they reside," Dr. Krakowski says.
Of course, the best approach is prevention. He says, "You have to be 'sun smart' in order to be 'sun safe,' which starts with knowing your risk for sun damage at any given time."
Dr. Krakowski recommends checking the Ultraviolet (UV) Index on a daily basis.
"It is a wonderful – and free – tool that takes into account your local geographical location, including your altitude, your distance from the equator, local ozone levels and the changing daily weather conditions to give you an on-the-fly prediction of the level of solar UV radiation by zip code," he explains.
When the UV Index is high, you should consider spending more time indoors. If you have to go outside, practice good sun protection, which includes avoiding direct sunlight by seeking the shade. When in the sun, wear sun-protective clothing, including sunglasses and a wide-brimmed hat, and apply a broad-spectrum sunscreen, which means it protects against both UV-A and UV-B radiation with a Sun Protection Factor (SPF) of 50 or higher. Make sure to reapply your sunscreen about every two hours.
"If you are going to be in the gallery as a fan at the U.S. Open, you might even want to bring an umbrella to shield yourself from the hard, midday sun," Dr. Krakowski suggests.
Media Contact:
Sam Kennedy, Corporate Communications Director, 484-526-4134, samuel.kennedy@sluhn.org
About St. Luke's
Founded in 1872, St. Luke's University Health Network (SLUHN) is a fully integrated, regional, non-profit network of more than 17,000 employees providing services at 14 campuses and 300+ outpatient sites. With annual net revenue of $3 billion, the Network's service area includes 11 counties in two states: Lehigh, Northampton, Berks, Bucks, Carbon, Montgomery, Monroe, Schuylkill and Luzerne counties in Pennsylvania and Warren and Hunterdon counties in New Jersey. St. Luke's hospitals operate the biggest network of trauma centers in Pennsylvania.
Dedicated to advancing medical education, St. Luke's is the preeminent teaching hospital in central-eastern Pennsylvania. In partnership with Temple University, the Network established the Lehigh Valley's first and only regional medical school campus. It also operates the nation's longest continuously operating School of Nursing, established in 1884, and 40 fully accredited graduate medical educational programs with 419 residents and fellows. In 2022, St. Luke's, a member of the Children's Hospital Association, opened the Lehigh Valley's first and only free-standing facility dedicated entirely to kids.
SLUHN is the only Lehigh Valley-based health care system to earn Medicare's five-star ratings (the highest) for quality, efficiency and patient satisfaction. It is both a Leapfrog Group and Healthgrades Top Hospital and a Newsweek World's Best Hospital. U.S. News & World Report ranked St. Luke's #1 in the Lehigh Valley and #6 in the state. Three of IBM Watson Health's 100 Top Hospitals are St. Luke's hospitals. The Network's flagship University Hospital has earned the 100 Top Major Teaching Hospital designation from IBM Watson Health nine times total and seven years in a row, including in 2021 when it was identified as THE #1 TEACHING HOSPITAL IN THE COUNTRY. In 2021, IBM Watson Health also named St. Luke's among the 15 Top Health Systems nationally. Utilizing the Epic electronic medical record (EMR) system for both inpatient and outpatient services, the Network is a multi-year recipient of the Most Wired award recognizing the breadth of the SLUHN's information technology applications such as telehealth, online scheduling and online pricing information. The Network is also recognized as one of the state's lowest cost providers.