News
Sacred Heart Campus Welcomes Catholic Charities Headquarters
December 13, 2022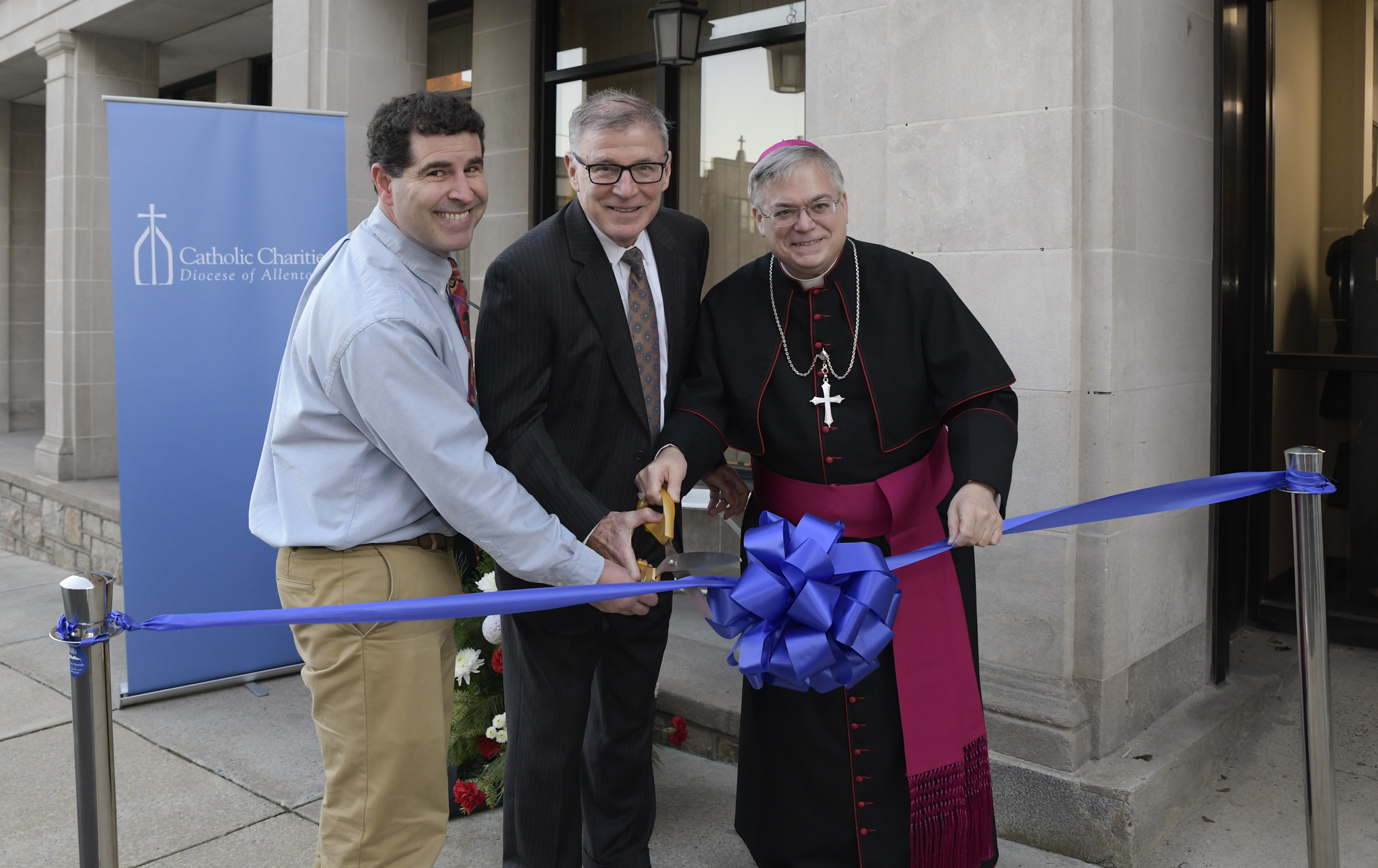 Catholic Charities Executive Director Rob Nicolella; President of St. Luke's Sacred Heart Campus Frank Ford; Diocese of Allentown Bishop Alfred A. Schlert.
The main office of Catholic Charities for the Diocese of Allentown has moved into Seton Hall, a 16,000-plus square-foot building on the campus of Sacred Heart Hospital, which became part of the St. Luke's University Health Network in March 2018. Catholic Charities staff began serving their clientele in their new location recently, ahead of the official dedication Friday afternoon.
Leaders of both entities hail the move as a "natural partnership" and "great collaboration" that will allow them to more efficiently and holistically serve their constituencies.
"We're excited to be able to work more closely since we do have mission overlap," said Frank Ford, president of Sacred Heart since 2019 and the former president of St. Luke's Allentown campus. "We are both dedicated to improving the health and the lives of the members of this community, and that involves looking at the social determinants that contribute to good health -- access to care, healthy food, housing, employment – as well as the issues that can negatively impact, such as chronic disease, substance abuse and others. With a shared mission to serve so many in need in the Lehigh Valley, this development allows us to discover the synergies that could accelerate that work."
Catholic Charities Executive Director Rob Nicolella said that the move creates a "hub" of services in the Chew Street location. "We are located right there with access to community health services, and across the street is Career Link, a wonderful agency that provides support and training for those seeking a job. Between these three institutions alone, we are much better positioned to help coordinate services for all those who benefit from these programs."
St. Luke's Sacred Heart Campus is the only Catholic hospital in the Lehigh Valley to feature advanced inpatient and outpatient services, along with specialty services in the hospital, the medical office building and at the Sigal Center for Family Medicine. Patients can also access emergency room services, surgical services, behavioral health services, radiology and lab services at the Allentown location.
On the human services side, Catholic Charities of Allentown offers support to roughly 16,000 people in Lehigh, Northampton and Berks counties alone, Nicolella said. "And that number is growing because there is such great need. And with the recent economic circumstances we're facing, so many are struggling as rents are increasing dramatically, food prices are increasing….it's a very challenging time for so many."
The move of the Catholic Charities office to the Sacred Heart Campus is an outgrowth of ongoing meetings between representatives of both entities, as well as others dedicated to serving the needs of the community, such as the Community Action League of the Lehigh Valley, Habitat for Humanity and others.
"Once a month, we'd get together and look at how we could improve the lives of those who live within a few blocks of the hospital, as well as others throughout the city," Nicolella said. Ford also credited Pam Russo, secretary for Catholic Health, Human Services and Youth Protection and the Diocesan representative on the Sacred Heart Board of Directors, with helping to make the move a reality. "Through these interactions," Ford said, "it became clear that the best place for Catholic Charities headquarters is right here. And with our combined efforts and the support of the St. Luke's network, the Bishop and the Diocese, it can only bring more good things to the City of Allentown."