News
Ribbon-Cutting for GSL Health Center at Pottsville
October 26, 2022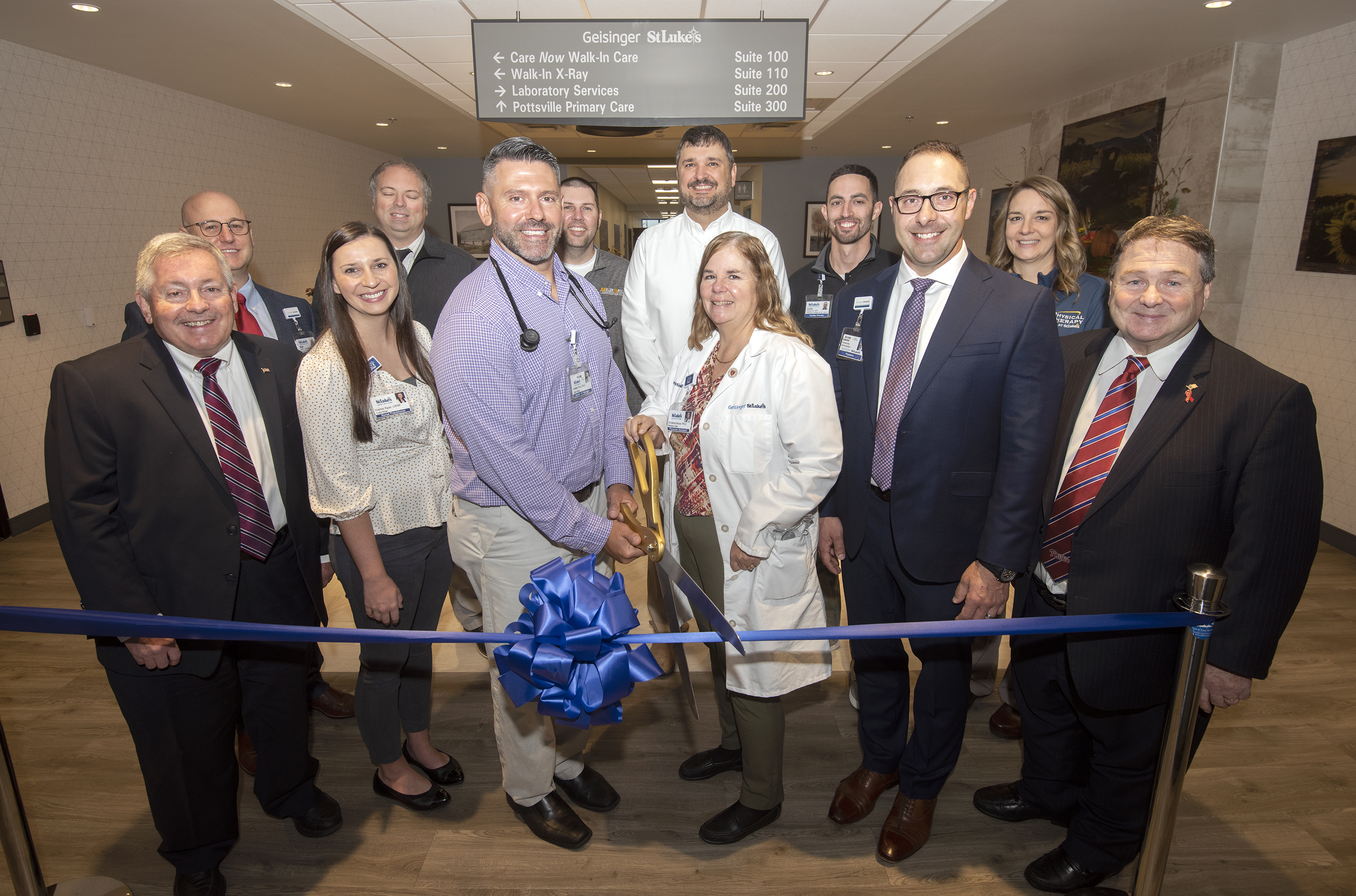 With the snip of an oversized scissors, officials from Geisinger St. Luke's Hospital (GSL) formally opened the new GSL Health Center in Pottsville, which provides non-emergent care for colds, scrapes, bumps and bruises, along with primary care, occupational medicine, physical therapy, x-rays and diagnostic laboratory services.
The 21,000-square-foot facility, located at 2650 Woodglen Road, West Pottsville, north of Route 209 and just off Gordon Nagle Trail, saw its first patients on August 15.
This assemblage of high-quality programs—Care Now walk-in urgent care, Pottsville Primary Care, Occupational Medicine, Physical Therapy at St. Luke's, Laboratory and Imaging services—marks Geisinger St. Luke's entry into the Pottsville medical market. The vast, one-story building underwent extensive renovations since it replaced the McCann School of Business and Technology.
"On behalf of the board, management, physicians and staff of GSL, we are honored and pleased to be able to provide Pottsville residents access to the high-quality, award-winning care for which our organization is well known," said Gabe Kamarousky, MBA, FACHE, president of Geisinger St. Luke's Campus. "As an extension of our hospital, patients can expect to receive exceptional treatment and outstanding customer service at this facility."
Since opening in 2019, GSL's list of quality achievements, certifications and accreditations has been extensive: Primary Stroke Center, Trauma Center, Chest Pain Center, Leapfrog Safety Rating of A, Leapfrog Top 50 Safest Hospital and Press Ganey Guardian of Excellence award.
Following the ribbon cutting, guided tours of the facility were offered, and refreshments were served to celebrate this inaugural event.
"We are thankful to this community and its leaders for welcoming us to this convenient location," added Kamarousky, "which is just a short drive from the area's most modern and growing inpatient facility – Geisinger St. Luke's Hospital."
About Geisinger St. Luke's Hospital
Geisinger St. Luke's Hospital (GSL) opened in 2019, bringing high-quality, accessible health care to Schuylkill County. A partnership of Danville, Pa.-based Geisinger and Bethlehem, Pa.-based St. Luke's University Health Network. GSL marked the first time in recent Pennsylvania history that two health care organizations joined together to co-own and co-build a hospital. This three-story, 40-bed acute care hospital with all private rooms, comprises an emergency department with trauma bays, operating rooms, an intensive care unit, a procedure room as well as ancillary services such as 3 D mammography, MRI, Cat Scan, Ultrasound, Echocardiology, Vascular imaging, Nuclear Medicine and X-ray. Specialty services offered include cardiology, gastroenterology, gynecology, gynecologic oncology, general surgery, nephrology, orthopedic surgery, primary care, radiology, spine and pain services, and urology services. Since opening, GSL has earned a Leapfrog Safety Rating of A, the Leapfrog Top 50 Safest Hospital award and the Press Ganey Guardian of Excellence award, and has been accredited as a Primary Stroke Center, Trauma Center and Chest Pain Center.