News
New Behavioral Health Facility at Moravian University Main Street Campus
April 12, 2022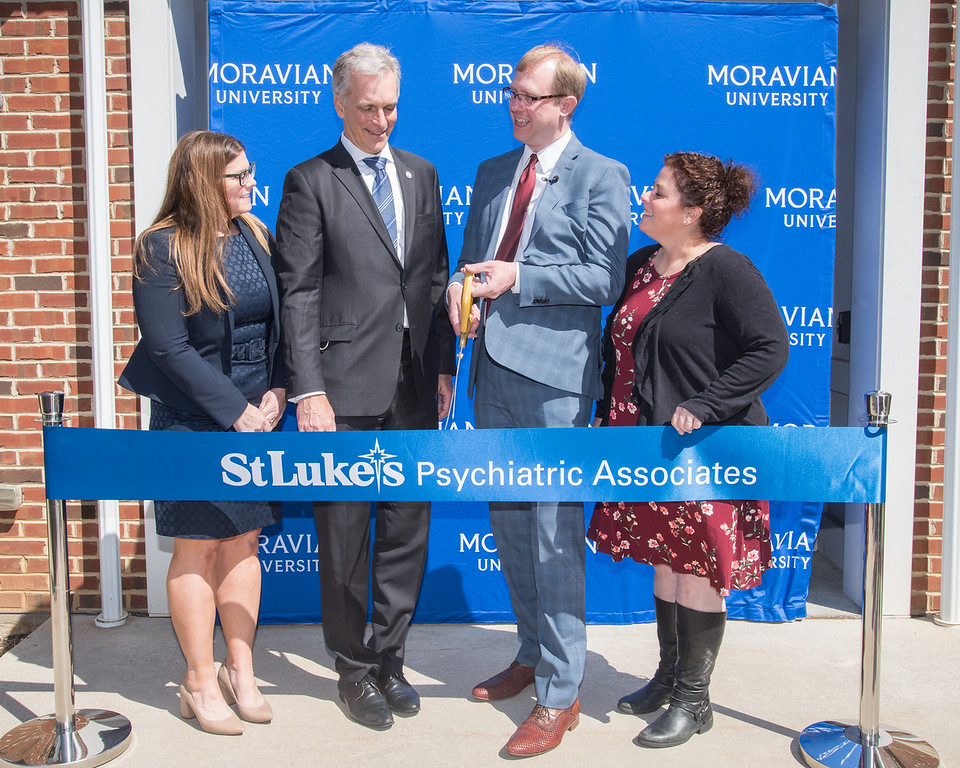 James James, MD, Interim Chief of Psychiatry at St. Luke's, cuts the ribbon on St. Luke's Psychiatric Associates newest office location located on the campus of Moravian University in Bethlehem. He is joined by Jody McCloud-Missmer, St. Luke's Service Line Administrator of Behavioral Health Services; Bryon Grigsby, President of Moravian University; and Amie Allanson Dundon, St. Luke's Director of Clinical Therapy Services.
Moravian University and St. Luke's University Health Network announced a new addition to their longtime partnership, the establishment of an outpatient psychiatric office on the Main Street campus of Moravian University in Bethlehem.
The addition of the outpatient psychiatric associate's office on the Moravian University campus represents the sixth such location for St. Luke's, joining others in Bethlehem, Allentown, Carbon County, Bucks County – all in Pennsylvania – and in Phillipsburg, New Jersey. It will be the first to be located on a university or college campus, and the first where St. Luke's will be collaborating with an educational institution in a Master of Arts Clinical Counseling degree program.
The St. Luke's Psychiatric Associates office at Moravian will be staffed with two full-time psychotherapists, who will provide services to children and adults in the general community and work closely with the students. First-year students in the Moravian graduate program will be allowed to shadow the counselors in their day-to-day therapy work, while second-year students will participate in a more formalized internship program, according to Jessica Marino, who will serve as the practice manager for the Moravian-based office.
"St. Luke's University Health Network has been an excellent partner for Moravian for many years, and this facility further demonstrates their commitment to the community," said Bryon Grigsby, president of Moravian University. "The opportunities this will present for our graduate-level students to see this practice operating right here on campus, serving the community at large, is invaluable."
The opening of the Moravian campus location aligns with an increasing community demand, says Amie Allanson-Dundon, a psychotherapist and network director of Clinical Therapy Services for St. Luke's University Health Network.
"At St. Luke's, we have seen a huge increase in the number of people seeking psychotherapy, and we know that part of that is due to the (Covid 19) pandemic," she said. "When you think of the socio-economic stressors and personal hardship many people are experiencing, after two-plus years of dealing with this pandemic…it is definitely increasing a need for more services. And that piggybacks on the normal depression and anxiety people experienced before Covid. Right now, the demand is greater than anyone in the Valley is able to keep up with."
It is, Allanson-Dundon notes, a good problem to have in that the stigma of seeking psychological help appears to be eroding.
"People aren't as hesitant to get therapy anymore," she said. "And in the medical field, you're seeing more specialists and family doctors using mental health services to treat the whole person. As more people understand the benefits of psychotherapy, they are more willing to do it."
An unexpected benefit of the pandemic is that virtual care is allowing professional therapists to reach more patients since the obstacle of physical access has been removed. These virtual sessions can also offer students in Moravian's Master of Arts Clinical Counseling degree program even greater insight into the counseling process, Marino said.
Ultimately, this partnership and teaching experience will produce more trained counselors who would conceivably stay in the region to help meet a growing need for psychological services, administrators say.
"The goal of this sort of hands-on experience is to get the students really excited about this work, and about hopefully staying in the Lehigh Valley," Allanson-Dundon said.