News
Groundbreaking for Monroe Campus Expansion
August 30, 2022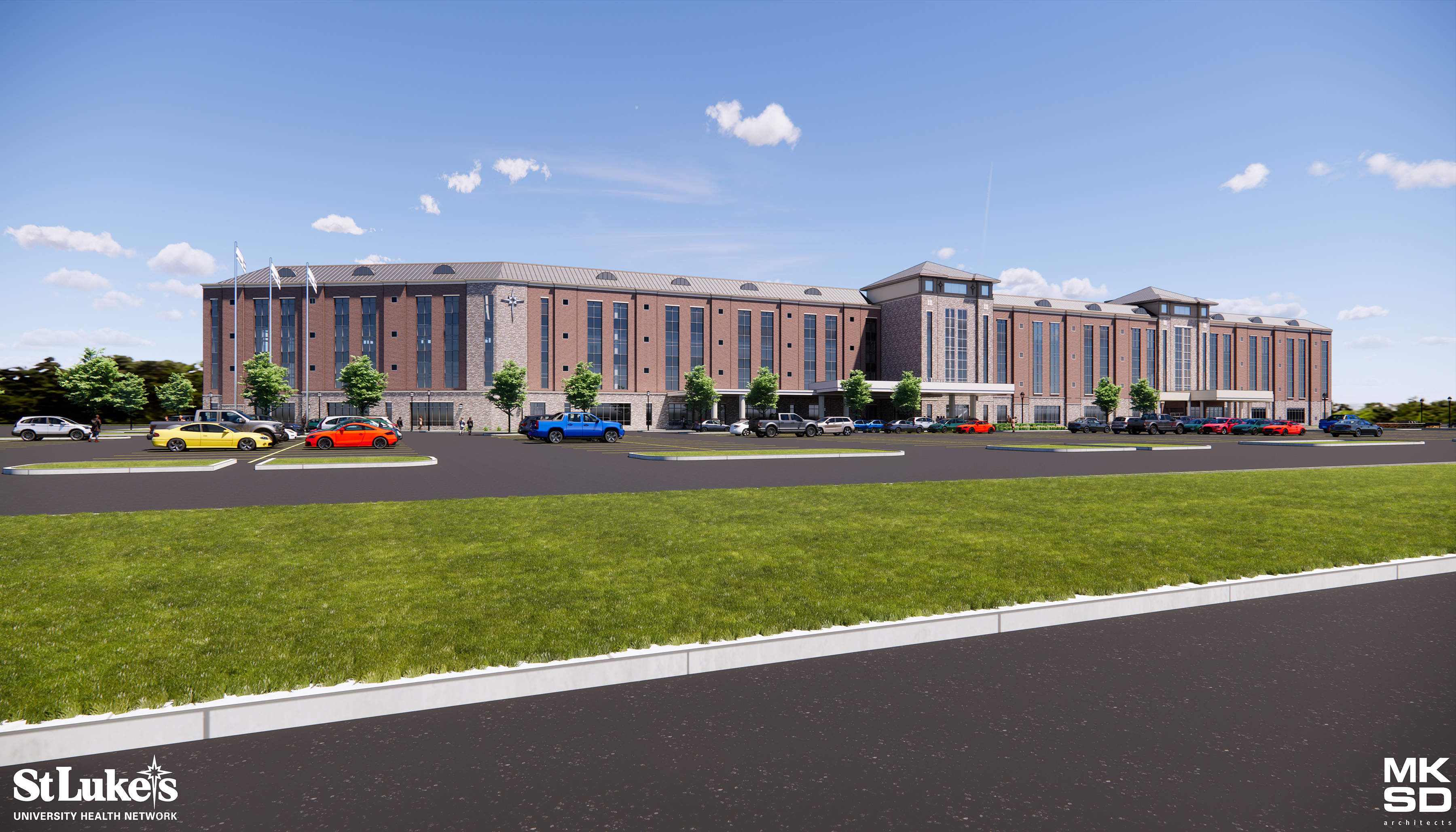 Today St. Luke's University Health Network officially broke ground on its new four-story, 165,000-square-foot patient care building at its Monroe Campus. A ceremony to mark the start of the historic expansion was held at 11:30 am at the site.
"With the construction of the patient care tower, St. Luke's is meeting the strong and growing demand for our nationally recognized healthcare services and keeping them close to home," says Don Seiple, president of St. Luke's Monroe Campus. "Our investment in growth is fueled by the trust the residents of Monroe County have in our providers. It will also allow us to meet the projected demand for our expert care in the future."
The addition will double the size of the existing hospital. The new patient care tower – which is expected to open in early 2024 – will be built on the east side of the St. Luke's Monroe Campus. It will house a general medical-surgical unit with 36 beds, additional operating and procedure space, expanded outpatient programs and a state-of-the-art interventional radiology suite as well as shell space for future development.
"This is a timely, well-planned and critical investment that will increase our population's access to high-quality care that it needs and deserves," says St. Luke's Monroe Chief of Medicine, Douglas A. Degler, MD.
The St. Luke's Monroe Campus expansion project will employ 250 construction workers, which will benefit the local economy, and will create 80 new permanent, family-sustaining jobs – with more to come later as shell space is occupied.
In keeping with St. Luke's tradition, the patient care tower will be built with American-made steel.
With the construction of its new patient care tower and expansion of its services and capabilities, St. Luke's Monroe Campus is continuing its commitment to meeting the needs of the community and to keeping patients close to home.
Located just off Route 611 in Stroudsburg, St. Luke's Monroe Campus welcomed its first patients in 2016. This hospital features private patient rooms including beds for critical care patients, a large and efficient emergency room, a helipad, state-of-the-art operating rooms, a cardiac catheterization lab and the most modern diagnostic technology.
St. Luke's Monroe Campus is part of the St. Luke's University Health System which earned Medicare's five- and four-star ratings (the highest) for quality, efficiency and patient satisfaction. St. Luke's Monroe Campus is a Level IV trauma center and has earned the Joint Commission's Gold Seal of Approval for stroke care.
The Leapfrog Group, a national nonprofit watchdog organization on hospital safety, awarded St. Luke's Monroe Campus an "A" rating since opening in 2016. St. Luke's is both a Leapfrog Group and Healthgrades Top Hospital and a Newsweek World's Best Hospital. St. Luke's flagship University Hospital has earned the 100 Top Major Teaching Hospital designation from Merative (IBM Watson Health) 10 times total and eight years in a row, including in 2021 when it was identified as THE #1 TEACHING HOSPITAL IN THE COUNTRY.