News
Geisinger St. Luke's Adding Facilities and Services
March 30, 2022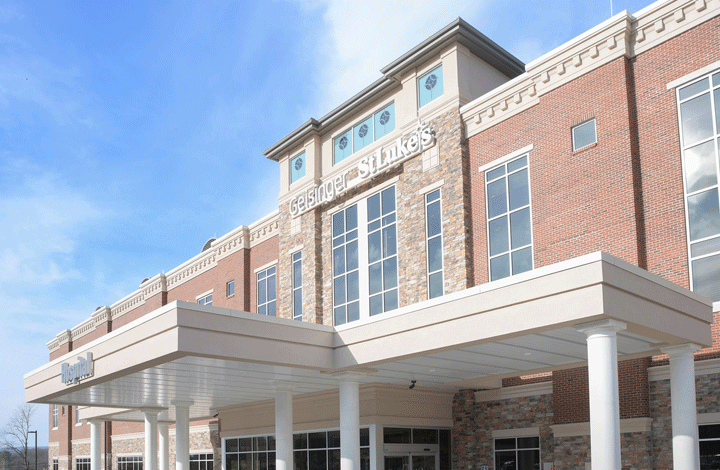 Less than three years after opening in Orwigsburg, Geisinger St. Luke's (GSL) Hospital has begun several building projects at the hospital and in the surrounding community to expand access to GSL's award-winning services.
"We're continuing to invest in our community with these building projects," GSL President Gabe Kamarousky says. "By adding specialists, generalists and additional support staff to enhance our patients' access to care, we're being faithful to the commitment we made to this region when we opened in 2019 as a joint venture between Geisinger Health and St. Luke's University Health Network."
Twenty private, medical-surgical beds are being added to the hospital's second floor, bringing the total bed count to 50, in addition to 10 existing ICU beds.
Also, a new interventional radiology suite will be installed next to the emergency room on the hospital's first floor. Interventional radiology (IR) comprises minimally invasive, image-guided techniques for unblocking non-heart blood vessels with just a pin prick into an artery or vein rather than a large surgery.
"Patients will no longer have to travel outside of the area for this often life-saving and limb-saving care," says Dr. Mark Lischner, Vice President of Medical Affairs at GSL.
Both projects are slated for completion in November, bringing 60 additional full-time employees to the hospital.
In West Pottsville, a Care Now walk-in urgent care facility is under construction to provide fast, convenient treatment for minor illness and injury without an appointment, including common colds, flu, sinus infections, sprains, strains, broken bones and more.
The Care Now will be located in The Health Center—Pottsville Primary Care, a single-level, 20,000-square-foot building that will also include family medicine and internal medicine provider practices, an occupational medicine office and laboratory services. This outpatient facility will open later this summer.
As Schuylkill County's population ages, and many of its doctors retire, GSL is increasing residents' access to convenient primary and specialized care and ancillary services.
"In just the two years since the hospital opened, and despite the challenges caused by the COVID pandemic, we have had a substantial increase in patients needing our ambulatory and acute inpatient care testing and treatment, far beyond our initial predictions," Kamarousky said. "This hospital's rate of growth is directly linked to the excellent quality care that our doctors, nurses and support staff provide, as recognized by patient surveys, our certifications as a trauma center and a primary stroke center, and our designation as a Top Hospital for patient safety by the Leapfrog group."
The total cost for these improvements, funded by the GSL joint venture, will be $25 million.