News
COVID Care Goes Above and Beyond at Anderson Campus
March 09, 2022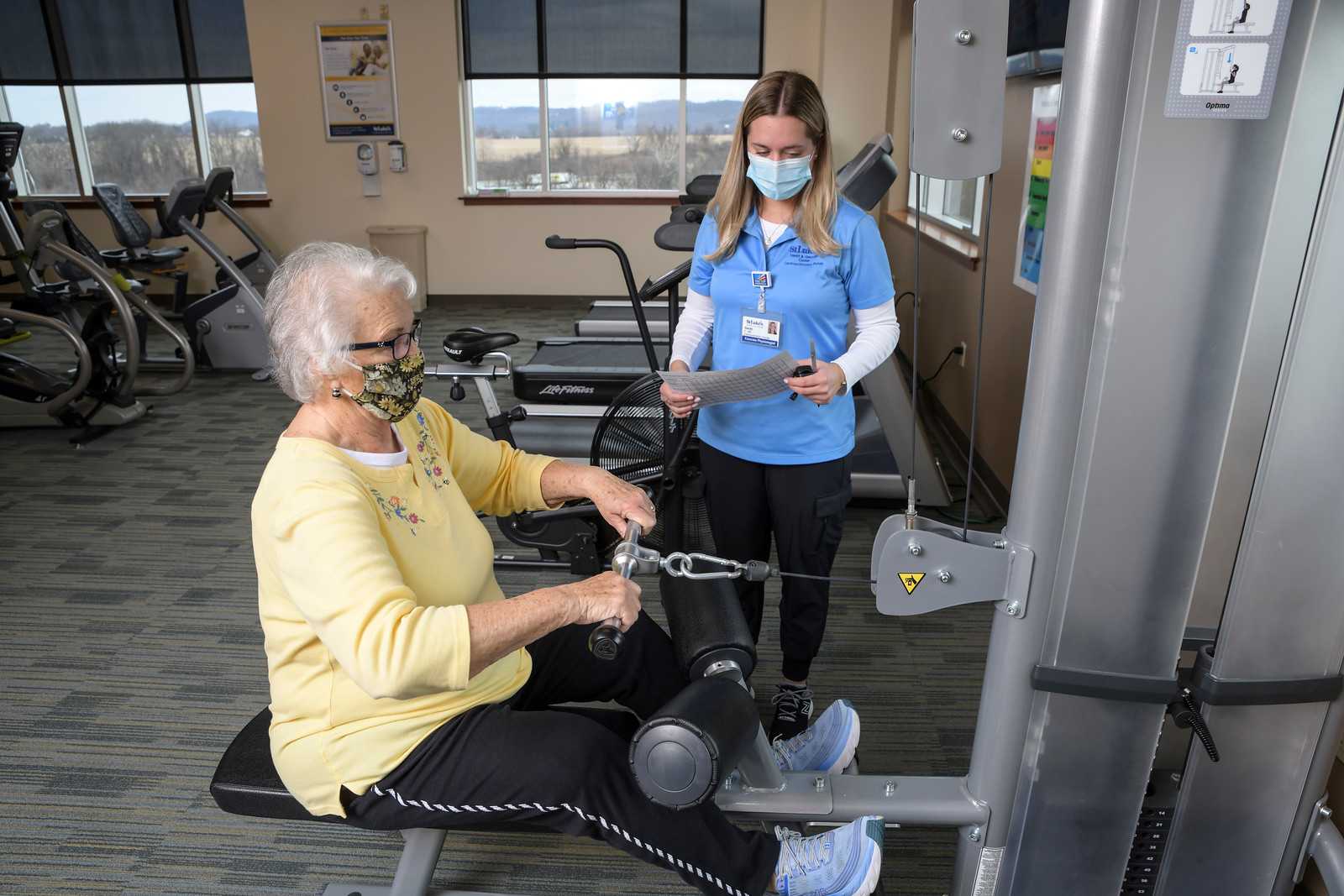 Cardiopulmonary Rehab patient Patricia Morse with St. Luke's Exercise Physiologist Sarah Principe.
Patricia Morse looks back with a sigh of relief and feels extremely grateful. She was taken by ambulance, critically ill with COVID-induced pneumonia, to St. Luke's Anderson Campus (Bethlehem Township) in early December 2021.
"I was in really bad shape'" says the 75-year-old resident of Hunterdon County, N.J. " I am very fortunate I received care that went beyond routine."

When asked how her over-all care was, she says, "I felt coddled."

Throughout her two-week stay in the ICU and on the third floor, Morse was treated with antiviral medication, Remdesivir, steroids and high-flow oxygen. She was amazed and thankful for the compassion and life-saving measures taken by the doctors, nurses and everyone who battled the illness with her.

She cites Chris Gauthier, DO, a psychiatry resident, for his professional manner with her when she was on the third floor. "He was informative, answered all my questions fully and was very patient," Morse says.

She fortunately was able to recover from the raging infection that has taken the lives of nearly 1 million Americans. Her survival astonished members of her family, some who feared she wouldn't be alive to celebrate Christmas.
With a fullness of heart, Morse thought of ways she could show her gratitude. She developed a prayer list and daily prayer time for others and continues with that and adds to it each day. This includes healthcare heroes who risk their own life daily to save others.
Her husband baked cookies and apple pies for the staff on ICU and the third floor to give them a treat and some needed energy. The couple also decided to make a contribution to St. Luke's Medical Education Fund.

Morse recuperated at home, then began pulmonary rehabilitation at St. Luke's Anderson Campus a month ago to improve her breathing. She's feeling much stronger now, she reports.

"I can't say enough good things about everyone there. The caregivers, other staff members I had an opportunity to speak with, food service, and maintenance." When asked to rate her care on a 1-10 scale, Morse says, "It is over a 10."