News
Capital Blue Cross Makes Generous Gift to Dental Van Program
August 12, 2022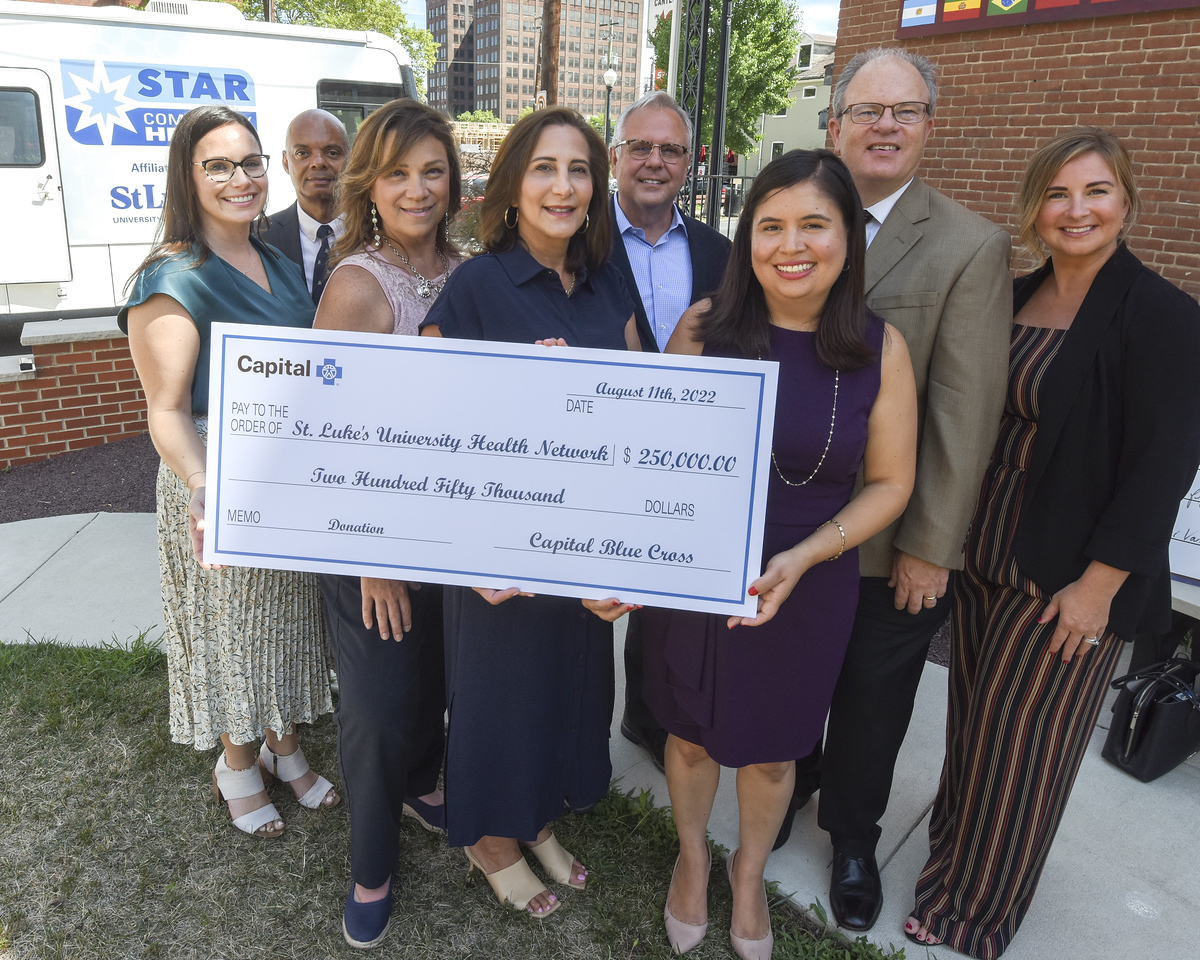 Capital Blue Cross presented a generous $250,000 gift in support of the St. Luke's Dental Van Campaign. St. Luke's, in partnership with Star Community Health, recently launched the campaign to replace an aging fleet that visit schools throughout the region to provide oral health services to students.
The Dental Van Program provides much needed dental care for those without insurance or access to reliable transportation at 40 schools within Lehigh, Northampton, Carbon, Schuylkill, Bucks and Monroe counties.
"Today, one third of the children treated on the vans are not covered by health insurance," said Mark Roberts, Executive Director, Star Community Health. "The remaining two thirds qualify for free or reduced care but do not receive regular exams, and 50% of the children have never been to a dentist."

Star Community Health's experienced and compassionate physicians and other providers offer comprehensive well and sick primary care, OB/GYN, pediatrics and dental health services at five locations in Bethlehem, Allentown and Easton. Star Community Health supports the health and wellness goals of local residents and specializes in providing improved access, coordinated care and enhanced patient/family involvement.

Research shows that dental health and scholastic success are closely linked. Untreated dental conditions can lead to pain, weight loss, missed school days and decreased self-esteem, and for many students these vans are their only access to dental care.

Capital's strong financial support of the dental van program is one of several ways the insurer is collaborating with St. Luke's to bring high-quality, affordable care to the Lehigh Valley, according to Capital Blue Cross Senior Vice President of Sales & Marketing, David Skerpon.

"Capital Blue Cross is committed to improving the health and well-being of both our members and the communities they call home, and our ongoing work with St. Luke's reflects that commitment," Skerpon said. "The dental van campaign will not only help keep kids healthy, but it will also help us reach children who otherwise might not be able to access preventive dental care that benefits entire families and communities."

St. Luke's has a long-standing commitment to advancing the health and well-being of the communities it serves. The check presentation was held at the Hispanic Center of the Lehigh Valley (HCLV), a nonprofit organization whose mission is to help low-income community members overcome the obstacles that accompany poverty, including access to health care. Located only a few short blocks from each other, together HCLV and Star Community Health provide comprehensive services supporting the health and well-being of children and families in the surrounding neighborhood.

"St. Luke's is committed to serving our community, and by partnering with the Hispanic Center Lehigh Valley, we are able to meet folks where they are and where they feel most comfortable," says Rajika Reed, Ph.D., Vice President, St. Luke's Community Health. "Our community empowerment model is focused on capacity building of vital organizations such as HCLV so our vulnerable populations might be best served using an equity lens.

In his remarks, Mark Roberts said, "Thanks to the generous support of Capital Blue Cross, we can ensure pediatric patients continue to receive the care they need and deserve."

To learn more about how you, too, can invest in smiles, please contact Kelly Chando at 484-619-1456 or Kelly.Chando@sluhn.org.