News
Urologist Brings Pioneering Laser Treatment for BPH to SLUHN
July 27, 2021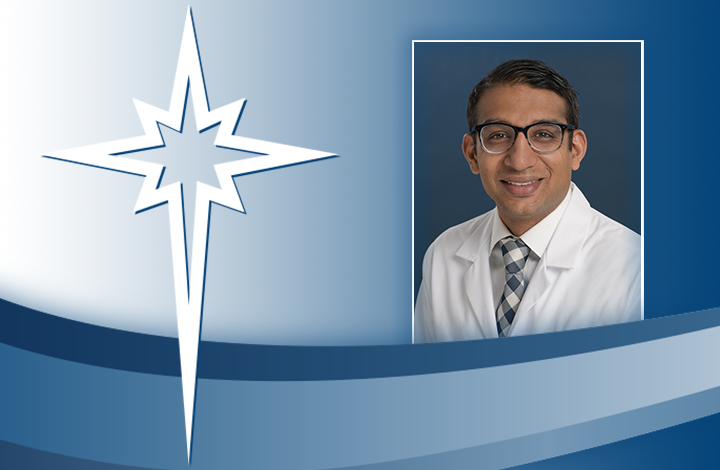 Abhay S. Singh, MD, has joined the St. Luke's Center for Urology in Bethlehem and Bethlehem Township, where he'll provide high-quality medical and surgical care for conditions of the genitourinary tract in men and women, including the prostate, bladder and kidneys.
Dr. Singh specializes in robotic surgeries to treat both cancer (kidney, prostate, bladder) and for reconstructive purposes as well as endoscopic surgeries that focus on voiding dysfunction and stones.
He is the first urologist at St. Luke's who performs Holmium Laser Enucleation of the Prostate, or HoLEP, a unique, laser-based, endoscopic surgery for voiding dysfunction. This condition, in which non-cancerous enlargement of the prostate prevents urine from emptying effectively, is known as BPH.
The HoLEP procedure, which many experts consider the gold standard treatment of large prostate glands, is performed endoscopically by passing a laser into the urethra and carving out the oversized prostate's tissue, which is then ground up and sucked out, subsequently promoting a significant improvement in voiding. Dr. Singh likens HoLEP, which takes 1.5 to 3 hours to perform in the OR, with the carving out the inside of an orange while leaving the outer rind intact.
The advantages of HoLEP, compared with other techniques to treat an enlarged prostate, include:
Reduced blood loss and reduced risk of subsequent bleeding.

Reduced likelihood of regrowth of the prostate.

Can treat any size prostate.

Reduced catheter time and overall healing.
Dr. Singh says that for most men voiding issues are common with aging and especially men over 60, and those who have a family history of BPH are at higher risk for developing BPH. While there is not much most can do to avoid the condition, "Men who are diligent about weight control and exercise often have less severe symptoms."
Having performed a range of voiding dysfunction surgeries for years, including HoLEP, Dr. Singh says a man's typical response after undergoing the laser prostate-reduction treatment is, "I wish I had done this sooner."
Dr. Singh was born in Maryland and grew up in New Jersey. He earned his medical degree from UMDNJ – Robert Wood Johnson Medical School, where he was class president and graduated with honors as an inductee into the Alpha Omega Alpha Honor Medical Society. He completed a general surgery internship at Walter Reed Army Medical Center, followed by a urology residency at Duke University Hospital.
Following his residency, he served as an active-duty US Army urologist at Fort Benning, Georgia, and then at Fort Belvoir, Virginia, where he became the chief of urology.
After leaving the military, Dr. Singh honed his minimally invasive skills in robotic and endourology through a fellowship at Thomas Jefferson University Hospital in Philadelphia.
He says his patient care philosophy is founded on communication, respect and trust. "I consider it a privilege to care for patients. When discussing a patient's diagnosis or condition, I ask about his or her goals of treatment, both medical and lifestyle, and always include them in developing a specific plan of care, whether it's medical or surgical."