News
St. Luke's University Health Network Welcomes Two Neurosurgeons
August 05, 2021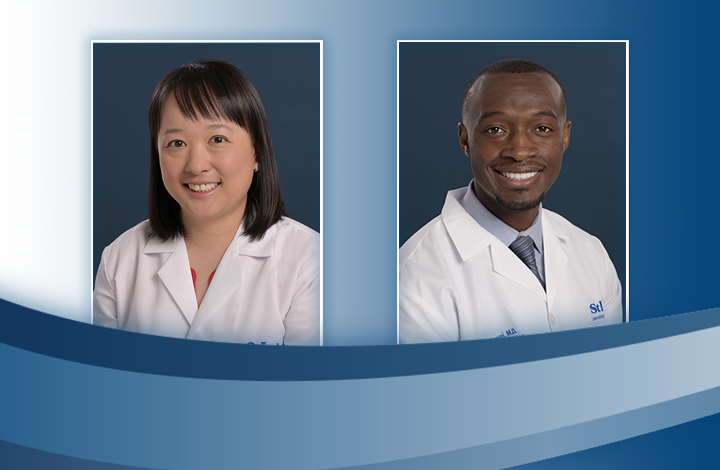 Dr. Lee Hwang & Dr. Justice Agyei
Lee Hwang, MD, is a fellowship-trained neurosurgical oncologist who treats patients with brain and spine tumors, degenerative spine diseases, epilepsy and trauma of the neurologic system.
She completed a fellowship in neurosurgical oncology of the brain and spine at Memorial Sloan Kettering Cancer Center in New York City after her residency training at the Cleveland Clinic. Dr. Hwang earned her medical degree at the University of Texas Southwestern Medical School, Dallas.
She has researched treatments for glioblastoma (malignant brain tumor) and other complex neurosurgical conditions at the National Institutes of Health and Memorial Sloan Kettering Cancer Center.
During her training, Dr. Hwang developed protocols to incorporate new technologies in neurosurgery, such as laser ablation for treatment of brain lesions and brachytherapy (radiation) for local disease control of brain tumors.
"I was fortunate to have trained at world-renowned and high-volume centers, and I am excited to be a part of the expansion of the St. Luke's Brain and Spine Tumor Center, where I look forward to helping patients with any neurosurgical needs," says Dr. Hwang.
Neurosurgeon Justice Agyei, MD, specializes in surgery to relieve pain in patients suffering with severe and debilitating back or neck conditions, to restore their function and improve their quality of life.
"The best part of my job is seeing a cane- or wheelchair-bound patient walk without any assistance into my clinic at post-surgical follow-up and hearing them say that they are back to living their life," he says. "That is what gets me up in the morning and that is why I chose this field; to build a relationship with my patients and work together to deliver to them the best possible care."
Dr. Agyei completed a fellowship in Complex Spine Surgery at University at Buffalo Neurosurgery, where he trained in minimally invasive spine surgery, robotic spine surgery, adult deformity surgery and the treatment of spinal trauma, spinal tumors and other conditions. Dr. Agyei's neurosurgery residency took place at the University at Buffalo Neurosurgery Program, after he earned his medical degree at Albany Medical College, Albany, NY.
"St. Luke's and its patients are, indeed, fortunate to have these compassionate surgeons with outstanding training, expertise and credentials join our Neurosurgical Team," says Doron Rabin, MD, Chief of Neurosurgery. "They will be vital in helping to expand and diversify our program, bringing innovative surgical technology and techniques to this growing field."
Dr. Rabin continued, "As we welcome these two new members to our team, I want to recognize and thank fellow neurosurgeon and colleague Dr. Roy Hwang for his compassionate care and expertise. Dr. Hwang has made the decision to leave St. Luke's Neurosurgical Associates to be with his family."
###
Media Contact:
Sam Kennedy, Corporate Communications Director, 484-526-4134,
samuel.kennedy@sluhn.org
About St. Luke's
Founded in 1872, St. Luke's University Health Network (SLUHN) is a fully integrated, regional, non-profit network of more than 16,000 employees providing services at 12 hospitals sites and 300+ outpatient sites. With annual net revenue in excess of $2.5 billion, the Network's service area includes 11 counties: Lehigh, Northampton, Berks, Bucks, Carbon, Montgomery, Monroe, Schuylkill and Luzerne counties in Pennsylvania and Warren and Hunterdon counties in New Jersey. Dedicated to advancing medical education, St. Luke's is the preeminent teaching hospital in central-eastern Pennsylvania. In partnership with Temple University, St. Luke's established the Lehigh Valley's first and only regional medical school campus. It also operates the nation's longest continuously operating School of Nursing, established in 1884, and 38 fully accredited graduate medical educational programs with 347 residents and fellows. St. Luke's is the only Lehigh Valley-based health care system to earn Medicare's five- and four-star ratings (the highest) for quality, efficiency and patient satisfaction. St. Luke's is both a Leapfrog Group and Healthgrades Top Hospital and a Newsweek World's Best Hospital. U.S. News & World Report ranked St. Luke's #1 in the Lehigh Valley and #6 in the state. Three of IBM Watson Health's 100 Top Hospitals are St. Luke's hospitals. St. Luke's flagship University Hospital has earned the 100 Top Major Teaching Hospital designation from IBM Watson Health nine times total and seven years in a row, including in 2021 when it was identified as THE #1 TEACHING HOSPITAL IN THE COUNTRY. In 2021, IBM Watson Health also named St. Luke's among the 15 Top Health Systems nationally. Utilizing the Epic electronic medical record (EMR) system for both inpatient and outpatient services, the Network is a multi-year recipient of the Most Wired award recognizing the breadth of the SLUHN's information technology applications such as telehealth, online scheduling and online pricing information. St. Luke's is also recognized as one of the state's lowest cost providers.