News
St. Luke's Treats 500th COVID Patient with Monoclonal Antibodies
January 18, 2021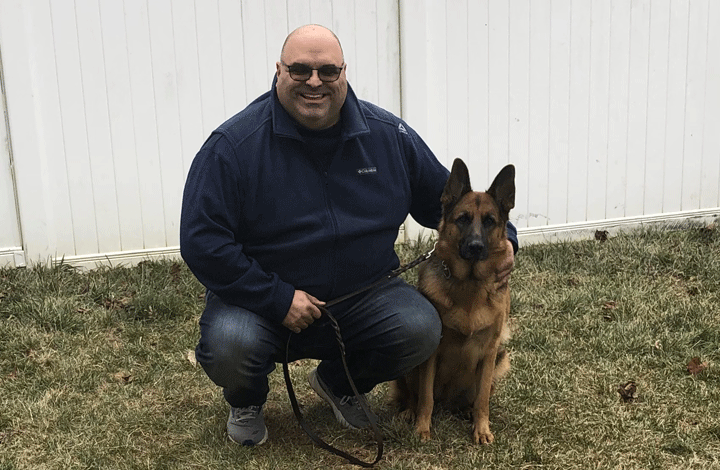 St. Luke's University Health Network infused its 500th COVID-19 outpatient with monoclonal antibodies.
Monoclonal antibody therapy at St. Luke's has helped all Lehigh Valley hospitals avoid being overwhelmed during the current surge, allowing certain high-risk patients to recover quickly in the comfort of their own homes.
Granted emergency authorization by the U.S. Food and Drug Administration, monoclonal antibodies block the virus' attachment and entry into human cells. Infusion has been found to be particularly effective in preventing the need for hospitalization in select, higher-risk patients including those who are 65 years of age or older and whose infection, identified early, does not yet require supplemental oxygen.
Here are two of their stories:
Joe Kitchell, a part-time paramedic in New Jersey happily says he's proof-positive that the BAM monoclonal antibody works. (See attached photo.)
"I feel great," he said recently, "and lucky to have gotten the treatment."
Kitchell, 52, came down with COVID symptoms on Christmas Day.
His fever, cough, headache and body aches alerted the veteran first responder that he was COVID-sick, and a test confirmed that two days later.
But within less than a week, through his web of professional work connections in the medical field, Kitchell received an infusion of the Eli Lilly monoclonal antibodies at the St. Luke's Easton Campus. And the next morning, he was feeling better already: headache gone, increased energy but still with a slight cough (he has asthma).
The Bethlehem Township resident is back to transporting patients to St. Luke's Easton for various illness and injuries—including scores critically ill with COVID—and grateful to St. Luke's and his medical friends who encouraged him and arranged for his monoclonal antibody infusion.
"I think it's a great treatment and give St. Luke's a lot of credit for opening infusion centers in the community."
St. Luke's began using monoclonal antibodies, which received emergency use authorization from the FDA, just before Thanksgiving in its Easton and Warren, NJ facilities.
Wilda Cortez-Sanchez, of Allentown, was back to cooking and cleaning just a few days after having her treatment with the Lilly antibody at St. Luke's Easton in early January. Her fever was gone and her energy, smell and taste and appetite had returned.
"I feel very good. The virus is gone," says Cortez-Sanchez, whose mother and husband also contracted the illness, too.
Her primary care physician, Pavel Terreros, MD, had referred his patient to the hospital's infusion center for the treatment, like he has with more than 20 of his other patients from his downtown Allentown office.
"Everyone who had the infusion improved within 24-48 hours after treatment and no one was hospitalized," he says.
"It's really working!"
Infectious disease specialist Peter Ender, MD, who helps run the COVID-19 treatment programs at SLUHN, says, "Monoclonal antibodies are an important outpatient therapy that we know has benefit in keeping people out of the hospital."
Unlike St. Luke's, many hospitals in Pennsylvania and across the country have not taken full advantage of their allocations of monoclonal antibodies. St. Luke's is proud to have made this important weapon in the fight against COVID-19 accessible to residents of the Lehigh Valley.
###
Media Contact:
Sam Kennedy, Corporate Communications Director, 484-526-4134, samuel.kennedy@sluhn.org
About St. Luke's
Founded in 1872, St. Luke's University Health Network (SLUHN) is a fully integrated, regional, non-profit network of 14,000 employees providing services at 10 hospitals and over 300 outpatient sites. With annual net revenue of $1.9 billion, the Network's service area includes 10 counties: Lehigh, Northampton, Berks, Bucks, Carbon, Montgomery, Monroe and Schuylkill counties in Pennsylvania and Warren and Hunterdon counties in New Jersey. Dedicated to advancing medical education, St. Luke's is the preeminent teaching hospital in central-eastern Pennsylvania. In partnership with Temple University, St. Luke's created the region's first and only regional medical school campus. It also operates the nation's longest continuously operating School of Nursing, established in 1884, and 28 fully accredited graduate medical educational programs with 226 residents and fellows. St. Luke's is the only health care system in central-eastern Pennsylvania to earn Medicare's five-star rating (the highest) for quality, efficiency and patient satisfaction. St. Luke's has earned the 100 Top Major Teaching Hospital designation from IBM Watson Health (formerly Truven Health Analytics) repeatedly – six times total and four years in a row including 2018. It has also been cited by IBM Watson Health as a 50 Top Cardiovascular Program. Utilizing the EPIC electronic medical record (EMR) system for both inpatient and outpatient services, the Network is a multi-year recipient of the Most Wired award recognizing the breadth of the SLUHN's information technology applications such as telehealth, online scheduling and online pricing information. St. Luke's is also recognized as one of the state's lowest cost providers.