News
Nursing Scholarship Extends Unique Charitable Legacy
June 21, 2021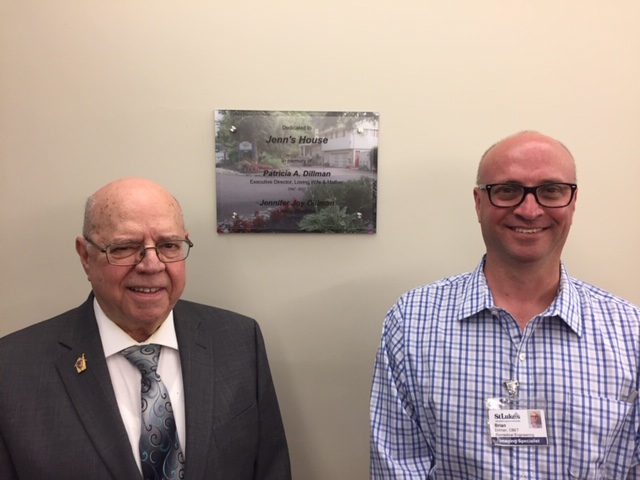 Richard Dillman with his son, Brian, and the plaque dedicated to the School of Nursing in recognition of Jenn's House and in memory of Patricia and Jennifer Joy Dillman.
Thirty years ago, Richard and Patricia Dillman received a call no parent wants to receive. Their 17-year-old daughter Jennifer was critically injured in a bus accident while on a high-school band trip. Jennifer spent twelve long days at Hershey Medical Center, far from the Dillman's Allentown home, while Richard and Pat stayed in the nearby Ronald McDonald House. Sadly, Jennifer passed away, but the Dillman's always appreciated their "home-away-from-home" during that excruciating time.
Heartbroken, the Dillman's channeled their grief into helping others and spent the next three decades honoring their daughter's memory. In 1998, they established Jenn's House, a temporary home for "out-of-town" families who had loved ones receiving medical care in the Lehigh Valley. While operating Jenn's House, Richard and Pat were able to extend the hospitality they experienced to others, providing affordable, temporary housing for more than 4,500 individuals. "Providing a convenient, comfortable space allows families to focus on their loved one without having to worry about hotels, meals and transportation," explains Richard.

After losing Pat to cancer in 2017, Richard decided to close Jenn's House earlier this year, but his philanthropy continues. Richard and the Jenn's House Board donated the proceeds from the sale of the house and its contents to several organizations, including St. Luke's School of Nursing which received a $60,000 donation that will be used to establish a scholarship endowment in memory of his daughter Jenn and dedicated to his wife, Patricia. "Pat and my mom were both nurses and my son, Brian, has worked for St. Luke's in the biomedical engineering department for over 20 years, so this scholarship is in honor all of them, as well as Jenn," says Richard.

"We are so grateful to Mr. Dillman," says Lisa Storck, DNP, RN, Director of St. Luke's School of Nursing. "His most generous contribution will continue to support nursing education well into the future."

Other recipients of Richard's generosity include the Dillman's lifelong parish, St. John's UCC in Emmaus, the Ronald McDonald House in Hershey where they stayed during Jenn's hospitalization and the Gift of Life of Philadelphia, who helped shepherd Jenn's organs to those in need of a transplant.

Although Jenn's House has closed, the Dillman's lifelong dedication of providing housing to those in need remains intact. According to Richard, the house was sold to refugees seeking asylum in the United States. "By providing much-needed shelter to yet another family, the mission of the house continues."