News
GSL Fulfilling Promises despite COVID Challenges
December 20, 2021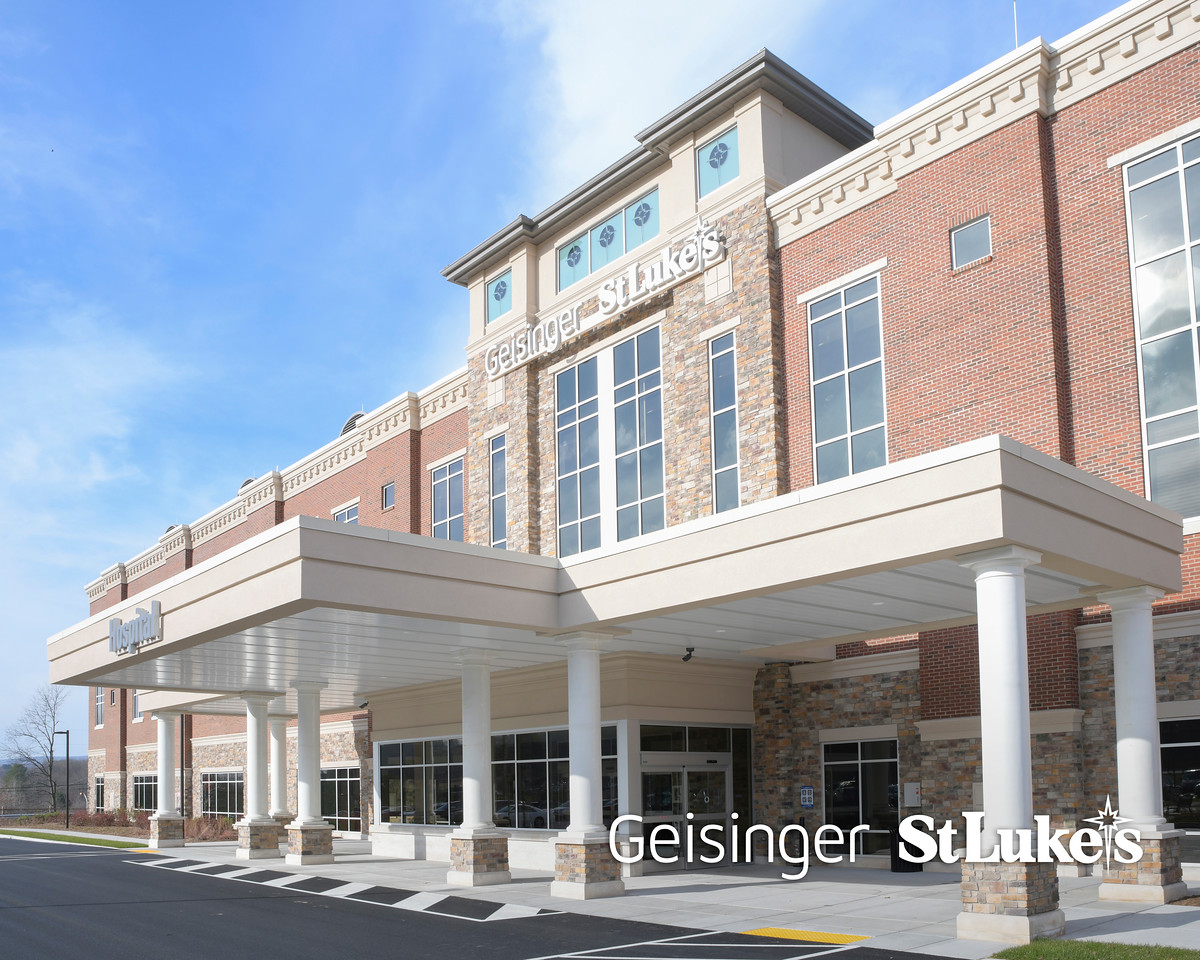 Geisinger St. Luke's Hospital (GSL) is celebrating its second year of providing advanced healthcare to the Schuylkill County community, completing planned patient care initiatives and obtaining a myriad of clinical program certifications despite the ongoing COVID -19 pandemic.
Within a few months of opening its doors, in Orwigsburg, in November 2019, the 40-bed hospital became the first line of defense locally to combat the virus that has claimed more than 800,000 American lives thus far. With its medical-surgical and ICU beds filled to capacity, many with desperately ill patients in early 2020, Geisinger St. Luke's healthcare heroes risked their own health to save countless lives while striving to keep their promise to improve access to high-quality care. This unique partnership between two health care systems—a first in Pennsylvania—addressed a need that has been growing in the rural area for years.
"These two high-quality health systems came together at the right time and in the right place to take care of patients, but we hadn't foreseen the COVID virus as one of the illnesses we would have to face," said Gabe Kamarousky, president of GSL. "We forged ahead to fulfill our promise to our community, bringing high-quality staff and providers to the area
This urgency didn't deter the leadership of the jointly owned hospital from adhering to its oath to bring advanced medical care to Schuylkill County. In fact, much of the very specialized care that they planned and introduced just in time helped save the lives of hundreds of county residents suffering from the virus.
This includes critical care medicine in the Intensive Care Unit (ICU). "Geisinger St. Luke's provides the highest level of critical care available in a community hospital," said Mark Lischner, DO, vice president of medical affairs and medical director of critical care. "Staffed 24/7, with critical care trained physicians, advanced practitioners, and an unbelievably dedicated and talented team of nurses, the ICU and hospital opened just as the pandemic arrived on our doorstep. The dedication of this team to the community is unparalleled, and I'm grateful every day for their tireless efforts."
Sadly, this infectious scourge continues. Today, despite the easy access to the COVID vaccine, many of the hospital's 40 beds are occupied by victims of COVID-19, the majority of whom haven't yet received the vaccine.
During GSL's first 24 months, the hospital launched major programs, earned state and national certifications and planned for, obtained and provided health and wellness resources in the face of threatening conditions never-before imagined or experienced.
In its first two years of operations, Geisinger St. Luke's received numerous awards, credentials and certifications, including Press Ganey awards for outstanding performance in patient experience in both inpatient and emergency room experience (top 5% of all hospitals); Primary Stroke Center accreditation; and state approval for its Level IV trauma program. Additionally, a three-story medical office building was completed to house physician specialists, outpatient offices and programs long needed in the community.
So far more than 15,000 residents have received the COVID vaccine provided by the hospital. Additionally, the Geisinger St. Luke's team has brought in Board-certified cardiologists, emergency room providers, urologists, general surgeons, gastroenterologists, orthopedic surgeons, spine and pain specialists, obstetric-gynecologists, gynecologist, critical care anesthesiologists, hospitalists, pulmonologists, nephrologists, radiologists, primary care providers and other physicians and nurses in order to give the highest level of care in the rural region. Additionally, the location was able to add the Da Vinci minimally invasive robotic surgery systems, 1.5 Tesla MRI and mammogram imaging devices were installed in the hospital to improve diagnoses and treatments. GSL is in the process of applying for Chest Pain Center certification, which it expects to receive next year.
"GSL continually looks to provide consistent, quality care to the patients in our community. In utilizing evidenced-based science and best practices as outlined by the American College of Cardiology, patients will receive top quality cardiovascular care from our medical professionals," says Erin Martinez, vice president, patient care services.
Kamarousky speaks proudly of the 300-plus employees and physicians and providers who bring their skills and commitment to their patients and to each other on a daily basis. They share a vision of a healthier community, where many of them live.
"I cannot say enough about how amazing everyone on our team is, and we thank them for how hard they have worked together in order to provide the best care our community," says Kamarousky
Last year, Kamarousky shares, the hospital received top honors for patient satisfaction from the nationally recognized Press Ganey organization. And just this month, Leapfrog Group, which monitors hospital safety, named GSL to its prestigious list of Top Hospitals in the country.
"Our patients have shown their trust in us by coming here for care in record numbers that we hadn't forecasted this soon."