News
West Side Hammer Electric and Penn Community Bank Support Summer Meals Program
July 03, 2020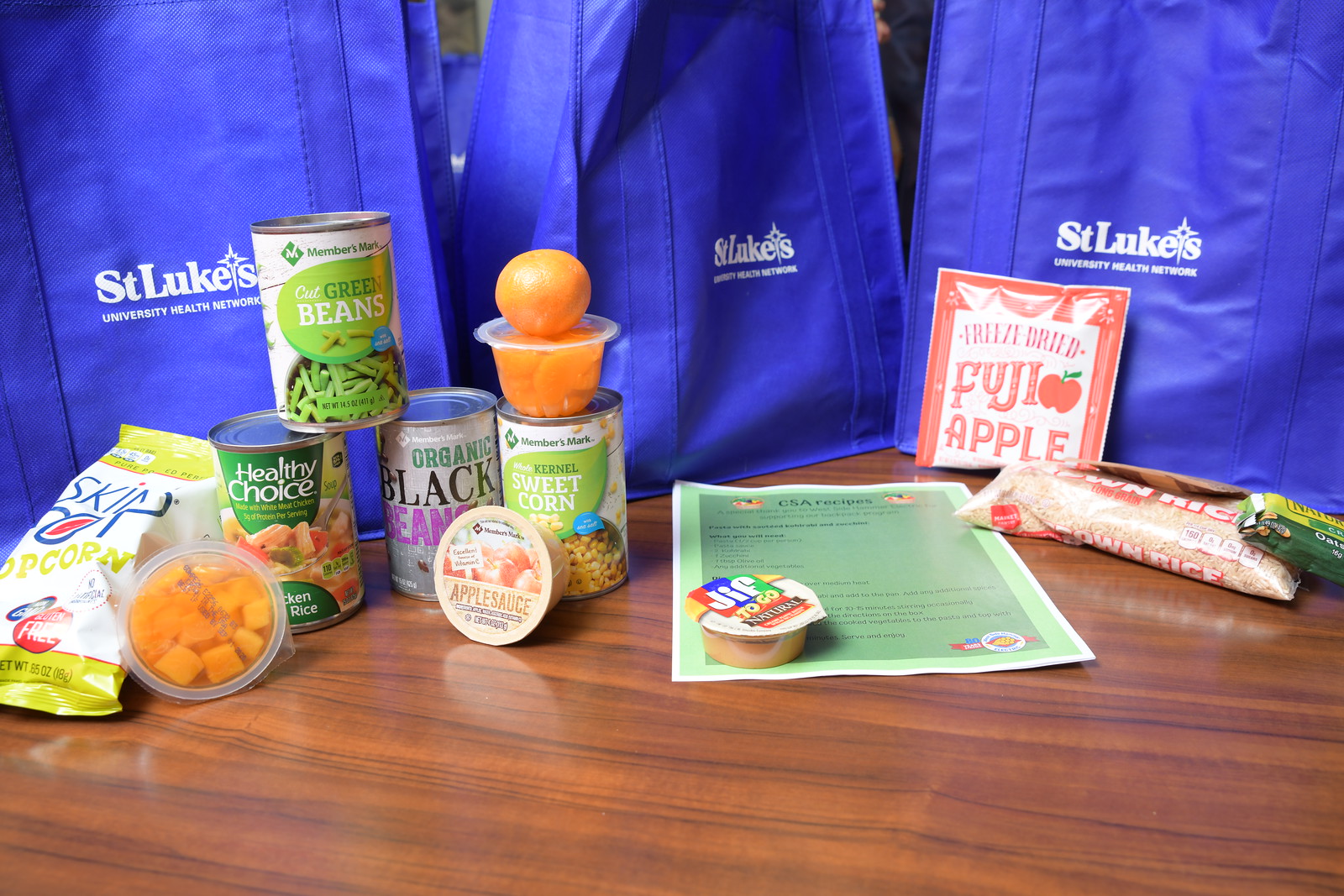 St. Luke's University Health Network will resume its Summer Meals Program for a second year in Allentown and Quakertown to make sure no child goes without a nutritious lunch during the summer months.
The program was piloted in response to the Network's 2019 Community Health Needs Assessment (CHNA). The CHNA revealed that these locations are in the catchment area of school districts where over 50% of students are eligible for free and reduced meals during the academic year.
Prior to COVID-19, 1 in 3 children were hungry. The pandemic is only making matters worse. At St. Luke's, our mission is to improve the overall health of the communities we serve. Thanks to the generosity of two notable organizations, we'll ensure more children have access to food and other vital resources during this unprecedented time.
West Side Hammer Electric has again provided a generous gift of $10,000 to support program enhancements in the Allentown area. Luke Cunningham, Chief Executive Officer of West Side Hammer Electric and Former St. Luke's Allentown Campus Board Member, is no stranger to community service and social responsibility.
"During these uncertain times, we as a community need to stick together more than ever. We are here to help any way we can. The children of Allentown have always held a special place in our hearts and it's an honor to be able to work side by side with St. Luke's in providing a healthy lunch for the children."
Penn Community Bank has also contributed another $10,000 to enrich the Summer Meals Program at St. Luke's Quakertown. A prominent partner of the Network, Penn Community Bank remains invested in the success of local children – both in school and in life. Thanks to their continuous support, the children who come to campus for lunch will have access to healthier meal options, financial literacy education and other engaging activities.
"As a community-first financial services provider, Penn Community Bank is committed to serving as a catalyst for positive change. We live out our mission by serving as a trusted and essential partner that meets people where they are – including in partnering with St. Luke's to provide summer meals for the Quakertown community," said Jeane M. Vidoni, President and CEO or Penn Community Bank. "We are proud to join with other community-focused organizations to ensure food insecure kids in our community have access to healthy meals this summer."
The collective efforts of West Side Hammer Electric and Penn Community Bank will ensure fresh produce from our community-supported agriculture shares and backpacks full of non-perishable food are available for children to take home each week.
Crayola has also provided a generous supply of items to continue engaging and inspiring creativity among our children in the Allentown and Quakertown communities.
The Summer Meals Program at St. Luke's Sacred Heart Campus runs all summer, through August 28, 2020 on Tuesdays and Fridays, Noon to 2 pm, (no meals available Friday, July 3, 2020). Lunches will be served on-site in the courtyard between the 325 building and the main hospital campus, accessed off N Penn Street.
The Quakertown Summer Meals Program will be held Tuesdays and Thursdays, June 30 – August 21, 2020, from 11:30 am to 1 pm, at the bus drop-off location for Quakertown Community High School. During the last week of the program, St. Luke's will be offering the Summer Meals Program at the St. Luke's Quakertown campus from Monday, August 24, 2020 through Friday, August 28, 2020.
###
Media Contact:
Sam Kennedy, Corporate Communications Director, 484-526-4134, samuel.kennedy@sluhn.org
About West Side Hammer Electric
West Side Hammer is a full service electrical contracting company serving the eastern Pennsylvania region with expert staff, and fully trained, experienced, and equipped personnel. Our reputation is built upon integrity, service, and workmanship, instilled by the hard-knocks lessons from the earliest days of our founding four generations ago.  This past January West Side Hammer Electric celebrated 85 years of service to the Lehigh Valley. 
About Penn Community Bank
Penn Community Bank holds more than $2 billion in assets, employs more than 325 people, and offers banking, lending, insurance and investments at 25 bank branches and two administrative centers throughout Bucks and Montgomery counties, Pennsylvania. As an independent, mutual financial institution, Penn Community Bank is not publicly traded and operates with its long-term mission in mind: to help businesses grow and prosper, to provide financial resources to individuals and families throughout their lifetimes, to strengthen the local economy, and to partner with local organizations to act as a catalyst for positive growth in every market it serves.