News
Star Wellness Breaks Down Barriers with Same-Day, Walk-In Primary Care and Medical Home Model
October 16, 2020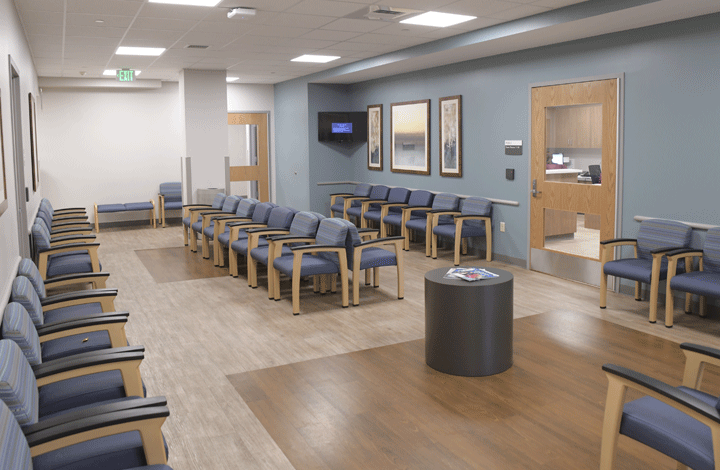 Interior of Star Wellness Sigal Family Practice.
Adults and children in downtown Allentown now have access to same-day, walk-in medical care at Star Wellness Sigal Family Practice, 450 West Chew Street, Suite 101 (only), Allentown.
In August 2020, Star Wellness Sigal Family Practice began same-day, walk-in primary care for minor health illnesses and injuries including earaches, minor orthopedic injuries, cuts, rashes and stomach issues. The same-day, walk-in model was implemented to make primary care more accessible for residents and to enhance care coordination services that make it easier for patients to maintain health and wellness.
"Our neighbors deserve excellent health care and peace of mind knowing that they can be seen for care when they need it," said Christine Davco, CEO of Star Wellness.
Davco added, "Star Wellness is a true medical home. It's a team-based approach to care where we help our patients overcome hurdles that ultimately could affect their longevity. We're proud to have pioneered a new model of care coordination by offering "enabling services" – case managers, social workers, financial counselors and referral tracking specialists. These services connect patients to the invaluable resources that address the social determinants affecting one's health, including language barriers, transportation needs, lack of insurance, inability to pay, environmental and other personal challenges."
Star Wellness Sigal Family Practice same-day, walk-in services are offered from 8 a.m. to 5 p.m. Monday through Friday. Patients can call 610-776-4888 to make an appointment or just walk right in.
In addition to same-day, walk-in primary care, Star Wellness Sigal Center offers women's health (OB/GYN), pediatrics and dental services. The women's and pediatrics offices can also accommodate Same-Day Care Services although appointments must be made.
Chief Medical Officer Alycia Walty, MD, explains, "These primary care fields (family medicine, obstetrics/gynecology (OB/GYN), pediatrics, dental care) are the foundation for good health and longevity. Once our patients establish a relationship with a Star Wellness primary care provider, their health care needs can be met across any discipline such as cancer care, heart health, orthopedics, behavioral health and more. This can change the course of someone's life," expressed Alycia Walty, MD, Chief Medical Officer.
Davco concluded by sharing, "Many things limit one's ability to receive adequate medical care. We work on behalf of our patients to make sure nothing gets in the way of their health care. We are that welcome sign that says, 'We are here for you. We're on your team and your health matters to us. Please, come in and experience our great services, our dedicated care team and our warm atmosphere.'"
Star Wellness also offers an after-hours call center to handle non-urgent questions. Please call Star Wellness InfoLink at 484-526-8600. Calls will be returned the next business day.
###
Media Contact
Sam Kennedy, Corporate Communications Director, 484-526-4134, samuel.kennedy@sluhn.org
About Star Wellness Centers Inc.
Star Wellness Centers Inc. is a Federally Qualified Health Center Look Alike (FQHC-LA). FQHC-LAs are community-based health care providers designated by the Health Resources and Services Administration to provide primary care services in medically underserved areas. Star Wellness, which is affiliated with St. Luke's University Health Network, provides comprehensive well and sick primary care, Women's Health, OB/GYN, dental care, and pediatric health services to the medically underserved, including the uninsured and underinsured. No one is denied care because of an inability to pay. For both insured and uninsured patients, Star Wellness offers a sliding fee discount program based on the Federal Poverty Guidelines. Star Wellness provides services in a community-based setting with experienced and compassionate providers, including physicians, dentists and nurse practitioners. Also available are support services offered by social workers and chronic disease nurse care managers. It supports the health and wellness goals of local residents and specializes in providing improved access, coordinated care and enhanced patient/family involvement. Star Wellness offers services at 15 sites, including three primary/family care centers in Allentown and Bethlehem, three women's health centers in Allentown, Bethlehem and Easton, three pediatric centers in Allentown, Bethlehem and Easton, three dental centers in Allentown, Bethlehem and Easton and three dental vans based in Allentown, Bethlehem and Lehighton.
About St. Luke's
Founded in 1872, St. Luke's University Health Network (SLUHN) is a fully integrated, regional, non-profit network of more than 15,000 employees providing services at 11 hospitals and 300 outpatient sites. With annual net revenue greater than $2 billion, the Network's service area includes 11 counties: Lehigh, Northampton, Berks, Bucks, Carbon, Montgomery, Monroe, Schuylkill and Luzerne counties in Pennsylvania and Warren and Hunterdon counties in New Jersey. Dedicated to advancing medical education, St. Luke's is the preeminent teaching hospital in central-eastern Pennsylvania. In partnership with Temple University, St. Luke's created the Lehigh Valley's first and only regional medical school campus. It also operates the nation's longest continuously operating School of Nursing, established in 1884, and 34 fully accredited graduate medical educational programs with 263 residents and fellows. St. Luke's is the only Lehigh Valley-based health care system with Medicare's five- and four-star ratings (the highest) for quality, efficiency and patient satisfaction. St. Luke's is both a Leapfrog Group and Healthgrades Top Hospital and a Newsweek World's Best Hospital. In 2019, three of IBM Watson Health's 100 Top Hospitals were St. Luke's hospitals. St. Luke's University Hospital has earned the 100 Top Major Teaching Hospital designation from IBM Watson Health seven times total and five years in a row. St. Luke's has also been cited by IBM Watson Health as a 50 Top Cardiovascular Program. Utilizing the Epic electronic medical record (EMR) system for both inpatient and outpatient services, the Network is a multi-year recipient of the Most Wired award recognizing the breadth of the SLUHN's information technology applications such as telehealth, online scheduling and online pricing information. St. Luke's is also recognized as one of the state's lowest cost providers.